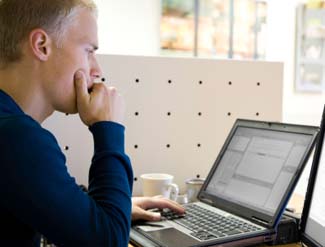 If you use Microsoft OneNote for the first time, the one thing you may notice is that it reminds you a lot of the older versions of MS Word, such as 2003 and prior. And that's kind of what it is too. OneNote 2010 is a very basic word processor that you can use like a notebook to take notes and enter text. You can also create tables and enter pictures. However, unlike a word processing program, you can write anywhere on a document by just clicking where you want to type. Also, there's no need to save your work because OneNote saves your data as you enter it.
The information that you enter into OneNote is saved in pages. These pages are then organized into notebooks. In the last paragraph, we said OneNote is like a notebook that you use to jot things down, and this is one reason why. Its interface looks like a virtual version of a tabbed spiral notebook. You can use this notebook to take notes, but you can also use it to collect material from other applications as well. That said, it is important to remember that OneNote is used for taking notes while other word processors such as MS Word are used more for publishing.
What's New in OneNote 2010
If you've used prior versions of OneNote, you will probably be pleased to learn of some of the new and improved features that come with 2010. We're going to cover the new features here,
The new features in OneNote 2010 are:

Universal access to Your Notebooks and Information
The good news is that now you can access your notebooks from anywhere that you can access a computer using Sync to Cloud (Windows Live). You can also sync your files to file shares, USB drives, SharePoint, etc.

You can also access or edit a notebook from a Web browser, even if the computer you are using doesn't have OneNote 2010 installed on it.

If you have a Windows Phone 7, use Microsoft Office Mobile 2010 to access your notes from anywhere. You can view, edit, and create notes.
Improved Sharing and Collaboration
Multi users can now edit notebooks. This is great if you want to work on a notebook from both a desktop as well as a laptop or for teams who use and share a notebook for brainstorming or collaboration.

New content in a notebook is automatically highlighted so you can view what someone else has added.

As in MS Word, if another user adds content, the content is indicated by a small, color coded bar with that author's initials so that you can tell who added what to a notebook.

There's also versioning support so you can show previous versions of a page. This includes who wrote it and when. Changes that are related to a previous version of a page are also automatically highlighted.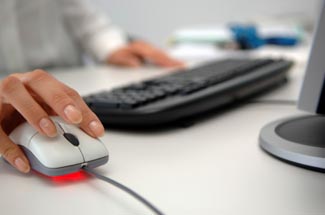 Improved Ways to Find and Organize Your Notes
OneNote 2010 has section and page tab improvements to make it easier to create new sections. There is also a better visualization of the tab hierarchy. You can also collapse groups of subpages and insert new pages anywhere in your page tabs.

Fast Search gives you a quick way to find information in your notebooks. The search results will appear as you type. You can search based on notebook names, section labels, and page titles. If you are the author of a page, you can also search by when content was added. For example, last week, last month, etc.

You can also create links to other existing pages in a notebook simply by typing the Wiki link syntax. For example: [[This is My Page]]. You can also do this by going to the Insert Hyperlink dialogue box.

Importing information into OneNote 2010 has been made even easier as well. You can use Send to OneNote from Outlook and Internet Explorer. In addition, you can print any document or file directly to OneNote 2010. The Quick Filing popup allows you to choose where in your notebook you want to import something. You can also search your Quick Filing locations to find a specific section or page.
Linked Note Taking and Easier Research
By docking OneNote to the side of your Windows desktop, you can have it appear alongside other windows such as a web browser or Outlook.

If you are in docked mode, OneNote 2010 automatically links the notes you take to whatever it is you are looking at in the other window.

OneNote 2010 wraps text outlines to fit the window size when there is online one outline on the page.
Improvements to Make Editing Easier
One Note 2010 has a gallery of styles, such as Headings. There are only basic styles, not the wide variety you see in programs such as MS Word.

Another change is to bullet lists. Now the indentation of the first-level of bullet items in a list exactly matches the indentation of previous text.

OneNote 2010 now gives you the ability to add mathematical equations. This is helpful if you want to add math as part of your notes.

A mini translator in OneNote 2010 lets you point your mouse to a foreign word or phrase and get the translation in a small window.
Touch Support for Tablet PC Users
If you have a compatible computer running Windows 7, you can scroll and pan the pages in OneNote 2010. You can also use pinch zooming. By making a pinching gesture with your fingers, you can zoom in and out on a page.

Navigational enhancements have also been made in OneNote 2010 to improve the experience for touch-compatible PCs and operating systems.
Improvements to the Interface
OneNote 2010 uses a ribbon to provide access to the toolbars and features you need to use, just the same as other Microsoft programs. If you are not used to the ribbon, once you acquaint yourself with it, you will see it makes it quicker and easier to find what you need. You can also customize the ribbon so it shows the tools and commands that you use the most.

As with other Microsoft 2010 Office products, you also have the Backstage View. This is where you manage your files, as well as set your program and notebook options.
Starting OneNote 2010
Now that we've learned the basics of OneNote 2010 as well as the improved features, it is time to jump into learning how to actually use the program. Don't worry if you've never used it before. We go slow and explain everything in depth to make it simple.
Opening OneNote 2010
To open OneNote 2010, locate the program on your computer, then double click it or right click then select Open. If you have OneNote2010 on your desktop, you can access it by double clicking the icon:

The first time you open OneNote 2010, you will see this window: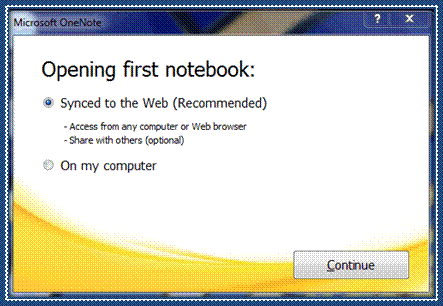 If you are going to share your notebooks or access them from other computers, select Synced to Web. If you will only use it on one computer, select On My Computer. Click Continue and OneNote 2010 will open.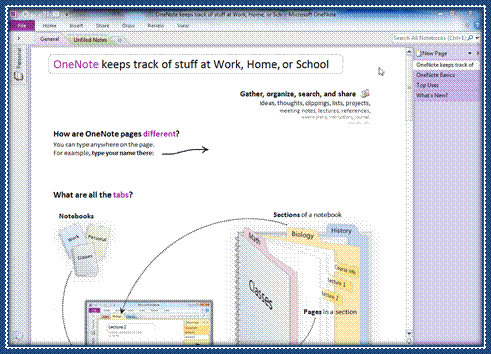 Now, let's tour the interface.
Tabs and the Ribbon
OneNote2010 features Microsoft's new ribbon. The ribbon, which was new in Office 2007, contains all the tools and commands you will use and makes finding them easier than ever before.
At the top of your OneNote window, you will see File, Home, etc. These are called ribbon tabs. Each tab represents the general commands and tools that you will find under it.
You will see the tabs pictured below.

Click on the Home tab. In the next snapshot, you will see the ribbon pictured:

Now, to make it easy to find the tools and commands you need in the ribbon, the tools and commands are organized into groups. If you look at the snapshot above, the groups are Clipboard, Basic Text, Styles, Tags, and Outlook. The Basic Text group has tools and commands that allow you to format basic text. The Styles group allows you to apply a style to your text. You get the idea. OneNote 2010 also allows you to customize the ribbon by creating your own tabs, then adding groups to them so that you can access the tools and commands that you personally use most often.
Below the ribbon is where your notebooks and the pages in them will appear. We'll discuss that later. For now, let's continue to learn about OneNote 2010's user interface.
All the Microsoft Office 2010 software programs offer a tool called the Quick Access Toolbar. You can use the Quick Access toolbar to have quick access to the commands and features you use the most.
The Quick Access Toolbar in OneNote 2010 is located in the Title Bar, as shown below. The docking icon is in the Quick Access Toolbar.

To add commands or tools to the Quick Access Toolbar, click the downward arrow to the right of the toolbar.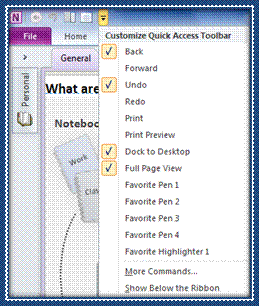 Simply click on the commands or tools you want to add to put a checkmark beside them and add them to the Quick Access Toolbar.
The Backstage View is a fancy word for what you will find when you click the File tab. Rather than seeing a ribbon with tools and commands like you do if you click any of the other tabs, when you click the File tab, you will see the Backstage View, as shown below.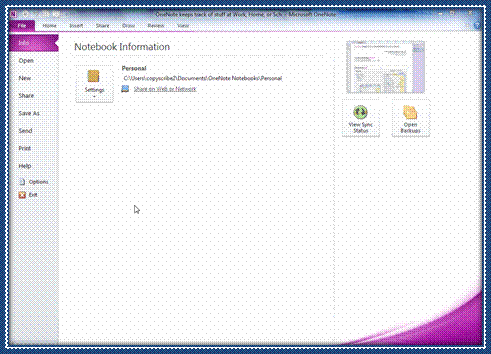 When you go to the Backstage View, you can print notes, share, open notebooks, create new notebooks, and also customize OneNote 2010 by clicking Options.
Customizing the Ribbon
Using Backstage View, you can also customize the ribbon. We talked about this briefly earlier in this section. Let's show you how to do it.
Click the File tab to go to Backstage View. Click Options on the left hand side.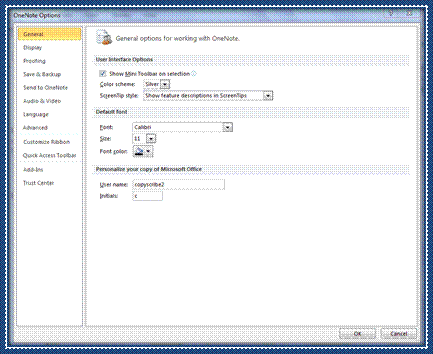 Now click Customize Ribbon on the left hand side of the Options window.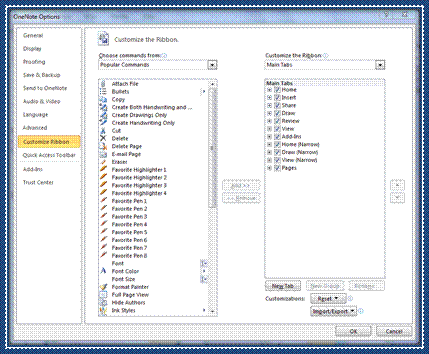 Let's say you want to add a new tab to the ribbon. Click the New Tab button of the left side of the screen under the Main Tabs column. You'll see it added to the Main Tabs column, as circled below.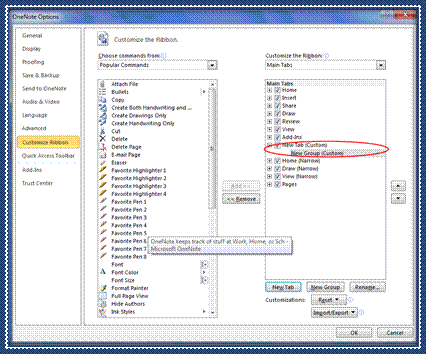 To rename it, click New Tab (Custom) to select it. Then click the Rename button.

We named ours Course. Click OK.
Now, you can add groups to the ribbon. Click New Group (Custom) to select it.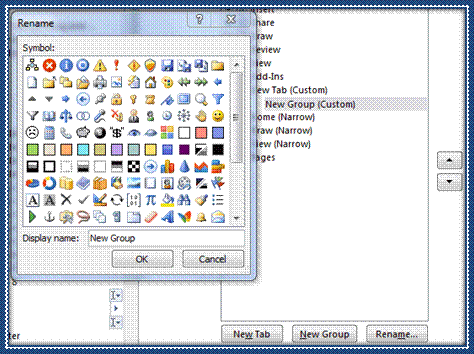 We renamed ours Editing. Click OK.
Now, select groups from the left side column and add them to your group by clicking the Add button.
When you are finished, if you want to add more groups to your ribbon, click the New Group button.

Finally, click OK to close the Options window. Below you can see a snapshot of our new tab and group.
Docking OneNote to your desktop basically means that it will appear beside all other windows that you open. To dock OneNote, go to the Title Bar at the top left of the OneNote screen and click the icon.

OneNote will then be docked, as shown below.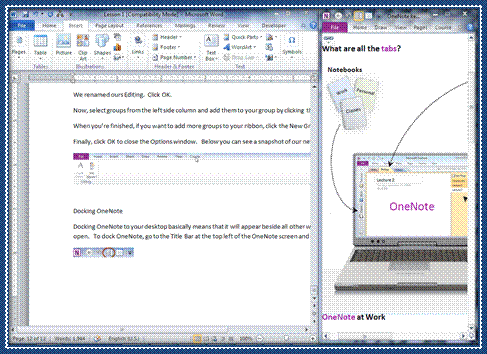 To undock, click the icon again.
To close OneNote 2010, go to the File tab which will take you to the Backstage View. Click Exit on the left hand side of the screen.
Creating Notebooks

Understanding Notebooks
As we've mentioned already, OneNote 2010 is an electronic notebook that you can use to take, organize and store notes much in the same way that you would in a three ring binder or spiral notebook. While you might use section dividers and tabs in a three ring binder to organize notes and such things, OneNote 2010 also offers organizational features to help you sort and organize your notes and information. These feature are called folders, sections, and pages. They all come together to make up your notebook.
Here's how it works:
Groups of pages are made up of pages and subpages.
Analogy: Think of these as multiple, individual pages of notes that you took over a week's time in Biology class.
Groups of pages are stored in sections.
Analogy: Using the Biology class example, you use your three ring binder and organize your biology notes in one place. This is the section for Biology.
Sections are stored in folders.
Analogy: Perhaps you put your Biology notes into a folder, then into a three ring binder. Or perhaps you used page dividers.
Folders make up your notebook.
Analogy: In your notebook, you had notes for Biology, Math, English class, etc.
Note: Subpages are defined as additional pages with smaller tabs that the primary pages.

Creating a New Notebook
To create a new notebook, click the File tab to go to the Backstage View. Click New.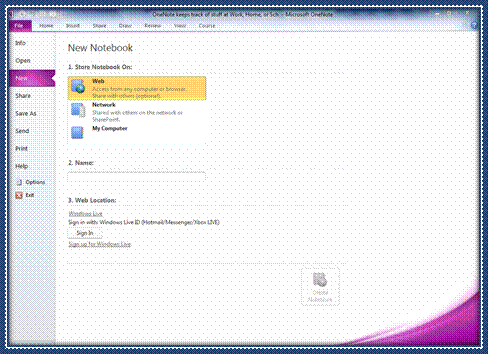 The first thing you need to do is select where you want to store the notebook. You can store it to the web, a SharePoint network, or your computer. If you want to save to the web, you must have a Windows Live ID.
We're going to show you how to save to the web and to your computer.
Let's select My Computer for now.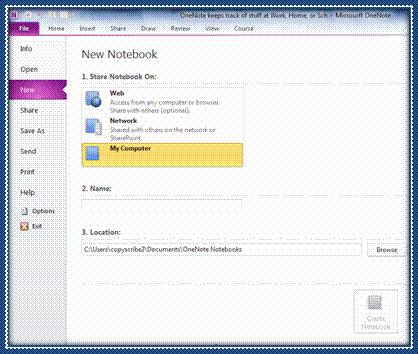 Type a name for your notebook under Name.
Select a location on your computer.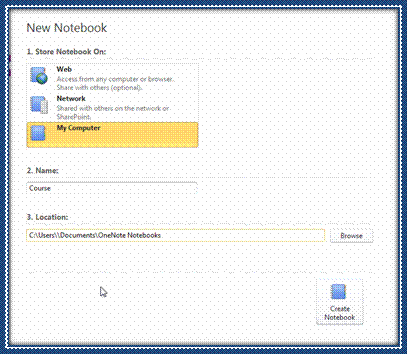 Click the Create Notebook button.
It is that easy!
Your new notebook opens with a blank page showing.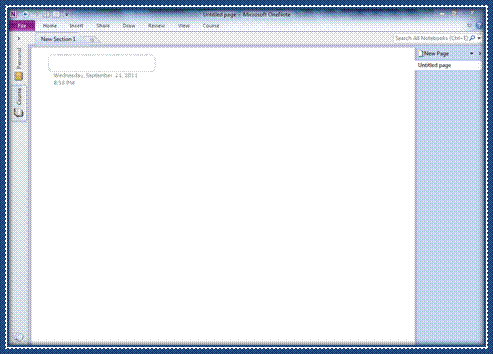 Now, let's create a new notebook and store it on the web.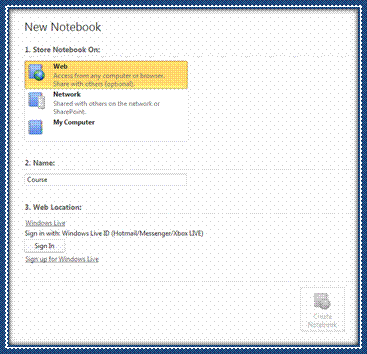 Name your notebook just as we did before.
Next, sign into your Windows Live ID by clicking the Sign In button.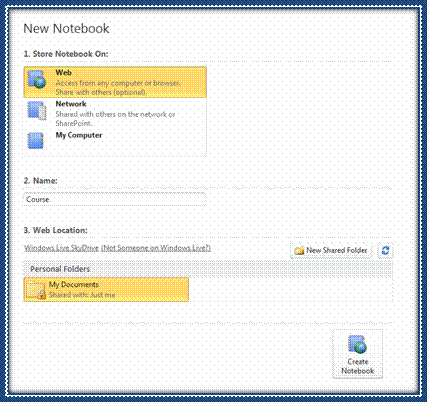 Now your notebook is on your Windows Live SkyDrive, and your notebook is saved to the cloud. This means you're notebook is on the Internet. Nobody can access it if you don't want them to. Just think of it as your virtual hard drive that will never crash. Even if your computer crashes, you can access your notebook from any computer.


Saving a Notebook
OneNote 2010 automatically saves your information as you take notes, if you switch to another page or section (we'll learn more about these later), or if you close sections or notebooks. However, it saves them in OneNote format (.one).
If you want to save your notebook, a section of your notes, or a page of your notes to a different location or in a different format, you can save them yourself by completing the following tasks:
First, click the File tab, then click Save As.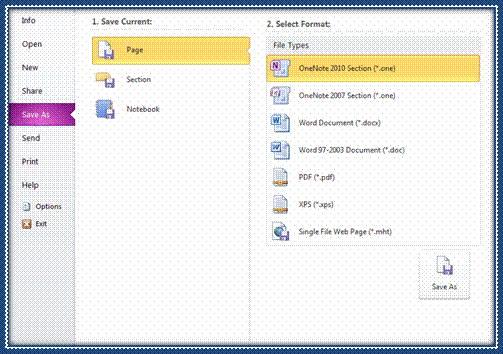 Choose if you want to save a page, section, or an entire notebook. Then, select the format you want to save it in.
Click Save As.
Choose the location you want to save the file to, as shown below.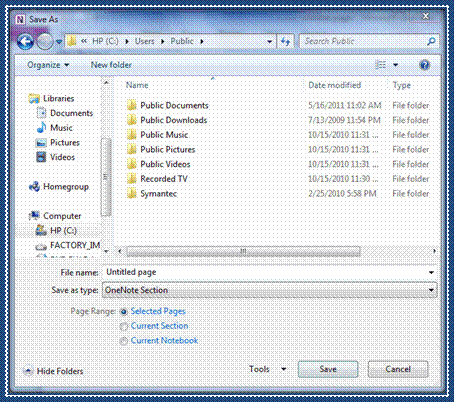 Click Save. Your page, section, or notebook (whichever you selected to save) is now saved to the location that you've chosen.

Searching Notebooks
You can search OneNote 2010 for a notebook, page, section, or any element such as text, audio, images, videos, embedded files, etc.
To search, go to the search box at the top right of your OneNote window:

By clicking the downward arrow, you can specify where you want to search.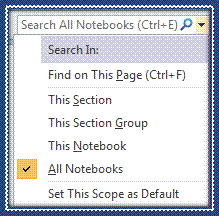 Type keywords in the search field and OneNote will find what you are looking for.

Closing a Notebook
To close a notebook, right click on the name of the notebook in the Navigation Pane, as shown below.

Select Close Notebook.
Opening a Notebook
To open a notebook, go to the File tab and click Open.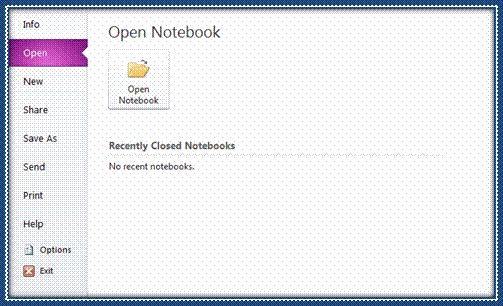 If you've recently closed a notebook and want to open it again, select the name of the notebook from the Recently Closed Notebooks list.
Otherwise, click the Open Notebook button.
Find the notebook that you want to open and click Open.