Online Class: Business Professionalism
From preparing for an interview to resigning from your job, this course covers the proper business etiquette and professionalism you need to know to be successful in the workplace.
---

$
70.00
no certificate
- OR -
$
95.00
with CEU Certificate*
Start Right Now!
$95.00
(with CEU Certificate)
---
Taking multiple courses? Save with our
platinum program
.
10

12

2,251

Students

have taken this course

5

0.5
From preparing for an interview to resigning from your job, this course covers the proper business etiquette and professionalism you need to know to be successful in the workplace. Information is appropriate for professionals in any position from entry level to CEO. By mastering modern standards of professionalism and etiquette, a career can be started or saved and made successful. The rules of the game may have changed over time but there are still rules that can help make a job into a career and assist students to take charge of their professional future.

From understanding proper communication procedures to what behaviors are career-killers to handing tricky situations like dismissals and office politics, this course addresses complex situations in an easy-to-understand format that can be altered and amended to meet the needs of virtually every employee out there from a welder to an accountant to a history professor. Ten lessons will guide you through breaking down the concepts behind political correctness, interoffice romance, proper networking behavior, and numerous other scenarios that many professionals are not equipped to handle appropriately.
Course Motivation
When it comes to dealing with business etiquette and professionalism, many people underestimate the importance of these elements in developing a successful working career. While you may think or hope that the quality of the work you produce will be sufficient, the vast majority of professional work will require some business etiquette and professionalism. Even as many industries become more dependent on technology, frequently resulting in limited social interaction in many positions or companies, it is still absolutely necessary to know how to interact with others in a professional and appropriate way.
As you travel through this course, there may be things you don't understand. There may be moments where you think that a commonly held standard is unnecessary or even ridiculous. You may identify things you have done or things that have been done to you, and some of these may trigger unpleasant memories or strong emotions. Our society perpetuates the belief that our professional life is a reflection of who we are as a person; consequently, it may be difficult to separate your emotions from good judgment. What is most important to remember is that the information offered here is to help you become a more professional individual, strengthening your career. The standards of etiquette and professionalism are constantly changing. While some elements remain constant, others change and develop over time. This is not necessarily a reflection that what came before was wrong, as much as it is an appreciation that we can, and should, seek out better and better ways to be.
Although business etiquette and professionalism are not necessarily always the same, they are extremely closely related. Business etiquette typically refers to common standards of politeness and representing not only yourself, but your employer, when interacting with others. Alternatively, professionalism focuses on more substantive issues of personal accountability and an adherence to business standards, as well as personal integrity. Even an individual who works full time from home translating documents, and almost never speaks with anyone else in a professional capacity, still has standards of professionalism to which they are expected to adhere. So while most successful professionals have mastered business etiquette, it is vital that all workers practice professionalism.
Before we begin the specific topics that will be discussed, it is worth pointing out that this course is built on a presupposition that those taking this course understand the basics of general etiquette and politeness. Although some of these topics will be discussed in future lessons when they pertain specifically to a work environment, others should be visited now. Saying things like "please" and "thank you" should be second nature to anyone working in a professional capacity. Personal hygiene practices such as bathing regularly and practicing basic oral health care should also be old hat by now; if not, Emily Post's Etiquette is an excellent resource for helping you establish these basic habits.
Political Correctness
Although the term has become somewhat negative due to a backlash against its popularity, one of the first things to understand about business etiquette and professionalism is that it is extremely important to practice political correctness. This should not ever mean that you cannot calmly and rationally discuss pertinent information that may have issues of sex, sexual orientation, race, ethnicity, religion, and so on. Rather it is crucial that you know how to discuss these issues when they are relevant, as well as how to determine when they are or are not relevant. Using the term PC within this course is not meant to focus on restricting language; instead we look at using politically correct speech as a tool to create a safe and productive work environment that will consequently make a business more successful.
It's important to note that language is a dynamic force that impacts society, and is impacted by society. Politically correct terms have evolved on the basis of two key points: accuracy and prejudice. As the United States has worked to minimize, and hopefully someday abolish, racism, terms that are used capture and reflect these different stages of our society's prejudices towards people of color. So over time, as each term comes to represent a certain level of prejudice, some new terms are developed and used for people to demonstrate a lessening of prejudice. Once you understand this issue, it should become obvious that the language we use is incredibly important. Consequently, it should also help you understand why someone may interpret certain terms in a negative way, or assume that you represent some level of prejudice when you use certain terms. Alternately, this should clearly indicate why - whether or not you agree with this argument - it is better for your professional career to utilize politically correct terms and attitudes.
It is also worth noting that whether or not your place of business utilizes or eschews politically correct terms, it is better to be in the habit of using them and to be thought of as "too" proper, than it is not to use them and be considered a bigot. Remember that you are unlikely to spend your entire career with the exact same co-workers, bosses, and clients or customers, so it is critical to your professional success to act professionally.
Of course, race is not the only issue when it comes to being politically correct (aka professional). All people should be treated with respect, even if you don't like them. By using words that are charged with racism, sexism, homophobia, religious intolerance, size discrimination, disability prejudice, and so on, you leave yourself open to the possibility of not only losing the respect of people you work with and/or for, but even losing your job and your professional reputation. The vast majority of the time, before these issues are even brought into a discussion, they are irrelevant. Certain behaviors should be policy, regardless of what categories the person who violates the policy fits into.
When it comes to being professional and developing a safe, healthy work environment where prejudice and bigotry will not be tolerated, this may -- or may not -- be up to the boss. Depending on the state (or country) where you live, your boss (or you, if you are the boss) may have legal protection to deny services to clients or customers based on their personal characteristics. This has been, and continues to be, a hot button topic, particularly with regard to sexual preference and orientation. Virtually all businesses in the United States are required by law to act fairly when it comes to employing individuals based on their race, ethnicity, religion, and so on. However, as sexual orientation and gender identity have become more prominently considered in our society, some businesses have chosen to deny services or sales to people who identify with and/or behave as homosexual, bisexual, transgender, asexual, intersexual, and so on. Because these characteristics are generally understood to be an inherent quality a person is born with, many people believe that these individuals should be protected by law, just as someone of a minority race would be protected.
If you are ever employed by a company or individual who asks or requires you to behave in a way you believe to be unjust and illegal, report that employer to the proper authorities. If your boss asks you to do something that is legally accepted, but you find it to be morally repugnant or wrong, you have to make the best decision for your needs and your personal and professional integrity. It is not unprofessional to report illegal behavior. In fact, professionals hold themselves to a high ethical standard and should expect the same from others, particularly if illegal actions are taking place. Nor is it unprofessional to refuse to treat someone with prejudice simply because your boss may have the legal grounds to do so. Unfortunately, that does not necessarily protect your job, (though it will protect your integrity to do so).
Likewise, if you believe that you have been unfairly discriminated against, whether as a potential hire, employee, or client or customer, report the issue to the proper authorities. The Equal Employment Opportunity Commission will help you better understand the laws involved, and how to file a report.
Completely Online
Self-Paced
Printable Lessons
Full HD Video
6 Months to Complete
24/7 Availability
Start Anytime
PC & Mac Compatible
Android & iOS Friendly
Accredited CEUs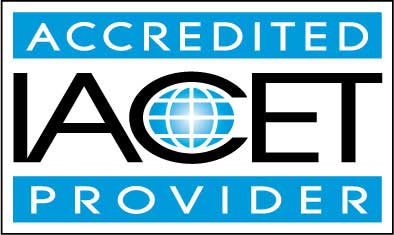 Lesson 1: Introduction and Political Correctness in the Workplace
When it comes to dealing with business etiquette and professionalism, many people underestimate the importance of these elements in developing a successful working career. Additional lesson topics: Professionalism; Business Etiquette and Professionalism
10

Total Points
Lesson 1 Video
Lesson discussions: Reasons for Taking this Course
Complete Assignment: An Introduction
Assessment: Lesson 1 Exam
Lesson 2: Etiquette and Professionalism in Interviewing and Onboarding (Part 1)
Because a job interview gives both the employer and the potential employee a snapshot of what it would be like to work with the other person, it's easy to understand why it is necessary for both sides to exude professionalism and etiquette. Additional lesson topics: The Several Rules of Interview Etiquette
10

Total Points
Lesson 2 Video
Assessment: Lesson 2 Exam
Lesson 3: Etiquette and Professionalism in Interviewing and Onboarding (Part 2)
Hiring managers, supervisors, business owners, consultants, and anyone else who may be involved, also need to act professionally and have appropriate etiquette practices. Additional lesson topics: EEOC
10

Total Points
Lesson 3 Video
Assessment: Lesson 3 Exam
Lesson 4: The Role of Organizational Culture and Office Politics in Professionalism
This lesson will focus on organizational culture, as well as professional treatment of others, whether they are within your company or outside professionals, clients, and customers. Additional lesson topics: Professionalism: How to Conduct Yourself at Work
10

Total Points
Lesson 4 Video
Assessment: Lesson 4 Exam
Lesson 5: Etiquette and Professionalism in Communication and Culture Differences
Now that you have established the basic rules of professionalism with regard to interacting with others, let's look at specific topics that frequently come up while building professional relationships. Additional lesson topics: Business Etiquette and Cross Cultural Communication; Business Communication Etiquette
0

Total Points
Lesson 5 Video
Lesson 6: Interpersonal Etiquette and Professionalism - Networking, Meetings, and Confidentiality
When dealing with concepts of business etiquette and professionalism, there are likely to be times when you have to interact, not only with your co-workers, customers or clients, but also in groups representing a variety of these people. Additional lesson topics: 20 Social Networking Sites for Business Professionals; What is Confidentiality
10

Total Points
Lesson 6 Video
Assessment: Lesson 6 Exam
Lesson 7: Intersecting Personal and Professional Relationships
There are some circumstances that pose particular challenges in remaining professional and practicing workplace etiquette. Additional lesson topics: When Personal Relationships at Work Become Problematic; Several Types of Work Relationships
10

Total Points
Lesson 7 Video
Assessment: Lesson 7 Exam
Lesson 8: Troubleshooting (Part 1) - Handling Conflict, Harassment, and Apologies
Now that you know the basics of behaving professionally and with business etiquette in place, it's time to troubleshoot common complaints and challenges. Additional lesson topics: Workplace Conflict Resolution; Workplace Conflict: How to Deal with Difficult People
10

Total Points
Lesson 8 Video
Assessment: Lesson 8 Exam
Lesson 9: Troubleshooting (Part 2) - Shared Physical Environment, Disagreements, and Chain of Command
Depending upon your workplace and its organizational culture, there may be some elements of your environment that do relate to business etiquette. Additional lesson topics: Business Etiquette and the Chain of Command; How to Handle an Employee Who Ignores the Chain of Command
8

Total Points
Lesson 9 Video
Assessment: Lesson 9 Exam
Lesson 10: Change and Growth - Evaluations, Goals, Termination, and Resignation
Depending on your individual company, the process of performance reviews or evaluations can vary widely. In many positions, a self-review is part of the process.
57

Total Points
Lesson 10 Video
Lesson discussions: How would you rate this course?; Program Evaluation Follow-up Survey (End of Course); Course Comments
Complete: Lesson 10 Assignment
Assessment: Lesson 10 Exam
Assessment: The Final Exam
By successfully completing this course, students will be able to:
Summarize political correctness in the workplace.
Define and recognize etiquette and professionalism in the interviewing process.
Define the role of organizational culture and office politics in professionalism.
Summarize etiquette and professionalism in communication and culture differences.
Summarize interpersonal etiquette and professionalism - networking, meetings, and confidentiality.
Describe issues that arise from intersecting personal and professional relationships.
Determine methods for handling conflict, harassment, and apologies.
Identify and resolve issues that result from shared physical environment, disagreements, and chain of command.
Demonstrate the right process to follow for evaluations, goals, termination, and resignation.
Demonstrate mastery of lesson content at levels of 70% or higher.
Additional Course Information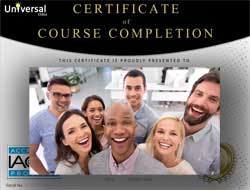 Document Your Lifelong Learning Achievements

Earn an Official Certificate Documenting Course Hours and CEUs
Verify Your Certificate with a Unique Serial Number Online
View and Share Your Certificate Online or Download/Print as PDF
Display Your Certificate on Your Resume and Promote Your Achievements Using Social Media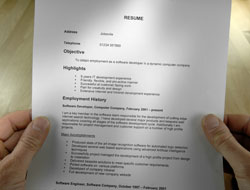 Course Title:
Business Professionalism
Lessons Rating:
4.4 / 5 Stars (1,618 votes)
Languages:
English - United States, Canada and other English speaking countries
Availability:
This course is online and available in all 50 states including: California, Florida, Georgia, Illinois, New York, Pennsylvania, Ohio, and Texas.
Course Type:
Self-Paced, Online Class
Grading Policy:
Earn a final grade of 70% or higher to receive an online/downloadable CEU Certification documenting CEUs earned.
Assessment Method:
Lesson assignments and review exams
Course Fee:
$95.00 U.S. dollars
Choose Your Subscription Plan
"I thought this course was very helpful, especially as someone who has very little experience of the work environment. I was able to learn a lot of information regarding business etiquette and professionalism which will definitely help me in the future. The section on the interview process was especially helpful as I have never been through an interview and was unsure of the expected conduct and how to interact with businesses." -- Josephine G.
"This course was very well written, easy to follow and organized logically." -- Theresa H.
"The course was very helpful to me and the instructor of this course was very nice." -- Marquetta L.
"This course was great and the Instructor was awesome!" -- Sharen G.