Online Class: Creative Thinking
Learn how to think more creatively by taking our online, self-paced course.
---

$
70.00
no certificate
- OR -
$
95.00
with CEU Certificate*
Start Right Now!
$95.00
(with CEU Certificate)
---
Taking multiple courses? Save with our
platinum program
.
11

12

1,324

Students

have taken this course

5

0.5
"The Creativity Catalyst: Unleashing the Power Within"
In every individual lies an untapped reservoir of creativity, a latent force that, when harnessed, has the potential to bring about monumental change. Whether you're an artist sketching masterpieces, a business professional cracking market dynamics, or a scientist on the cusp of a breakthrough, creativity is the catalyst that propels you towards innovation and excellence. "The Creativity Catalyst" is a meticulously crafted course designed to awaken and amplify this dormant force in individuals across diverse fields and endeavors.
Delve into the Creativity Odyssey:
A Multifaceted Muse: Traverse through the course's 11 riveting lessons that dissect and delve into creativity, illuminating its facets and nuances, and making the abstract tangible.

A Toolkit for Innovation: Equip yourself with an arsenal of creative tools. From brainstorming techniques to mental frameworks, discover and master the means to channelize your innate creativity.

Diverse Perspectives on Creativity: Journey beyond the conventional and dive deep into vertical and lateral thinking. Grasp their principles, learn their applications, and recognize when to employ each for maximum impact.

Synthesizing Sensibilities: Marry the realms of observation, imagination, and abstraction. Understand how patterns emerge, the power of analogies, and the magic of intuitive body thinking.

Emotional Intelligence in Creativity: Explore the profound intersections of aesthetics and empathy. Learn how resonating with emotions can amplify your creative outputs.

A Rational Rendezvous: While creativity might seem whimsical, the course skillfully integrates the essence of logic and reason, demonstrating their symbiotic relationship in the world of innovative thinking.

Reinforcement Through Recollection: As you progress, engage with strategically designed quizzes. These not only bolster retention but also ensure a deep-rooted understanding of the myriad concepts.
At the culmination of this course, you will emerge not just as someone who understands creativity but as a beacon of innovation. You'll be equipped with a profound toolkit, brimming with processes and techniques that will elevate your personal and professional endeavors.
Why "The Creativity Catalyst?"
There's an ocean of courses and resources out there, but what sets "The Creativity Catalyst" apart is its holistic approach. It doesn't just teach; it transforms. It's not just a guide; it's a mentor. By the end of your journey, creativity won't be an abstract concept but a tangible skill, an intrinsic part of your persona.
So, are you ready to embark on this transformative journey? To not only find but unleash the boundless creativity within you? Step into the world of "The Creativity Catalyst" and watch as the ordinary becomes extraordinary. Embrace the change, become the catalyst, and let your creativity redefine boundaries. Join us, and together, let's sculpt a future where creativity isn't just a trait, but a way of life.
Completely Online
Self-Paced
Printable Lessons
Full HD Video
6 Months to Complete
24/7 Availability
Start Anytime
PC & Mac Compatible
Android & iOS Friendly
Accredited CEUs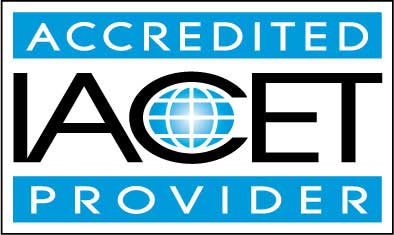 Lesson 1: What Is Personal Creativity? The Basis of Personal Creativity
The utility in creativity is in finding new solutions, generating new ideas, and executing those solutions and ideas in ways that are different from what is expected or repeated. Additional lesson topics: Creativity On Demand: How to Ignite and Sustain the Fire of Genius; Creativity Workout: 62 Exercises to Unlock Your Most Creative Ideas
11

Total Points
Lesson 1 Video
Lesson discussions: Reasons for Taking this Course
Complete Assignment: An Introduction
Assessment: Exam 1
Lesson 2: What Are the Creative Tools?
The focus of this lesson will be on recognizing the more basic, but vitally important, mental and emotional tools each person has that can be used to fuel personal creativity in a powerful way. Additional lesson topics: The Three Basic Principles Behind All Tools for Creative Thinking: Attention, Escape, and Movement; Creativity Tools: Several Free Online Creative Thinking Tools
10

Total Points
Lesson 2 Video
Assessment: Exam 2
Lesson 3: Vertical Thinking
Vertical thinking drives out distraction, while lateral thinking celebrates it. Additional lesson topics: What Is Vertical Thinking?
10

Total Points
Lesson 3 Video
Assessment: Exam 3
Lesson 4: Lateral Thinking
Thinking laterally involves letting go of patterns and comfortable processes. It means giving up the direct approach. Additional lesson topics: Lateral Thinking Puzzles; How to Apply Lateral Thinking to Your Creative Work
10

Total Points
Lesson 4 Video
Assessment: Exam 4
Lesson 5: Using Creative Tools
This lesson will focus in detail on four specific, effective, creative tools. SCAMPER, Random Input, Mindmapping, and DO IT are well-documented and well-practiced techniques for generating ideas and digging deep into personal creativity. Additional lesson topics: SCAMPER; Random Input
10

Total Points
Lesson 5 Video
Assessment: Exam 5
Lesson 6: More Creative Tools
Most of the creative tools are some form of brainstorming. They are meant to draw your ideas, or the groups ideas, out into the open or onto paper, so they can be utilized for whatever task or project you are approaching. Additional lesson topics: Round Robin
10

Total Points
Lesson 6 Video
Assessment: Exam 6
Lesson 7: Observing, Imagining, and Abstracting
The development of personal creativity relies very heavily on the utilization of observation, imagination, and abstraction. Additional lesson topics: A Fix for Fixation?; How to Crank up Your Creativity
10

Total Points
Lesson 7 Video
Assessment: Exam 7
Lesson 8: Forming Patterns, Analogizing, and Body Thinking
Forming Patterns, Analogizing, and Body Thinking are three ways of engaging the mind, processing information, and developing personal creativity. Each one has the potential to utilize different mental, emotional, and physical tools. Additional lesson topics: Four Ways to Innovate through Analogies; How to Use Analogies to Introduce New Ideas; Reaction Formation
10

Total Points
Lesson 8 Video
Assessment: Exam 8
Lesson 9: Empathizing, Dimensional Thinking, and Modeling
Personal creativity is greatly advanced by the assistance and varying viewpoints of others. All industries stand to benefit from better, and more productive, human interactions. Additional lesson topics: Why Empathy Is The Force That Moves Business Forward
10

Total Points
Lesson 9 Video
Assessment: Exam 9
Lesson 10: Playing, Transforming, and Synthesizing
The three topics for this lesson are particularly important for the long view of creative work. Additional lesson topics: The Benefits of Play for Adults
10

Total Points
Lesson 10 Video
Assessment: Exam 10
Lesson 11: Measuring Creativity
The desire to measure creativity is vested in the desire to hire and entrust people with work that requires, or at the very least benefits from, a creative mind.
10

Total Points
Lesson 11 Video
Lesson discussions: End of Course Poll; Course Comments; Program Evaluation Follow-up Survey (End of Course)
Assessment: Exam 11
By successfully completing this course, students will be able to:
Define what personal creativity is.
Identify what are the creative tools.
Describe vertical thinking.
Describe lateral thinking.
Summarize using creative tools.
Describe observing, imagining, and abstracting in creative thinking
Describe forming patterns, analogizing, and body thinking.
Summarize empathizing, dimensional thinking, and modeling.
Describe playing, transforming, and synthesizing in creative thinking.
Describe methods for measuring creativity.
Demonstrate mastery of lesson content at levels of 70% or higher.
Additional Course Information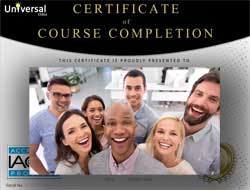 Document Your Lifelong Learning Achievements

Earn an Official Certificate Documenting Course Hours and CEUs
Verify Your Certificate with a Unique Serial Number Online
View and Share Your Certificate Online or Download/Print as PDF
Display Your Certificate on Your Resume and Promote Your Achievements Using Social Media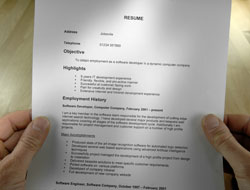 Course Title:
Creative Thinking
Lessons Rating:
4.6 / 5 Stars (461 votes)
Languages:
English - United States, Canada and other English speaking countries
Category:
Availability:
This course is online and available in all 50 states including: California, Florida, Georgia, Illinois, New York, Pennsylvania, Ohio, Texas, and Washington.
Course Type:
Self-Paced, Online Class
Grading Policy:
Earn a final grade of 70% or higher to receive an online/downloadable CEU Certification documenting CEUs earned.
Assessment Method:
Lesson assignments and review exams
Instructor:
UniversalClass Instructional Team
Course Fee:
$95.00 U.S. dollars
Choose Your Subscription Plan
"What a wonderful class that can really open up the minds of people that just need a little PULL to their creative side." -- Jim B.
"I found this course very helpful and interesting. It was well organised and I found the practical examples very helpful in understanding the more complex aspects that were being taught. I also liked that it showed a practical understanding of the application of the different approaches; for example, don't set aside play time for a team that is under resource and time pressure. Thank you!" -- Claire R.
"Interesting ideas. Appreciated the different ways of thinking." -- Sharon M.
"it was very helpful in learning how to use different thinking strategies in my life." -- Corionna L.
"This was helpful in giving unique ways to look at and measure creativity." -- Adriana Z.
"The course was good, it took some time to understand the work but I enjoyed it." -- Amber W.
"I enjoyed participating in this course greatly. Thank you." -- Kolleen D.
"This class was very helpful." -- Chris M.