Wedding Planning 101
---

$
70.00
no certificate
- OR -
$
95.00
with CEU Certificate*
11

28

3,414

Students

have taken this course

12

1.2
You won't find a more comprehensive of a wedding course online that isn't offered by a bridal association! This eleven-lesson course teaches you all that you need to know to become a well paid, successful wedding planner--starting the day after you finish this course.
It doesn't matter if you don't know anything about weddings right now. This detailed course gives you all the information and knowledge you need.
You'll learn:
How to put together your portfolio even if you don't have any experience.

What's more, we'll help you put one together during the course.

Your responsibilities and duties as a wedding planner.

The wedding industry including all you need to know about vendors.

How to plan a wedding no matter what the budget.

This easy formula will have you planning everything from small, intimate weddings to elaborate ceremonies and receptions.
What you need to do and when you need to do it.

Don't know when to order invitations?

We'll tell you.

Everything about planning and coordinating the wedding ceremony

About the rehearsal dinner

How to plan and coordinate a reception

All about destination weddings

How to plan honeymoons

Wedding etiquette and protocol

About weddings of different faiths

And everything you need to know to start your business right away!
Did you know that the average wedding planner is paid a minimum of 10% of the total cost of the wedding?

With today's average wedding costing $19,000, that means you'll make at least $1,900 dollars for each wedding you plan!

Just working part time would equal an excellent new source of income.
Sign up now. You're just an online course away from becoming the fairy godmother that has the power to convert the simplest weddings into the most beautiful affairs.

And that is what you want, isn't it?

You want to make wedding dreams come true for all your clients.
In this course, you are going to get the chance to:
Build your portfolio so that you can start your business once you finish the course.
Learn all aspects of wedding planning.
Learn how to plan a wedding, detail by detail.
Become familiar with the forms, contracts, and worksheets professional wedding planners use.
Learn about wedding traditions and current trends.
Find and establish relationships with vendors.
Learn how to attract your first clients.
Find out everything else you need to know to be a successful wedding planner.
Just take your time. Relax. Pay attention to the details. You are just a course away from becoming the person that has the power to convert the simplest weddings into the most beautiful affairs. That is what you want, is it not? You want to make wedding dreams come true for all your clients.
Responsibilities of a Wedding Planner
As with any new career or job, you must know your responsibilities and duties before you begin in order to be successful. As a wedding planner, you have numerous responsibilities and duties, but the main one will be to become your client's right arm. Anything pertaining to the wedding that the client wants you to help with becomes your responsibility. Needless to say, your duties will vary from client to client.
Most clients will want you to:
help send out engagement announcements. This may include writing a small piece for local papers.
help with the venues for the ceremony and reception.
help plan the ceremony and reception.
arrange accommodations for out-of-town guests.
help shape the guest list.
help select and send out invitations.
shop for wedding gowns and bridesmaid and groomsmen attire.
assist with finding a caterer.
assist with finding music for the reception.
help arrange transportation for the wedding day.
recommend or find photographers, videographers, florists, etc.
assist in planning the rehearsal dinner.
be there on the wedding day to coordinate everything.
obtain discounts and perks from vendors.
make payments to vendors on their behalf.
However, there will be clients who may ask you to help with:
engagement and wedding rings;
engagement parties and announcements;
bachelor and bachelorette parties;
advice on vows;
honeymoon destinations;
destination weddings (where the couple gets married in an exotic or luxurious locale);
returning rentals and overseeing cleanup and returns after the wedding.
In essence, wedding planners handle all the arrangements leading up to and including the wedding day. This includes flowers, catering, transportation, venues, and even the gown and tuxedos. Everything that the couple wants to include in their special day, you will arrange for, including obtaining the best price for everything they want.
Let us put it this way. If the bride wants a Smurfette garter belt and asks you to find it, it is your job to track it down and make sure she has it if it exists anywhere in this world. Similarly, if the groom wants spring water bottled in a small town in Wyoming, but knows only that the name of the water starts with an "M," he and his bride will count on you to find it and make sure it is there for the day of their wedding.
Some couples will work with you every step of the way. You may find that when you plan certain weddings, the bride becomes your new best friend until the big day occurs. Other couples will simply tell you exactly what they want, then step back to let you create the magic. In other situations, you may be working with the parents and the bride. Either way, it is your job to make that big day come off with only one hitch: the couple's union.
Remember, every little girl dreams of her wedding day. That means your every responsibility and duty are more important to the couple than anything that has happened in their lives thus far. They are counting on you!
As with any very important day, different people involved with the wedding will have different ideas as to how it should be carried out. Maybe the bride and groom disagree on the role his family will have in the wedding. The bride or groom may worry because he or she does not like the appetizer being offered with the caterer's menu. Even worse, the in-laws may clash on where to hold the wedding or what denomination the minister should be. Although the final say in any matter will fall to the bride and groom, it is up to you to smooth ruffled feathers and present resolutions to any problems that arise.
Just when you think you are finished, when every detail has been ironed out and everyone seems very happy, it is the wedding day. Do not think for a second that you will be sitting in the audience, admiring your work, or wishing the couple well from your comfortable couch at home. No way!
You will be expected to be on-hand for every single wedding you plan. You have to be there! The bride may want you at her side, helping her get ready for the ceremony. She may even ask you to hold the train of her gown while she uses the bathroom. You may have to help the ushers out, lug champagne crates, or help the caterers serve the meal because they are one person short.
Whatever it takes to make the wedding day go off smoothly as planned for the bride and groom, you will be expected to do. That means that you may work harder on the actual wedding day than you did planning the event, but that is okay.
If the bride leaves the reception with a smile on her face and tears in her eyes and the groom's family pats an extra $100 in your hand, then you have done a wonderful job and you are well on your way to becoming an in-demand wedding planner.
What You Need to Get Started
There is no doubt that this sounds good to you, and you are chomping at the bit to learn how to get started. You would start planning a wedding today if you could. Being a wedding planner is a very romantic, exciting, and rewarding job. If you have the slightest bit of romance in your body and love putting together events and parties, there is no doubt you are going to do great.
The truth of the matter is that anyone can be a wedding planner. You do not need to take this course or anything like it to get started. In fact, almost anyone will offer to plan your wedding if given the chance. They might even do a halfway decent job.
With that said, there is a big difference between planning someone's wedding as a favor and a career as a professional wedding planner. Planning someone's wedding as a favor leaves most of the details to the bride and groom. You do not have to know the ins and outs of the business, proper etiquette, the best photographers and caterers; you do not have to know anything but the couple's preferences and how to help out as asked.
A professional wedding planner is efficient, organized, and can plan a small, intimate gathering or the social event of the decade. He or she has contacts with vendors. Wedding planners know weddings inside and out and can bring together thousands of small details without batting an eye. They make things happen, and they make them happen within their client's budget.
The first thing you need to do to be on your way to becoming a professional wedding planner is to get organized . This course will provide much of what you need, but there are things you will need to do as well.
Start collecting bridal magazines, travel guides, pictures of different gowns, flowers, and anything your customers might like to implement in their wedding. You can buy some photo albums and rip out pages from magazines to create volumes of different gowns, bouquets, honeymoon destinations, and anything else you want to include.
Start a Web site and insert photos there. The idea is to help the bride bring her dream wedding to life with pictures, so she can show you exactly what catches her eye. Sometimes, you may find a bride who already knows what she wants and just leaves the planning to you. More often than not, though, you will serve as a guide. Your clients count on you to know everything about weddings, so start educating yourself now.
Another thing you want to do before you even begin to plan your first wedding is to get your home office situated. Organization is the key to success in anything you do, including wedding planning. Make sure you have an area set aside for your work. Have notepads, pens, business cards, flyers and other promotional items (if you choose) in a convenient place so you can grab them at a moment's notice.
Keep a notepad and pen by the phone. You will receive a phone questionnaire sheet later in this course that you can use instead of a notepad to be more efficient. The first contact you will have with most of your clients will be by phone. Organizing that aspect of your business is crucial.
Here are some other essential things you will want to do:
Put together a portfolio. It does not matter if you have never planned a wedding before. Have you ever planned a family reunion? A large social event? Do you host large dinner parties? Compile references, testimonials, and any pictures of the festivities. You can use these as your experience as an event planner. Also, you can include baby showers, bachelorette parties, and things of that nature. Do not include your own wedding as your only experience. It appears very unprofessional.
Come up with a business name. It can be a clever name or just something as simple as J.S. Smith Wedding Planners.
Apply for a business license through your local courthouse. You can call to see what you need to do to apply and how much it will cost. A business license will help establish you as a professional to your clients.
Start a web site. Nowadays you can create your own site rather quickly and easily. You will need a web site, so do not skip over it. You can also have a form on your site for those requesting consultations.
Gather your contracts, forms, and everything else you will need. Do not worry about that just yet. Several will be provided to you in this course.
Take this course. That is a no-brainer, but make sure you study this course. Use it as a reference as you start your business.
It is assumed that you will start your business out of your home and not in an actual office space. If that is the case, decide if you want to meet clients at your home or find a nice restaurant or café where you can meet them. It is very important that you have that established so you are not left floundering for a meeting spot when your clients ask for a consultation.
Advertise. Use word of mouth at first until you build a portfolio, then advertise in publications and other venues. Many bridal magazines will let you place an advertisement. Ads are expensive but worth it if you can afford them. If not, consider local publications. Then consider local publications, anyway! It is a great way to drum up business.
Join associations. Nothing spells professionalism like belonging to different associations. There are several for wedding planners.
Reliable transportation. You will be doing a lot of traveling.
A cell phone/smart phone that you can use whenever you need to for business purposes, which can also do social media, texting, and email.
Of course, this is just a list to get you started. Do not worry about putting it all together right now. You are going to learn so much in the next few lessons that it will be a lot easier to assemble it all after you finish this course.
Completely Online
Self-Paced
6 Months to Complete
24/7 Availability
Start Anytime
PC & Mac Compatible
Android & iOS Friendly
Accredited CEUs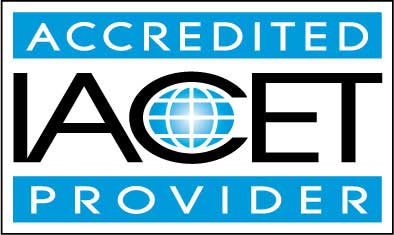 Lesson 1: The Business of Planning Weddings
In this lesson, you will learn the importance of organization in planning weddings and the responsibilites to be successful.
85

Total Points
Lesson 1 Video
Review Article: Becoming a Wedding Planner
Take Poll: I Want to Be a Wedding Planner Because...
Take Survey: Reasons for Taking this Course
Complete Assignment: An Introduction
Complete: Lesson 1, Assignment One
Complete: Lesson 1, Assignment Two
Complete: Lesson 1 Exam
Lesson 2: Getting Familiar with the Wedding Industry
In this lesson, we will learn the importance of having a vendor list.
85

Total Points
Lesson 2 Video
Review Practice Worksheet: VendorListWorksheet.doc
Complete: Lesson 2, Assignment One
Complete: Lesson 2, Assignment Two
Complete: Lesson 2 Exam
Lesson 3: Wedding Budget
Knowing the couples' budget is one of the first things you need to establish.
50

Total Points
Lesson 3 Video
Review Practice Worksheet: WeddingBudgetWorksheet.doc
Review 2 Articles: Budget Brides Guide; Budgeting For You
Complete: Lesson 3, Assignment One
Complete: Lesson 3, Assignment Two
Lesson 4: The Wedding Consultation
During a consultation, you will be asked many questions and need a contract close by.
25

Total Points
Lesson 4 Video
Review Article: The Wedding Planner
Take Poll: Degree of Difficulty
Complete: Lesson 4, Assignment One
Lesson 5: The Wedding Planner Timeline
Part of being a successful and highly recommended wedding planner is being organized and coordinating all the wedding plans so the big day goes as smoothly as possible.
135

Total Points
Lesson 5 Video
Review Article: 16-Month Wedding Plan Checklist
Complete: Lesson 5, Assignment One
Complete: Lesson 5, Assignment Two
Complete: Lesson 5 Exam:The Wedding Planner Timeline
Lesson 6: Planning the Ceremony
Learning to coordinate the wedding ceremony and reception is essential.
140

Total Points
Lesson 6 Video
Review 2 Practice Worksheets
Review 3 Articles: Opening and Closing Rituals; WeddingWire.com; Flower Worksheet
Complete: Lesson 6, Assignment One
Complete: Lesson 6, Assignment Two
Complete: Lesson 6 Exam: Planning the Ceremony
Lesson 7: Planning the Reception
Usually the wedding reception will be the largest expense associated with the wedding.
125

Total Points
Lesson 7 Video
Review Article: Wedding Cake Designs
Complete: Lesson 7, Assignment
Complete: Lesson 7 Exam: Planning the Reception
Lesson 8: Etiquette and Protocol
This lesson includes the proper protocol before and after the ceremony and the different religious and cultural etiquettes.
115

Total Points
Lesson 8 Video
Review Article: 20 Wedding Don'ts That Are Actually Wedding Dos
Complete: Lesson 8, Assignment
Complete: Lesson 8 Exam: Etiquette and Protocol
Lesson 9: Resolving Disputes
It is part of your job as the wedding planner to resolve disputes and make getting to the altar as stress-free as possible for the engaged couple.
120

Total Points
Lesson 9 Video
Review 2 Articles: Avoiding Wedding Disputes; Calming the Bride
Complete: Lesson 9, Assignment One
Complete: Lesson 9, Assignment Two
Complete: Lesson 9 Exam: Resolving Disputes
Lesson 10: Forms and Reference Tools
Here are some checklists, worksheets, and contracts.
0

Total Points
Review 3 Articles: Business Forms; Wedding Planning Tools; Wedding Planner Contract Forms
Lesson 11: How to Start Your Wedding Planning Business Right Now
When starting your own business, it is crucial to have all the right licences, contracts, and portfolios prepared.
665

Total Points
Lesson 11 Video
Review Article: My Punch Bowl Party Planning Forms
Take Poll: This Course Made me Realize...
Take Survey: Course Comments
Take Survey: Program Evaluation Follow-up Survey (End of Course)
Complete: Lesson 11, Assignment One
Complete: Lesson 11, Assignment Two
Complete: Final Assignment
Complete: Lesson 11 Exam: How to Start Your Wedding Planning Business Right Now
Complete: Final Exam
By successfully completing this course, students will be able to:
Describe the business of planning weddings.

Become familiar with the wedding industry.

Define and create a wedding budget.

Describe procedures of the wedding consultation.

Summarize and create the wedding planner timeline.

Plan the ceremony.

Plan the reception.

Describe etiquette and protocol.

Summarize methods for resolving disputes.

Use forms, contracts and references tools.

Describe how to start your wedding planning business right now, and

Demonstrate mastery of lesson content at levels of 70% or higher.
Additional Course Information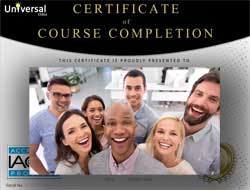 Document Your Lifelong Learning Achievements

Earn an Official Certificate Documenting Course Hours and CEUs
Verify Your Certificate with a Unique Serial Number Online
View and Share Your Certificate Online or Download/Print as PDF
Display Your Certificate on Your Resume and Promote Your Achievements Using Social Media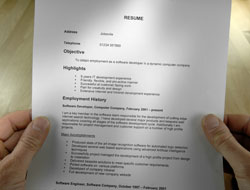 Course Title:
Wedding Planning 101
Lessons Rating:
4.6 / 5 Stars (2,707 votes)
Languages:
English - United States, Canada and other English speaking countries
Category:
Course Type:
How To (Self-Paced, Online Class)
Grading Policy:
Earn a final grade of 70% or higher to receive an online/downloadable CEU Certification documenting CEUs earned.
Assessment Method:
Lesson assignments and review exams
Instructor:
UniversalClass Staff Instructors
Duration:
Continuous: Enroll anytime!
Choose Your Subscription Plan
"This course is has given me so much more confidence to go out there and take charge. I have the knowledge that is needed to be a professional wedding planner. It has helped me to be both effective and efficient..I love it!" -- Dionne D.
"What was most helpful was the part about the etiquette and budget as well as about starting the wedding planning business, wedding timeline and few more. They were containing new information which I could learn." -- Hanna S.
"The course was very helpful. I enjoyed it. Once I started I just wanted finish. " -- India G.
"I was very impressed with the way the material was organized and structured, and extremely pleased that all the assignments were very practical and useful for real life. I enjoyed the study very much and by all means will consider other courses of the same instructor in the future, and will be happy to recommend these courses to other people." -- Oksana P.
"The worksheets and links were very helpful." -- Rosaline K.
"Very helpful." -- Sarah B.