Disaster Preparedness 101
---

$
50.00
no certificate
- OR -
$
75.00
with CEU Certificate*
Are you ready to face a disaster? Have you ever wondered what you would do when the big one hit? What disasters do you face where you live, and what actions do you take when they happen? These are just a few questions to ask yourself to know if you are prepared for a disaster. In this disaster preparedness course, you will gain valuable insight and knowledge of what YOU can do to not only prepare yourself but also all your family members to survive and be ready for a disaster. The course will guide you through the basic steps all the way through getting an emergency kit together to preparing you for financially and technologically. By taking this course, you will gain insight into what things you really need, but also items that can make sheltering easier on everyone, including your pets. For those with special needs, the course also provides unique insights on how to prepare for family members with accessibility concerns and how you can make sure they are taken care of during the disaster.
Taking this course will help you prepare a fully functional disaster preparedness plan--one that includes packing lists, a communication plan, a financial plan, and even a technology plan. If you live in areas where tornadoes, hurricanes, earthquakes, or other disasters are common, this is the course for you. In addition, this course will cover topics that help you understand what the benefits a safe room can provide for your safety. Even for those not in these areas, this course still provides insight into what to do for man-made disasters such as terrorist attacks, chemical spills, and fires. Don't wait until disaster strikes, strike first and get prepared.
Completely Online
Self-Paced
6 Months to Complete
24/7 Availability
Start Anytime
PC & Mac Compatible
Android & iOS Friendly
Accredited CEUs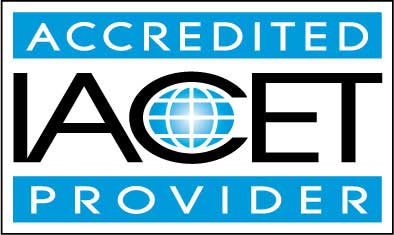 Lesson 1: Introduction to Disaster Preparedness
A disaster is a sudden, calamitous event that causes serious disruption of the functioning of a community or a society causing widespread human, material, economic, and/or environmental losses that exceed the ability of the affected community or society to cope using its own level of resources.
40

Total Points
Review 2 Articles: Ready.gov; Types of disasters: Definition of hazard
Take Survey: Reasons for Taking this Course
Complete: Lesson 1 Quiz
Lesson 2: Getting Prepared: The Essentials
What items do you consider essential? How about what your family members will need? Everyone will have something different listed when it comes to deciding on what is essential to have when a disaster happens.
50

Total Points
Review 5 Articles: Build A Kit; Be Prepared for an Emergency. Be Red Cross Ready!; Emergency Items: What Will Disappear First; Top 10 supplies you need in case disaster strikes; Family Emergency Binder: Free Checklist to Create Your Own
Complete: Lesson 2 Quiz
Lesson 3: Key First Aid, Health, and Decontamination Information
When disaster hits, very likely, there may be injuries, such as scrapes, cuts, or broken bones.
40

Total Points
Review 5 Articles: Survival Medical Supplies; How To Pack An Emergency Kit; Where Should I Store the Family First Aid Kit?; How to Self-Decontaminate after a Radiation Emergency; Emergency Communication Plan
Complete: Lesson 3 Quiz
Lesson 4: Seeking Shelter
This lesson will cover material to provide you with basic guidance on seeking and preparing for shelter.
50

Total Points
Review 4 Articles: Storm Safe: Sheltering In Place; Emergency Response Plan; Emergency Preparedness Basics; What To Do During Severe Weather And Other Emergencies
Complete: Lesson 4 Quiz
Lesson 5: Preparing a Safe Room
Another measure that you can take is to prepare a safe room inside your house. Often, these are used in areas where tornadoes and hurricanes are at high risk.
50

Total Points
Review 4 Articles: Safe Rooms; Safe Room Ideas; Preparing a Home Safe Room; Residential Safe Rooms
Complete: Lesson 5 Quiz
Lesson 6: Alerts and Warnings
This lesson will focus on the different types of alerts and warnings that are commonly used, what they mean, and how they are broadcasted.
50

Total Points
Review 5 Articles: Early warning of disasters: Facts and figures; Be Smart. Take Part. Know Your Alerts And Warnings; Timely Alerts and Warning; ?They didn't warn you': Louisiana disaster reveals deep challenges in flood communication; Emergency Alerting Systems
Complete: Lesson 6 Quiz
Lesson 7: Internal and External Communications
You must consider every avenue when the emergency or disaster strikes.
50

Total Points
Review 4 Articles: How to Create an Emergency Communication Plan; 4 Tips for Creating Your Emergency Communications Plan; 20 Days to Ready: Know Where They'll Be; Create Your Family Emergency Communication Plan
Complete: Lesson 7 Quiz
Lesson 8: Medical and First Aid Needs
To fully plan your medical and first aid needs, you have to gather key and important information.
45

Total Points
Review 5 Articles: Consumer Preparedness in the Face of Disaster; Emergency Preparedness for Your Pets; Making a First Aid Kit; Getting Medical Care and Prescription Drugs in a Disaster or Emergency Area; Medication Management in Disaster Planning
Complete: Lesson 8 Quiz
Lesson 9: Being Prepared Financially During a Disaster
There are many things to consider and putting together a solid financial plan takes some deep thought and consideration.
50

Total Points
Review 3 Articles: Everyone Must Be Prepared For Emergencies; Preparing for Natural Disasters presented by insurancelinked.com; Creating an Emergency Preparation File: Protecting Vital Documents
Complete: Lesson 9 Quiz
Lesson 10: Mobility and Transportation
This lesson will discuss what you need to do to be prepared for an emergency, as well as what to do if the disaster strikes when you are driving or mobile.
50

Total Points
Review 2 Articles: The New Survivalist Disaster Preparedness and Self-Reliance; Safety and Driving Tips
Complete: Lesson 10 Quiz
Lesson 11: Introduction to Disaster Preparedness
If you are an individual with medical needs and/or disabilities, and you need to have accessibility and there are functional concerns, you need to add more strategies to your emergency preparedness plan.
50

Total Points
Review 3 Articles: Preparing Makes Sense for People with Disabilities and Other Access and Functional Needs; Basic Supplies for Unique Needs; Power Outages
Complete: Lesson 11 Quiz
Lesson 12: Search Organization Preparedness
An effective first responder readiness program needs a reasonable vision, significant targets and objectives, characterized deliverables, courses of events, and consistent surveys.
50

Total Points
Review Article: Disaster Shelters
Complete: Lesson 12 Quiz
Lesson 13: Emergency Preparedness for Schools
Schools must plan thoroughly for their preparedness in an emergency. This lesson will go over the basic steps school officials should take when planning for an emergency.
50

Total Points
Review 4 Articles: School Emergency Plan; Developing High-Quality School Emergency Operations Plan; Threat- and Hazard-Specific Annexes; Disaster Planning for Schools
Complete: Lesson 13 Quiz
Lesson 14: Emergency Preparedness for the Office
To have your business ready for a disaster, it will take coordination between administration, organization representatives, and multiple offices, and HR is required while dealing with the issues identified with when facing imminent harm or danger.
25

Total Points
Review 5 Articles: Get Started: Emergency Preparedness Checklist for Small Businesses; Emergency Preparedness For Offices; Office Survival Kit; Crisis Communications Plan; 8 Steps to Create the Ultimate Crisis Communication Plan
Complete: Lesson 14 Quiz
Lesson 15: Being Ready for a Technological Disaster
Recovery methodologies should be created for information innovation (IT) frameworks, applications, and information.
390

Total Points
Review Article: Taking Action for Disaster Preparedness: Technology and Innovation in Support of America's PrepareAthon!
Take Poll: End of Course Poll
Take Survey: Course Comments
Take Survey: Program Evaluation Follow-up Survey (End of Course)
Complete: Lesson 15 Quiz
Complete: The Final Exam
By successfully completing this course, students will be able to:
Describe what types of disasters you should get prepared for.

Describe key first aid, health, and decontamination information.

Describe seeking shelter.

Describe preparing a safe room.

Describe internal and external communications process in a disaster.

Determine medical and first aid needs.

Describe being prepared financially during a disaster.

Describe emergency preparedness for schools.

Describe emergency preparedness for the office.

Describe being ready for a technological disaster, and

Demonstrate mastery of lesson content at levels of 70% or higher.
Additional Course Information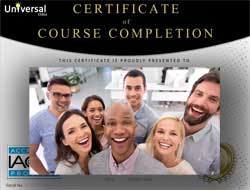 Document Your Lifelong Learning Achievements

Earn an Official Certificate Documenting Course Hours and CEUs
Verify Your Certificate with a Unique Serial Number Online
View and Share Your Certificate Online or Download/Print as PDF
Display Your Certificate on Your Resume and Promote Your Achievements Using Social Media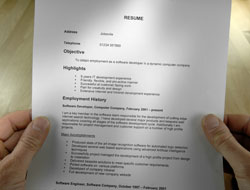 Course Title:
Disaster Preparedness 101
Languages:
English - United States, Canada and other English speaking countries
Category:
Course Type:
How To (Self-Paced, Online Class)
Grading Policy:
Earn a final grade of 70% or higher to receive an online/downloadable CEU Certification documenting CEUs earned.
Assessment Method:
Lesson assignments and review exams
Duration:
Continuous: Enroll anytime!
Choose Your Subscription Plan