?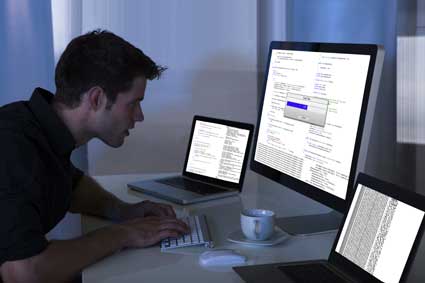 Since the introduction of the Internet, email has long been one of the primary services that most people use to communicate. When is the last time you received a handwritten letter or document? Now, everyone from individuals to corporations use email as the primary communication tools. Email lets you send basic communications, but it also lets you share documents, information and automate business order confirmations.
To receive, read and send emails, you need an email client. There are several on the market, but none of them are as popular as Microsoft Outlook. The latest Outlook 2019 has several features that make your email communication easier.
Microsoft Outlook 2019 is a part of the latest Office 2019 suite of applications. If you purchase an Office 2019 subscription, you can find an Outlook icon link with the other applications. Outlook works with email communication, but many of the Office applications can work together. For instance, you can copy and paste content from Microsoft Word to your Outlook email interface.
The Difference Between Outlook and Gmail
Several organizations offer email services. The difference between Outlook and an email service is that a service handles sending and receiving messages. Outlook is an email client that handles storing your emails and displaying them in a friendly interface.
Gmail is an email service. Google Gmail has the infrastructure, servers, and security that allows users to send and receive email provided that they have an account with Gmail. Gmail has a web interface, which could be considered the email client. It runs in your browser. The issue with this tool is that you need to be on a machine that has access to Gmail and the browser is available. Outlook has several applications that run on various devices including mobile, desktops, tablets and laptops.
Outlook is an email client, so none of the email that you send or receive is handled by the application. When you receive email in Outlook, it's pulled from your email service's incoming server that runs email services. When you send email in Outlook, the message is sent to your email service's outgoing server.
Before you can use Outlook, you need an email service. If you don't have a service, then you can get a Gmail account for free. Gmail is Google's email service, and it's free unless you need corporate tools. G Suite is a corporate package that includes an email account that you can customize to match your business domain.
Why Use Outlook?
With so many email clients on the market, why use Outlook? Outlook is popular because of the many features included in the software. Outlook has several media-rich features and lets you make HTML or plaintext content. Plaintext emails have no formatting or advanced features that an HTML email can offer to the viewer. HTML emails can contain formatting, videos, images and any other markup that an HTML web page can display to the user. Most senders use HTML content, because it's easier to send attractive emails including marketing content.
After several hundred emails, your inbox becomes disorganized. In free, web-based email interfaces, organization is difficult since you're limited to a web interface. With Outlook, you have several organization tools to keep email messages grouped in directories and subcategories. Outlook also has a filter and spam folder, so you can also limit unwanted email in your inbox.
Newer versions of Outlook including 2019 have an RSS feed reader. RSS is used on websites to distribute content in a standard template for readers to display to users. Outlook can connect to an RSS feed and display content directly in the interface. This saves you time, because you can read your favorite website content directly in Outlook rather than navigate site-by-site in your browser.
Finally, Outlook can download email directly to your computer and delete it if you choose to remove it from the original server. This adds a layer of security should an attacker gain access to your email account. Email downloaded to your computer is stored in an Outlook folder, and this folder can then be backed up on a separate drive either in the cloud or on your local network. Emails are stored all in one place unless you've specified otherwise.
Because Outlook is a part of the Microsoft Office suite, if you use other Office products then using Outlook makes integration of other products easier when you use them for a work environment.
Introduction to Basic Outlook Features
After you install Microsoft Office, all of the Office applications are installed in a directory. If you have Windows 7, you can find the application icons in your start menu. You can also pin Office applications to your Windows taskbar. Each Office icon has its own color and letter. The Outlook icon is a blue icon with the "O" letter on the front of it.

or

(Outlook 2019 icons)
Click the icon and Outlook opens on your desktop. Before you can use Outlook, you need to configure it to work with your email server. We will show you how to configure Outlook in the next chapter. If you already have Outlook configured, you can open it and see its basic features. Outlook email client is laid out like most other email interfaces. You have menus at the top of the window, the left side of the interface contains your folders and inbox, and the center of the window is where you read and type your messages.
The left side of the window is where you find your inboxes, accounts and folders.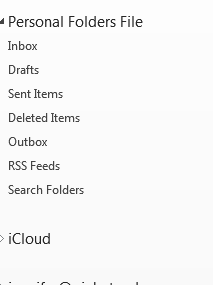 (Folders for your accounts)
Under the "Personal Folders File" section lists all of your accounts configured with Microsoft Outlook. Personal folders are specific to Outlook where all your messages are stored. If you download messages instead of keeping them on the email server, then these messages are stored in each designated folder.
To the right of your list of folders is a small preview of your email. The preview only shows the email subject, the sender, and the first line of the email message. You can move this panel to the top or bottom of the Outlook interface.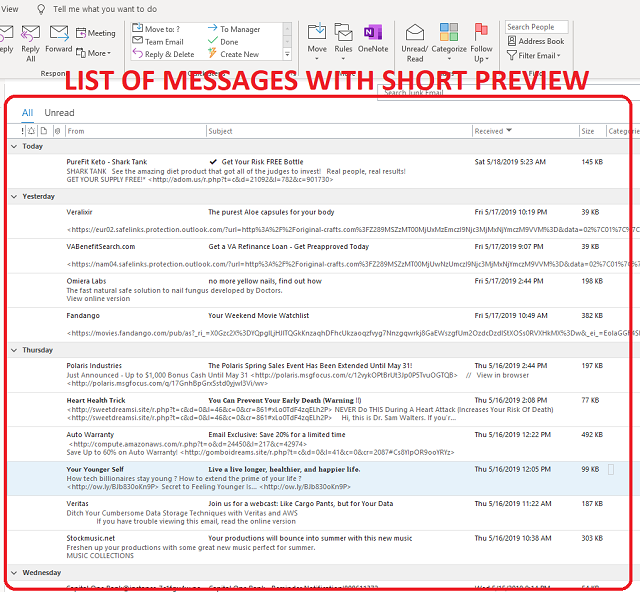 Finally, the top section of the interface is where Outlook menus can be found.

(Outlook top "Home" menu)
Each menu category is placed in a tab. Some tabs are more often used than others, and we'll cover the most important features that you'll use daily. Notice that Outlook natively integrates with OneNote. OneNote is also a Microsoft Office application where you can write content in the cloud. With Outlook, it's much easier to work in an enterprise since all applications integrate with others in the package.