$29.00
no certificate
- OR -
$54.00
with CEU Certificate*
1.5 CEUs :: 15 Contact Hours :: Self-Paced :: Instructor Support :: 6 Month Subscription
Loading...
Course Description
More people every year are discovering the joy of scrapbooking to capture memories and create unique family and friend albums to keep and share. In this comprehensive course, the beginner scrapbooker will learn how to start his/her scrapbooking hobby without being overwhelmed. Everything from choosing the right supplies to get started to tips for journaling effectively is included in easy to follow lessons that reflect the wide variety of scrapbooking styles and themes popular today.
Traditional Scrapbooking 101 also includes a reference section with helpful advice on designing interesting layouts, developing an artistic eye and the story-telling aspects of scrapbooking. Original project suggestions are included as well as advice on how to make the time to enjoy your hobby properly. A resource guide with links to online scrapbooking sites that offer support, supplies and networking opportunities gives everyone from the beginner to the most advanced scrapbooker the opportunity to learn more.
---
* Instantly download, print, and share your CEU Certificate at course completion (additional shipping/handling charges apply for hard copy delivery). UniversalClass™ offers many wonderful learning tools including an online portfolio service that manages all your course completions and CEUs.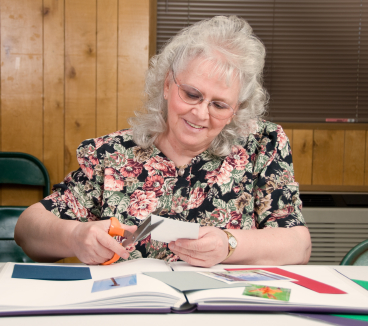 Request More Information

Have a question? Contact us for more information.
Course Lessons
Lesson 1: Introduction to Scrapbooking

You don't have to be artistic and you don't have to be a talented artist to scrapbook. All it takes is the desire to have a little fun and be a little creative, and you're well on your way to being an ace at scrapbooking.

Lesson 2: The Process of Preparing to Start Scrapbooking

The key to creating a great scrapbook begins with organization. This lesson will discuss the steps you will need to start.

Lesson 3: Supplies -- The Tools of the Trade

Having the right tools for scrapbooking will make your projects easier and much more enjoyable as well as helping you to enhance the appearance of your pages.

Lesson 4: Creating Page Lay-Outs Pt. 1 (Basic Lay-Out)

The way you place each element on the page in relation to the others can set the tone, create an emotion or simply display the photographs to their best advantage.

Lesson 5: Creating Page Lay-Outs Pt. 2 (Lay-Out Techniques)

This course teaches you the foundation of how to create a scrapbook. It's up to you to add your own ideas and creativity and go from there.

Lesson 6: Creating Page Lay-Out Pt. 3 (Popular Layouts)

In this lesson, we're going to talk about creating layouts for your pages --and even give you some ideas.

Lesson 7: Photos Pt. 1

Although it may seem overwhelming to go through your collected photos and decide which ones to use and which ones to pass by, a little bit of time on this will make the rest of your project much more enjoyable.

Lesson 8: Photos Pt. 2 (Traditional Methods used Enhancing and Mounting Photographs)

In this lesson, we're going to teach you how to change the shapes -- and even tint the colors -- if you want so they go with the ideas you have for your scrapbook.

Lesson 9: Photos Pt. 3 (Digital Pictures)

Since scrapbooks are ways to tell stories using photographs, the pictures that you select to use in your scrapbook are important.

Lesson 10: Embellishments

In this lesson, we're going to introduce you to some of the most popular embellishments.

Lesson 11: Journaling

Many scrapbookers consider journaling the most difficult part of scrapbooking. It can be difficult to know what to write on all of those pages, but journaling is essential to completing the story.

Lesson 12: Creative Techniques (Paint and Brush Ideas)

This lesson gives you trendy, creative ideas to decorate your scrapbook.

Lesson 13: Creative Techniques (Paper Ideas)

In this lesson we will show you some neat scrapbooking techniques that can be done using paper.

Lesson 14: Creative Techniques (Ideas for Adding a Personal Touch)

Your scrapbooks can be filled with wonderful photos with a good lay-out and great embellishments, but nothing makes a scrapbook more unique than finding ways to move beyond the store-bought trims.

Lesson 15: Scrapbooking Events and Parties

As scrapbooking has gained popularity in recent years, individuals have begun putting together scrapbooking parties and events so that they can share their passion with others.

Lesson 16: The Future of Scrapbooking

The future of scrapbooking will continue to change as new materials, methods and styles evolve, including digital scrapbooking.

Lesson 17: Nearing Completion

We are now ready to begin to put all of these creative ideas and techniques together to build a beautiful scrapbook.
Average Lesson Rating: (543 votes)





"Extraordinarily Helpful"

1.5 CEUs
15 Contact Hours

Document Your Lifelong Learning Achievements
Earn an Official Certificate Documenting Course Hours and CEUs
Verify Your Certificate with a Unique Serial Number Online
View and Share Your Certificate Online or Download/Print as PDF
Display Your Certificate on Your Resume and Promote Your Achievements Using Social Media
Course Title:
Traditional Scrapbooking 101
Languages:
English - United States, Canada, United Kingdom, Australia, New Zealand, and other English speaking countries
Category:
Grading Policy:
Earn a final grade of 70% or higher to receive an online/downloadable CEU Certification documenting CEUs earned
Assessment Method:
Lesson assignments and review exams
Duration:
Continuous: Enroll anytime!
Learning Outcomes
By successfully completing this course, students will be able to:
Define scrapbooking.
Define the process of preparing to start scrapbooking.
Summarize supplies you'll need.
Demonstrate 1 (basic lay-out).
Demonstrate 2 (lay-out techniques).
Demonstrate 3 (popular layouts).
Demonstrate traditional methods used enhancing and mounting photographs.
Demonstrate embellishments.
Demonstrate journaling.
Demonstrate creative techniques (paint and brush ideas).
Demonstrate creative techniques (paper ideas).
Demonstrate creative techniques (ideas for adding a personal touch).
Summarize scrapbooking events and parties.
Describe the future of scrapbooking, and
Demonstrate mastery of lesson content at levels of 70% or higher.
An Introduction
Assignment
5
Lesson 2: Scrapbook Workroom
Assignment
5
Lesson 3: Scrapbook Workroom
Assignment
10
Lesson 3 Exam
Exam
9
Lesson 4: Scrapbook Workroom
Assignment
10
Lesson 4 Exam Pt. 1
Exam
10
Lesson 4 Exam Pt. 2
Exam
10
Lesson 5: Scrapbook Workroom
Assignment
10
Lesson 5 Exam Pt. 1
Exam
7
Lesson 5 Exam Pt. 2
Exam
10
Lesson 6: Scrapbook Workroom
Assignment
10
Lesson 6 Exam
Exam
10
Lesson 7: Scrapbook Workroom
Assignment
25
Lesson 7 Exam
Exam
7
Lesson 8: Scrapbook Workroom
Assignment
10
Lesson 8 Exam
Exam
8
Lesson 9: Scrapbook Workroom
Assignment
10
Lesson 9 Exam
Exam
10
Lesson 10: Scrapbook Workroom
Assignment
25
Lesson 10 Exam
Exam
10
Lesson 11: Scrapbook Workroom
Assignment
10
Lesson 11 Exam
Exam
10
Lesson 12: Scrapbook Workroom
Assignment
5
Lesson 12 Exam
Exam
10
Lesson 13 Scrapbook Workroom
Assignment
10
Lesson 14: Scrapbook Workroom
Assignment
25
Lesson 14 Exam pt. 1
Exam
10
Lesson 14 Exam pt. 2
Exam
10
Lesson 15: Scrapbook Workroom
Assignment
10
Lesson 15 Exam
Exam
8
Lesson 17: Scrapbook Final
Assignment
25
Total Points:
344
Related Courses