Online Class: Catering 101
---

$
50.00
no certificate
- OR -
$
75.00
with CEU Certificate*
11

17

1,183

Students

have taken this course

5

0.5
If you are the kind of person who...
thrives on cooking for your friends,
wants everyone to come to your house for dinner,
feels like you have more party food ideas than you could ever possibly execute in your own home
...then you might want to start your own catering business.
Caterers cook and transport food for other people's parties. Unlike restaurants where all the cooking and serving happens at the same location, caterers have the added logistical challenge of transporting food from their kitchen to the party venue.
Caterers work closely with their clients to develop a menu and a party plan that meets their clients' desires and budget. To be a successful caterer, you must have business savvy, be great at dealing with people, and able to handle stress. Additionally, you'll need be an excellent cook as well as be creative, organized and efficient. Some caterers have several of these qualities when they start out, but they have to develop the others as they go along.
This course discusses in detail the critical aspects of management involved in running a catering business like how to get the appropriate licenses and permits, what kind of kitchen you need, basic food safety practices, party planning, cooking for a crowd, planning meals, dealing with customers, understanding how to price your services, and moving the food safely from one location to another.
If you are passionate about food and you feel like you have what it takes to start your own catering business, this course can help you understand the critical steps involved in starting off on the right foot.
Catering is the art of planning and cooking food for parties. Unlike a restaurant that serves food in the same location where it will be served, caterers generally cook the food in one place, and take it to a party venue to serve. Most of the party food is finished the day before the party, except for last-minute warming, quick cooking, finishing touches, and garnishes. Caterers usually charge a fee for services, but if you bake two dozen muffins and provide them to a local coffee shop as free samples of your baking services, that can be considered catering, also. Catering is usually a business operation, but if you just enjoy planning large parties and serving food to your friends, you can benefit from some of the large-scale food preparation and transportation techniques that caterers use.
Catering is a little different from cooking in a restaurant. Although both types of cooking involve commercial kitchens and large-scale quantities, restaurant cooks prepare each order individually. Customers arrive, sit down, and order food at different times. A restaurant cook needs to be able to prepare anything on the menu at a moment's notice. Caterers might use a restaurant kitchen, but they do more of their work ahead of time. Caterers usually handle special events, like birthday parties, weddings, funerals, or intimate dinners with friends. In general, all the guests arrive at about the same time, so all the food has to be ready at the same time. Caterers may have a set of menus they use to help customers plan parties, but unlike a restaurant cook, caterers have a lot of freedom in meal planning, and they work with customers to select menus that fit the occasion, personal preferences, and the client's budget.
Some caterers serve food in their own location; for example, a hotel may have a food and beverage staff that caters all events held at that property. However, many caterers serve food only off-premises. Customers might pick up the food, or the caterer could deliver it to the party location. Transporting food safely requires careful prior planning, which this course will discuss in detail. Once the food arrives at the venue, there are several ways to serve it: The caterer could just drop off prepared food items that the client will set out for guests, or the caterer might bring the food in and set up a buffet. Some food items may require last-minute finishing touches that the caterer completes on-site. The client may also want extra help serving the food at the party. This can mean anything from a few extra hands, to make sure there is always fresh food on the buffet line, to a full staff of servers delivering plated meals and wine to the table for a seated dinner.
If you are interested in becoming a caterer, you do not need to have a culinary school education, or years of experience in the restaurant business; but that kind of background is definitely an asset. What you do need, at the minimum, is a genuine love for food and a talent for party planning. If you enjoy entertaining at home, and your guests are always raving about your food, or if the hustle of cooking for 20 or more guests lights you up from the inside, then you might be a good candidate for a catering business.
Since catering is a business, it is also helpful to have basic business sense, or be willing to learn. Businesses live or die by profit. If your business is not earning a profit, then it is more of a hobby. If you enjoy your cooking hobby, and you do not mind spending your personal savings to fund the cooking hobby, that is fine. However, in order to have and keep a business, you have to be able to keep track of your expenses, understand how much it will cost you to prepare a specific menu for a party, how much to pay yourself and any employees you hire, and how much to set aside for the future needs of the business. Accurate record keeping is essential for business management, so developing and maintaining a filing system, bookkeeping system, and scheduling system is critical. If you lack organizational skills, then you might want to consider taking on a partner who excels at administrative tasks.
Since catering is all about parties, it also helps if you enjoy working with people. Parties can be stressful in many different ways: Your client may be spending more money than he or she really wants to, or the event may come with its own stresses, such as family friction. Preparing large amounts of food that all has to be ready at the same time is a big logistical challenge, and if you have to hire people to work for you, then you may have conflict between workers. All these possible stressors create great opportunities for caterers who are calm under pressure, good at smoothing ruffled feathers, and dealing with conflict.
Any kind of professional cooking job is physically demanding work. You will be in the kitchen, standing up, and running around for several hours the day before the party. On the day of the party, you will be moving heavy items from place to place. You might have to carry loaded coolers, or food carriers up stairs from time to time. If you do several parties a week, you will be on your feet pretty much all the time. If you cannot stand sitting still, and working in an office sounds like torture, you might enjoy the physical demands of cooking. But if you tire out quickly, or cannot stand up for more than an hour at a time, then you might prefer to work on the party-planning side of catering.
In addition to cooking for parties, some caterers deliver prepared meals to clients on a weekly basis. Personal chefs might use the client's kitchen, or work out of their own home to prepare a week, or several days' worth of food. The personal chef's clients might be busy professionals who want to eat quality food at home, but do not have time to cook. As a personal chef, you can either assemble full meals that your client needs only to zap in the microwave for a few minutes, or you can prepare a meal the client finishes cooking on their own. For example, you could deliver all the materials for chicken fajitas, including a zip-top freezer bag with marinated chicken, onions, and peppers and a set of instructions directing the client to cook the chicken in the broiler for a set amount of time before serving. Some clients will like doing a part of the cooking, but others will want the convenience of having everything ready, like a TV dinner. Personal chefs cannot compete on price with TV dinners, so they have to distinguish themselves by offering something special, like cooking to the client's health requirements or specific tastes, or providing gourmet flair.
Whatever brand of catering you choose, success depends on setting yourself apart from your competition. When you first consider getting into the business, make sure you understand what you do really well that no one else in your market can do better for a comparable price. Are you the only kosher caterer in town? Do you make the best lumpia in history? Can you deliver world-class barbecue for $3.50 per person? Do not try to be everything to everyone; figure out what you do best and build your business from that starting point. Using the example above, if you have a kosher kitchen, build a solid repertoire of traditional kosher foods, and network within your synagogue. After a while, your business may branch out into other areas, and clients will ask you to move beyond your traditional items. It is good to go where your business takes you, but if you start out pushing a wide range of conflicting messages, like trying to reconcile kosher kitchen and lobster bisque, then you will have a hard time settling into a groove of machine-like efficiency, and you will confuse potential clients regarding who you are and what you do.
Completely Online
Self-Paced
Printable Lessons
Full HD Video
6 Months to Complete
24/7 Availability
Start Anytime
PC & Mac Compatible
Android & iOS Friendly
Accredited CEUs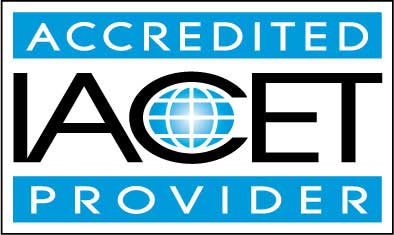 Lesson 1: What Is Catering?
Unlike a restaurant, which prepares food in the same location that it will be served, caterers generally cook the food in one place, and take it to a party venue to be served. Additional lesson topics: How Catering Works; What Is Catering?
11

Total Points
Lesson 1 Video
Lesson discussions: Catering Course; Reasons for Taking this Course
Complete Assignment: An Introduction
Assessment: Lesson 1. Introduction. What is Catering?
/ul>
Lesson 2: State and Local Regulations
Most areas of the country require that people who are cooking for others, do so in a commercial kitchen. Specific requirements vary among states and counties. Additional lesson topics: FDA
12

Total Points
Lesson 2 Video
Complete: Lesson 2 Assignment
Assessment: Lesson 2. State and Local Regulations
/ul>
Lesson 3: Food Safety
Food safety is a critical issue, and it deserves a whole course of its own, but this section presents some basic food safety guidelines. Additional lesson topics: Food Safety; Foodborne Illnesses
10

Total Points
Lesson 3 Video
Assessment: Lesson 3. Food Safety
/ul>
Lesson 4: Business Planning
A business plan is like an outline that describes your business. In the beginning, there will be some issues you aren't sure how to answer. Additional lesson topics: Starting a Business; Sample Catering Business Plan; Starting a Catering Business
10

Total Points
Lesson 4 Video
Assessment: Lesson 4. Business Planning
/ul>
Lesson 5: Getting Started
Before you quit your day job, make a detailed analysis of what all your startup costs will be. Additional lesson topics: Starting a Catering Business; Sole Proprietorship Startup Costs
11

Total Points
Lesson 5 Video
Complete: Lesson 5 Assignment
Assessment: Lesson 5. Getting Started
/ul>
Lesson 6: Marketing
For a catering business, marketing means letting people know you are out there, making sure they understand what kind of events you do and what you want to do, and ensuring they are able to find you when they want you. Additional lesson topics: Marketing Plan for a Catering Business; Catering Marketing; Marketing Ideas
10

Total Points
Lesson 6 Video
Lesson discussions: Marketing
Assessment: Lesson 6. Marketing
/ul>
Lesson 7: Party Planning
In the early days of your business, most clients are likely to be friends and family members with whom you already have a relationship, and who will only be so hard on you if something goes awry.
12

Total Points
Lesson 7 Video
Lesson discussions: Meals
Complete: Lesson 7 Assignment
Assessment: Lesson 7. Party Planning
/ul>
Lesson 8: Meal Planning
Meal planning can seem like an overwhelming task, but once you understand the occasion, the venue, and its limitations, the most important thing is what the customer wants. Additional lesson topics: Food Presentation Tips
10

Total Points
Lesson 8 Video
Assessment: Lesson 8. Meal Planning
/ul>
Lesson 9: Shopping
The contract is signed, the menu is ready, and you are about to go shopping. As a professional caterer, you are armed and ready with an extensive list of everything you need, organized by the store in which you plan to buy it. Additional lesson topics: Beverage Planning; Planning Tips
7

Total Points
Lesson 9 Video
Assessment: Lesson 9. Shopping
/ul>
Lesson 10: Timing and Kitchen Efficiency
The more efficient you make your work processes, the less time it takes. The less time it takes, the more profitable you can be. Additional lesson topics: Ten Catering Tips; Time-Saving Tips
9

Total Points
Lesson 10 Video
Assessment: Lesson 10. Timing and Kitchen Efficiency
/ul>
Lesson 11: Logistics: Getting the Food to Its Destination on Time
There are two ways catered food can arrive at its final destination: either the caterer takes it, or the customer picks it up. Additional lesson topics: More Marketing Tips; Keeping Food Warm
67

Total Points
Lesson 11 Video
Lesson discussions: What do you think about this course?; Program Evaluation Follow-up Survey (End of Course)
Complete: Lesson 11 Assignment
Assessment: Lesson 11. Logistics: Getting the food to its destination on time
Assessment: The Final Exam
/ul>
By successfully completing this course, students will be able to:
Define what is catering.
Summarize state and local regulations.
Describe food safety.
Describe the business planning process for successful catering business.
Summarize getting started techniques and procedures for your catering business.
Identify marketing techniques for a successful catering business.
Describe party planning and the role of catering.
Summarize meal planning.
Identify shopping needs for a successful catering company.
Summarize timing and kitchen efficiency for a successful catering.
Recognize logistics in a successful catering business.
Demonstrate mastery of lesson content at levels of 70% or higher.
Additional Course Information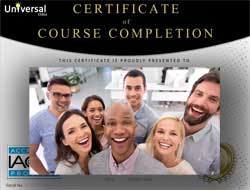 Document Your Lifelong Learning Achievements

Earn an Official Certificate Documenting Course Hours and CEUs
Verify Your Certificate with a Unique Serial Number Online
View and Share Your Certificate Online or Download/Print as PDF
Display Your Certificate on Your Resume and Promote Your Achievements Using Social Media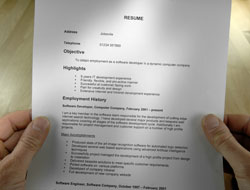 Course Title:
Catering 101
Lessons Rating:
4.6 / 5 Stars (1,155 votes)
Languages:
English - United States, Canada and other English speaking countries
Category:
Course Type:
Self-Paced, Online Class
Grading Policy:
Earn a final grade of 70% or higher to receive an online/downloadable CEU Certification documenting CEUs earned.
Assessment Method:
Lesson assignments and review exams
Instructor:
UniversalClass Instructional Team
Course Fee:
$75.00 U.S. dollars
Choose Your Subscription Plan
"The entire course was helpful." -- Phyllis B.
"The instructor was great! I was glad to get the feedback that i did get." -- Nicole D.
"The course was very helpful. I learned a lot from taking this course." -- Shirley Faye B.
"The instructor was very responsive and engaged with my progress." -- Sheryl J.
"I really enjoyed the course, it was very helpful to me. My instructor was very nice...She did her part very well." -- Rochelle J.