Online Class: Dog Grooming 101
---

$
35.00
no certificate
- OR -
$
60.00
with CEU Certificate*
11

Lessons

24

Exams &

Assignments

12

Hours

average time

1.2

CEUs

0

Students

have taken this course
Course Description
For many of us, our dogs are considered beloved members of our family. They are constantly by our side and we know we can count on them even when it seems as though everyone else has abandoned us.
It is not surprising then that when it comes to caring for our dogs, nothing but the best will do. We care for them as we care for our own children by feeding them, loving them and giving them plenty of attention. We also need to care for them in one other important way: by grooming them on a regular basis.
In this course, we will show you how you can meet all of your dog's grooming needs. From bathing and brushing to nail clipping and even taking care of those nasty anal sacs, we will provide step by step instructions for making sure you do the job right.

Despite what you may think, grooming a dog isn't that difficult to do; all that you need are a few basic supplies, some patience and a handful of treats!
Completely Online
Self-Paced
Instructor Support
IACET CEUs
6 Months to Complete
24/7 Availability
Start Anytime
PC & Mac Compatible
Android & iOS Friendly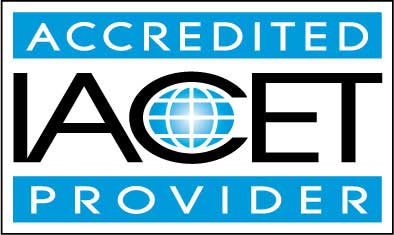 Universal Class, Inc. has been approved as an
Accredited Provider
by the
International Association for Continuing Education and Training
(IACET). In obtaining this approval, Universal Class, Inc. has demonstrated that it complies with the ANSI/IACET Standard which is widely recognized as the Standard of good practice internationally. As a result of their Accredited Provider status, Universal Class, Inc. is authorized to offer IACET CEUs for its courses that qualify under the ANSI/IACET Standard.
Request More Information

Have a question? Check out our
FAQ
or contact us for more information.
Course Lessons
Lesson 1 : Dog Grooming Basics

Just as grooming is an essential part of a human's daily routine, maintaining a regular dog-grooming routine is an important step in maintaining your dog's health.

Lesson 2 : Getting Started

It should come as no surprise that when it comes to grooming your dog, consistency is one of the keys to success. One of the ways you can provide consistency is to carry out the grooming tasks in the same place each and every time.

Lesson 3 : Getting to Know Your Dog Inside and Out

Don't worry, we're not going to get into the complexities of the digestive tract here. However, if you are going to tackle the task of grooming your dog, it is important that you have a basic understanding of its anatomy.

Lesson 4 : Bathing and Brushing

If you have children, what I'm about to say will make a great deal of sense: It takes longer to prepare to give your dog a bath than it does to actually complete the task.

Lesson 5 : Understanding Doggie Hygiene

Once you've finished washing your dog's coat, face, and ears, there are still other tasks to complete -- such as nail trimming, tooth brushing, eye care, and some other not-so-pleasant tasks, like taking care of clogged anal sacs.

Lesson 6 : Clipping the Coat

Clipping your dog's coat for the first time isn't very different from giving your kid their first hair cut: It's an unnerving task, but once you learn the basics, you will be able to clip with confidence.

Lesson 7 : Customized Coat Care

Dog grooming is not a one-size-fits-all prospect. Much of what you will and won't do to care for your dog's coat will depend on the coat's type and length.

Lesson 8 : The Not-So-Common Occurrences

Until this point, we have focused on the routine tasks associated with dog grooming. But as we all know, there are times when the routine will be punctuated by some unusual occurrences.

Lesson 9 : Doggie First-Aid

No matter how careful are you are, or how many precautions you take, sooner or later, you are going to run into a situation that will require some knowledge of first aid.

Lesson 10 : Time-Saving Grooming Tips

After completing nine lessons on dog grooming, you might be feeling slightly overwhelmed. Don't despair, grooming your dog isn't nearly as time-consuming or difficult as you might think.

Lesson 11 : Becoming a Professional Dog Groomer

So, let's imagine that you've taken everything you've learned in this course and have become quite good at grooming your dog.
Additional Course Information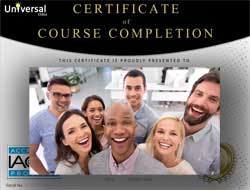 Document Your Lifelong Learning Achievements

Earn an Official Certificate Documenting Course Hours and CEUs
Verify Your Certificate with a Unique Serial Number Online
View and Share Your Certificate Online or Download/Print as PDF
Display Your Certificate on Your Resume and Promote Your Achievements Using Social Media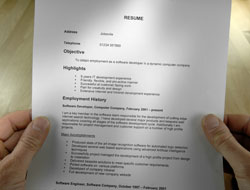 Course Title:
Dog Grooming 101
Languages:
English - United States, Canada, United Kingdom, Australia, New Zealand, and other English speaking countries
Category:
Grading Policy:
Earn a final grade of 70% or higher to receive an online/downloadable CEU Certification documenting CEUs earned
Assessment Method:
Lesson assignments and review exams
Duration:
Continuous: Enroll anytime!
Learning Outcomes
By successfully completing this course, students will be able to:
Describe the preparations needed before starting the grooming process.

Summarize the procedures involved in bathing and brushing a dog.

Describe what to look for in doggie hygiene.

Summarize the methods used to clip a dog's coat.

Describe various customized coat care solutions.+

Summarize basic doggie first-aid.

Summarize next steps and career options in becoming a professional dog groomer, and

Demonstrate mastery of lesson content at levels of 70% or higher.
An Introduction
Assignment
5
Lesson 1: Importance of Dog Grooming
Assignment
20
Lesson 1 : Dog Grooming Basics
Exam
7
Lesson 2: Tools Used for Dog Grooming
Assignment
20
Lesson 2 : Getting Started
Exam
10
Lesson 3: Anatomy of Dog
Assignment
25
Lesson 3 : Getting to Know Your Dog Inside and Out
Exam
10
Lesson 4: Handle the Dog with Care
Assignment
20
Lesson 4 : Bathing and Brushing
Exam
10
Lesson 5: Importance of Dog's Hygiene
Assignment
20
Lesson 5 : Understanding Doggie Hygiene
Exam
10
Lesson 6: Clippers for Trimming
Assignment
20
Lesson 6 : Clipping the Coat
Exam
10
Lesson 7: Breeds of Dogs
Assignment
25
Lesson 7 : Customized Coat Care
Exam
10
Lesson 8: Skunk Attack on Dogs
Assignment
20
Lesson 8 : The Not-so-Common Occurrences
Exam
10
Lesson 9: First Aid Kit and Preventive measures
Assignment
20
Lesson 9 : Doggie First-aid
Exam
10
Lesson 10: Tips for Grooming Dogs
Assignment
20
Lesson 10 : Time Saving Grooming Trip
Exam
9
Lesson 11: Getting into Pet Grooming Business
Assignment
20
Lesson 11 : Becoming a Professional Dog Groomer
Exam
10
The Final Exam
Exam
49
Total Points:
390