Online Class: Screenwriting 101
This is a basic, nuts-and-bolts course, for people who wish to write screenplays, but don't know much about it.
---

$
70.00
no certificate
- OR -
$
95.00
with CEU Certificate*
Start Right Now!
$95.00
(with CEU Certificate)
---
Taking multiple courses? Save with our
platinum program
.
17

31

1,885

Students

have taken this course

12

1.2
"Navigating the World of Screenwriting: Your Comprehensive Guide"
Stepping into the realm of screenwriting can often feel like venturing into a vast, uncharted territory. With its blend of creative artistry and technical precision, screenwriting can be as challenging as it is rewarding. Our course, "Navigating the World of Screenwriting: Your Comprehensive Guide," is designed for those budding storytellers who are passionate about crafting cinematic tales but might be unsure where to begin.
Why choose screenwriting? With the rise of streaming platforms and a growing appetite for diverse content worldwide, there's never been a better time to dive into the world of screenwriting. According to recent statistics, the global box office revenue is anticipated to reach over $50 billion by 2023. This boom in the industry offers an array of opportunities for screenwriters, both new and seasoned.
However, for those just starting, there are foundational principles to grasp. A well-structured script is paramount; without adhering to industry standards, even the most compelling stories can be overlooked. For instance, understanding the traditional three-act structure might seem rudimentary, but it's an essential framework, proven to engage audiences for decades. By mastering such basics, you enhance your chances of your screenplay getting the attention it deserves.
Our course doesn't just stop at the technicalities. While ensuring you're well-equipped with the nuts and bolts of screenplay format and structure, we delve deeper into the nuanced world of storytelling. Learn about the history of screenplays and how this art form has evolved over the years. Discover the different markets, current trends, and where emerging writers can find their niche. By understanding these aspects, you'll be in a better position to carve out a space for yourself in this competitive landscape.
Additionally, this course emphasizes the importance of integrity and sensitivity in storytelling. As a screenwriter, you wield significant power in shaping narratives and influencing audiences. Thus, it's crucial to approach topics with care and avoid unnecessary exploitation, ensuring that your stories are both impactful and respectful.
Here's a sneak peek into our curated curriculum:
Why Get into Screenwriting and What are My Chances of Success?

Understand the allure of screenwriting.
Realistic expectations: success rates, challenges, and potential returns.

A Brief History of the Screenplay

Journey through time: from early theater scripts to modern cinematic screenplays.

Markets, Current Trends, and Where Beginners Fit In

Grasp the current industry landscape and find your unique spot.
... [The rest of the lessons continue as previously listed, but each will delve deeper into their respective topics, supported by case studies, real-world examples, and practical exercises.]
By the end of our 17 lessons, you'll not only have a robust foundational understanding of screenwriting but also gain insights into the professional world, from approaching agents to making your mark in Hollywood. Whether you're aiming for the big screens or finding solace in smaller projects, there's a place for every storyteller.
Remember, while winning an Oscar might be a dream for many, the journey of screenwriting offers its own set of joys – the thrill of creating characters, the satisfaction of completing a script, and the possibility of seeing your vision come alive on screen.
Join us on this comprehensive journey, and let's navigate the mesmerizing world of screenwriting together. Your story awaits!
Course Motivation
It's hard to say why anyone starts out to write. There can be a lot of reasons, and they tend to grow in our hearts like a garden, often based on the envy and admiration we have for the gardens of other, more successful writers. Most writers will read the works of others in their young years, and the writer's life we hear about can be a fond sort of dream. Wealth? Fame? Fans? Saving the world? Well, what's your poison? So, before you leap atop the great white stallion of your imagination and gallop off to fashion yourself as a screenwriter, it's truly worthwhile to ask yourself why you want to put so much work into it and what your chances are for the success you want and deserve.
Let's define our terms: a screenwriter composes scripts that are produced as material for some kind of motion picture. Yet, some people might be satisfied with writing one short film, maybe 20 minutes long, and seeing it produced. They might even do this for free, for the simple joy of it, and never write another screen story. Another person might obsessively pursue only a full-time, life-long career as a top flight screenwriter with high pay and many big budget film credits. Or you may wish to write for TV, documentaries, corporate videos, and commercial spots. Believe it or not, you might want to write a screenplay or two just for yourself.
Screenwriting is an incomparable delight. For the modern person, who may have seen thousands of screen stories, it's a mode of expression that places you in the driver's seat, visualizing something you feel strongly about in your own way and in your own words. It's a chance to strike back and become an active producer of work, rather than a passive consumer of the work and thoughts of others. Like all serious writing, it's a tedious process and a lot of work. However, the personal rewards and satisfaction are real, therapeutic, visceral, and fun.
Here are some questions you should ask yourself, before deciding that you want to be a screenwriter:
What is the real reason that I feel working as a screenwriter is something I want to spend time on?
In my own view of things, what do I feel a screenwriter really does and what does the working life of a screenwriter actually involve?
If I have the success I want as a screenwriter, what will I be doing, what rewards do I expect, and how does that success seem like it will take shape for me personally?
If I fail as a screenwriter, will my life be destroyed and will I end up living in the gutter, homeless, or bankrupt?
Am I really the type of person who would endure long hours at a computer keyboard alone with myself?
Do words, thoughts, ideas, and concepts come easily for me?
Am I fearful of a blank page or do I enjoy jumping into the abyss of the uncreated?
Do I often finish long or demanding projects that I start?
Do I work well with other creative people who may or may not fully appreciate my artistic efforts?
Your answers here can help you think realistically about the journey. Let's face it---screenwriting is a dream job, full of glory and wonder, glamour and respect, position and power. Literally millions of people attempt screenplays in this era of computers, vastly advanced media applications, and ever expanding film, TV, and video outlets. The question is not what makes you different or better than the rest; the question is if you really feel you are suited to succeed and whether or not you're willing to do the hard work required for even a reasonable chance of victory.
If those answers are yes, then congratulations----you really do want to be a screenwriter. You may even comprehend what you're getting into. Like any other business, your chances of success depend on a myriad of factors. Some of these you control; some you don't. It also depends on what you mean by success---or what success means to you.
You might calculate it this way (rather coldly). There may be 1,000 serious film productions completed in the free world in the course of a year. That's a bit generous, but let's include short films, videos, and very low budget projects. Add in TV, in its many forms, and you can get to maybe 2,000 solid, paid screenwriting jobs. Throw out pornography or any kind of harmful work. If you include vanity projects, such as individuals who want a screenplay about their life or family and are willing to pay for it, commercials, and whatever else is written for the screen on a paid basis, let's put the number at 5,000 paid screenwriting jobs each year in the Western world.
In the 'spec screenplay' market (original screenplays, usually by beginners, written entirely without any production backing, financial offering, or status as commissioned work---that is, 'on speculation'), the common knowledge is that there are at least 100,000 of these new works each year and maybe more. If that means there are 100,000 hard working and brilliant new screenwriters out there every year competing for these 5,000 jobs, your Las Vegas style odds for success are about one in twenty. Or, out of 100,000 serious new wanna be screenwriters, only one in twenty can expect to find work in a given year. Does that make sense?
No, it really doesn't, if only for the sake of the writers who won't make the cut. But remember, you can always grab a $300 mini-DV camera, some light stands, and some unemployed actors and film your own script. The cost today is lower than ever and yours may be the eye, the hand, and the mind that enlightens others.
Completely Online
Self-Paced
Printable Lessons
Full HD Video
6 Months to Complete
24/7 Availability
Start Anytime
PC & Mac Compatible
Android & iOS Friendly
Accredited CEUs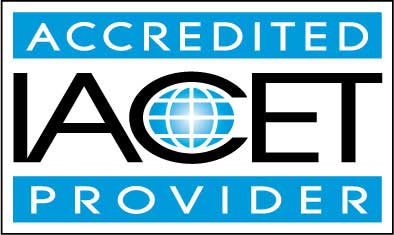 Lesson 1: Why Get into Screenwriting and What are My Chances of Success?
This lesson describes the different kinds of screenwriting opportunities, types of jobs, and motivation factors.
41

Total Points
Lesson 1 Video
Lesson discussions: Screenwriting; Reasons for Taking this Course
Complete Assignment: Introduction
Complete: Lesson 1 Assignment
Assessment: Lesson 1 Review
Lesson 2: A Brief History of the Screenplay
This lesson explains how screenplays have evolved.
40

Total Points
Lesson 2 Video
Complete: Lesson 2 Assignment
Assessment: Lesson 2 Review
Lesson 3: Markets, Current Trends, and Where Beginners Fit In
This lesson gives basic guidelines for beginner screenwriters. Additional lesson topics: Screenwriting Resources
39

Total Points
Lesson 3 Video
Complete: Lesson 3 Assignment
Assessment: Lesson 3 Review
Lesson 4: Getting Started: Mastering Screenplay Format
This lesson describes how to format a feature film script. Additional lesson topics: Dialogue Writing Tips
39

Total Points
Lesson 4 Video
Complete: Lesson 4 Assignment
Assessment: Lesson 4 Review
Lesson 5: Story Types, Genre, and Targeting Your Script to Sell
This lesson deals with the different types of scripts that film producers are looking for. Additional lesson topics: Marketing a Screenplay; Movie Genres Examples
15

Total Points
Lesson 5 Video
Lesson discussions: Genre
Assessment: Lesson 5 Review
Lesson 6: Mastering Plot, Story, and Basic Three Act Structure
This lesson describes the Three Act Structure and the plot of the story. Additional lesson topics: Poetics
40

Total Points
Lesson 6 Video
Complete: Lesson 6 Assignment
Assessment: Lesson 6 Review
Lesson 7: Mastering Characters and Character Development
This lesson describes how to take your experiences in life and develop characters for your scripts. Additional lesson topics: Creating Characters
39

Total Points
Lesson 7 Video
Complete: Lesson 7 Assignment
Assessment: Lesson 7 Review
Lesson 8: Writing Comedy
This lesson describes how to effectively write comedy. Additional lesson topics: The Seven Laws of Comedy Writing
39

Total Points
Lesson 8 Video
Complete: Lesson 8 Assignment
Assessment: Lesson 8 Review
Lesson 9: How High is High Concept?
This lesson deals with the issue of writing an original piece versus a storyline that has been done before.
40

Total Points
Lesson 9 Video
Complete: Lesson 9 Assignment
Assessment: Lesson 9 Review
Lesson 10: Writing Action Stories
This lesson describes how to write action stories using super heroes, great chases, and tension building scenes.
15

Total Points
Lesson 10 Video
Assessment: Lesson 10 Review
Lesson 11: Writing Dialogue
This lesson gives some tips on writing good dialogue.
40

Total Points
Lesson 11 Video
Complete: Lesson 11 Assignment
Assessment: Lesson 11 Review
Lesson 12: Breaking Down the Barriers
This lesson deals with how to get film credits and sell your scripts.
39

Total Points
Lesson 12 Video
Lesson discussions: Credits
Complete: Lesson 12 Assignment
Assessment: Lesson 12 Review
Lesson 13: Work Environment and Professional Standards
The lesson addresses the idea that where you work effects how you work.
15

Total Points
Lesson 13 Video
Lesson discussions: Work Space
Assessment: Lesson 13 Review
Lesson 14: Submissions, Queries, and Loglines.
This lesson offers some pointers on how to get your material noticed.
39

Total Points
Lesson 14 Video
Lesson discussions: Queries
Complete: Lesson 14 Assignment
Assessment: Lesson 14 Review
Lesson 15: Getting Representation
This lesson deals with writer's resources, for-hire jobs, and getting representation. Additional lesson topics: How to sell your movie ideas to Hollywood
40

Total Points
Lesson 15 Video
Complete: Lesson 15 Assignment
Assessment: Lesson 15 Review
Lesson 16: Welcome to Hollywood
This lesson deals with problems you don't want to encounter in Hollywood.
15

Total Points
Lesson 16 Video
Assessment: Lesson 16 Review
Lesson 17: Documentaries, Video Scripts and Other Types
This lesson offers some of the choices available for screenwriters. Additional lesson topics: Documentary Screenwriting
40

Total Points
Lesson 17 Video
Lesson discussions: Let us know what you think of this course; Course Comments; Program Evaluation Follow-up Survey (End of Course)
Complete: Lesson 17 Assignment
Assessment: Lesson 17 Review
By successfully completing this course, students will be able to:
Identify why choose screenwriting as a career and estimate the chances of success.
Describe the history and evolution of the screenplay.
Describe markets, current trends, and where beginners fit in.
Summarize mastering screenplay format.
Describe story types, genre, and targeting your script to sell.
Describe mastering plot, story, and basic three act structure.
Describe mastering characters and character development.
Describe writing comedy.
Describe writing action stories.
Describe writing dialogue.
Define work environment and professional standards.
Summarize getting representation.
Demonstrate mastery of lesson content at levels of 70% or higher.
Additional Course Information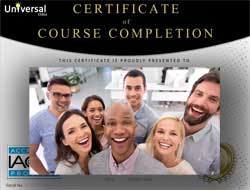 Document Your Lifelong Learning Achievements

Earn an Official Certificate Documenting Course Hours and CEUs
Verify Your Certificate with a Unique Serial Number Online
View and Share Your Certificate Online or Download/Print as PDF
Display Your Certificate on Your Resume and Promote Your Achievements Using Social Media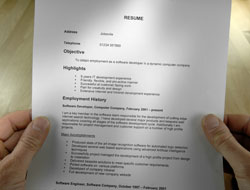 Course Title:
Screenwriting 101
Lessons Rating:
4.6 / 5 Stars (2,375 votes)
Languages:
English - United States, Canada and other English speaking countries
Category:
Availability:
This course is online and available in all 50 states including: California, Florida, Georgia, Illinois, New York, Pennsylvania, Ohio, Texas, and Washington.
Course Type:
Self-Paced, Online Class
Grading Policy:
Earn a final grade of 70% or higher to receive an online/downloadable CEU Certification documenting CEUs earned.
Assessment Method:
Lesson assignments and review exams
Course Fee:
$95.00 U.S. dollars
Choose Your Subscription Plan
"This course was fantastic, I'm looking to convert some books and short stories I have written into screenplays. This has been incredibly informative." -- Paul H.
"This course was indeed helpful, and I had fun doing it. Near as I can tell, Screenwriting 101 doesn't need anything at all included - it's a fantastic experience as is." -- Berenger D.
"Great course!" -- Latina F.
"I loved this course. it was highly informative." -- Keith J.
"This course was extremely helpful." -- Malinda M.
"Great, thank you, I'm so glad I took this course." -- Jacinta L.
"I loved the course and the instructor." -- Lanna L.