Introduction to QuickBooks 2015 is an accounting software program created by Intuit® for small businesses and self-employed professionals. It can be used for almost all financial business processes. You can use it for entering receipts, tracking expenses, invoicing, payment tracking, tax tracking, purchase orders, and even to prepare reports and statements regarding your finances. QuickBooks is your business' solution when it comes to bookkeeping and accounting.
---
Intuit and QuickBooks are trademarks and service marks of Intuit Inc., registered in the United States and other countries.
Completely Online
Self-Paced
Printable Lessons
Full HD Video
6 Months to Complete
24/7 Availability
Start Anytime
PC & Mac Compatible
Android & iOS Friendly
Accredited CEUs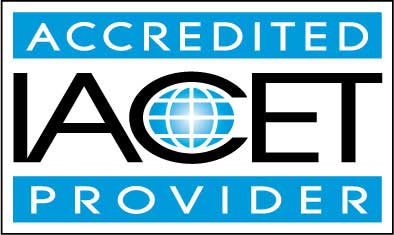 By successfully completing this course, students will be able to:
Describe setting up quickbooks.
Summarize navigating quickbooks.
Describe the chart of accounts.
Describe setting up customers, jobs, and vendors.
Identify working with items.
Identify creating more lists.
Identify paying expenses and bills.
Describe working with bills, deposits, and credits.
Describe creating invoices.
Describe recording payments and sales.
Describe tracking time and mileage.
Summarize producing statements.
Summarize collecting and tracking money from customers.
Recognize managing bank accounts and credit cards.
Describe managing loans.
Summarize making journal entries.
Summarize end of year tasks.
Identify taking care of your quickbooks files.
Describe purchasing and entering inventory.
Describe setting up a budget in QB.
Describe report functions in QB.
Summarize online banking with QB.
Demonstrate mastery of lesson content at levels of 70% or higher.
Assessment Guide
| Assessment | Points |
| --- | --- |
| Assignment 1 | 1 points |
| Exam 1 | 7 points |
| Assignment 2 | 1 points |
| Exam 2 | 10 points |
| Assignment 3 | 1 points |
| Exam 3 | 10 points |
| Assignment 4 | 1 points |
| Exam 4 | 10 points |
| Assignment 5 | 1 points |
| Exam 5 | 9 points |
| Assignment 6 | 1 points |
| Exam 6 | 10 points |
| Assignment 7 | 1 points |
| Exam 7 | 10 points |
| Assignment 8 | 1 points |
| Exam 8 | 10 points |
| Assignment 9 | 1 points |
| Exam 9 | 10 points |
| Assignment 10 | 1 points |
| Exam 10 | 10 points |
| Assignment 11 | 1 points |
| Exam 11 | 10 points |
| Assignment 12 | 1 points |
| Exam 12 | 10 points |
| Assignment 13 | 1 points |
| Exam 13 | 10 points |
| Assignment 14 | 1 points |
| Exam 14 | 10 points |
| Assignment 15 | 1 points |
| Exam 15 | 10 points |
| Assignment 16 | 1 points |
| Exam 16 | 10 points |
| Assignment 17 | 1 points |
| Exam 17 | 10 points |
| Assignment 18 | 1 points |
| Exam 18 | 10 points |
| Assignment 19 | 1 points |
| Exam 19 | 10 points |
| Assignment 20 | 1 points |
| Exam 20 | 10 points |
| Assignment 21 | 1 points |
| Exam 21 | 10 points |
| Assignment 22 | 1 points |
| Exam 22 | 10 points |
| Assignment 23 | 1 points |
| Exam 23 | 10 points |
| Assignment 24 | 1 points |
| Exam 24 | 10 points |
| Assignment 25 | 1 points |
| Exam 25 | 10 points |
| The Final Exam | 124 points |