Our online Accounting and Bookkeeping 101 course covers all the fundamentals of accounting with the newcomer in mind. Accounting is more than just memorizing terms and procedures; it's a whole new way of thinking about finances. This course assumes students have no prior knowledge about accounting or finance, and delivers lessons and examples to build accounting skills. Specifically, this class addresses accounting terminology, revenue, expenses, net income, the accounting equation, debits, credits, and balancing the accounting formula, the accounting structure, the accounting cycle, journals, ledgers, the trial balance and more. It also guides students to learn how to read financial statements properly, and how to grab meaningful information from the balance sheet, income statements and cash flow statements.
After completing this course, you will have a solid understanding of accounting in today's world. By applying the concepts learned in this course, you will understand the processes behind Accounts Payable and Accounts Receivable, you will understand how and why financial transactions are documented, you will know what cash flow is and how to improve it, you will know what profit is, how it's interpreted, and what influences its growth. Moreover, you will know where the money in the company you work for, or own, goes. Learn accounting now and achieve a skill that is an invaluable (if not required) asset to your professional development.
Completely Online
Self-Paced
Printable Lessons
Full HD Video
6 Months to Complete
24/7 Availability
Start Anytime
PC & Mac Compatible
Android & iOS Friendly
Accredited CEUs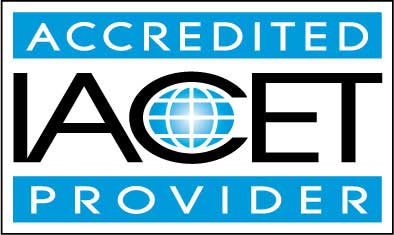 By successfully completing this course, students will be able to:
Identify why accounting is a necessary skill.
Summarize the history of accounting.
Identify and describe assets, liabilities and owners' equity.
Recognize and compare the major financial reports.
Describe and create a company's Income Statement.
Compare and contrast a company's revenue, expenses, income, and retained earnings.
Solve worksheet problems involving income statements, revenue, expenses, and net income.
Identify the key elements of a Balance Sheet.
Balance the accounting equation and properly chart debits and credits.
Describe the key elements of bookkeeping.
Avoid the pitfalls of bad bookkeeping habits.
Describe the accounting cycle.
Define key terms: inventory, FIFO, LIFO, Cost of Goods Sold.
Summarize cash flow, identify fixed assets, and describe depreciation.
Demonstrate understanding of liquidity, solvency and profitability.
Summarize asset management and asset valuation.
Be apprised of key laws and procedures involved in payroll accounting.
Know what to expect in an audit.
Summarize ethical business practices in accounting.
Demonstrate mastery of lesson content at levels of 70% or higher.
Assessment Guide
| Assessment | Points |
| --- | --- |
| Tell me about yourself | 1 points |
| Exam : History of Accounting | 8 points |
| Exam : Basic Accounting Principles | 65 points |
| Exam : Accounting/Bookkeeping Terms | 6 points |
| Exam : Assets, Liabilities and Owners' Equity | 9 points |
| Exam : Financial Reports | 8 points |
| Exam : Income Statement | 9 points |
| Assets Assignment | 10 points |
| Determining Net Income | 10 points |
| Income Statement Assignment | 10 points |
| Exam : Income Statement, Revenue, Expenses, Net Income | 70 points |
| Exam : Balance Sheet | 9 points |
| Exam : Credits, Debits, Balance Sheet, Double Entry Accounting | 95 points |
| Exam : Journals, Ledgers, Accounting Structure | 60 points |
| Exam : Bookkeeping 101 | 8 points |
| Exam : Bookkeeping | 9 points |
| Exam : Accounting Cycle Exam | 25 points |
| Exam : The Accounting Period, Accounting Cycle | 9 points |
| Exam : Cost of Goods Sold | 30 points |
| Exam : Inventory Accounting | 7 points |
| Exam : Cash Flow | 40 points |
| Exam : Management Accounting | 8 points |
| Exam : Cash Flow Management | 9 points |
| Exam : Accounting Ratios: Liquidity, Solvency and Profitability | 8 points |
| Exam : Asset Management and Asset Valuation | 9 points |
| Exam : Payroll Accounting | 10 points |
| Exam : The Audit | 8 points |
| Exam : Ethical Business Practices in Accounting | 9 points |
| The Final Exam | 282 points |