Online Class: Aromatherapy 101
---

$
50.00
no certificate
- OR -
$
75.00
with CEU Certificate*
9

17

8,762

Students

have taken this course

9

0.9
Have you always wanted to learn the secrets of how to blend ingredients and make your own bath and massage oils, or hand and face lotions, or room refreshers and potpourri? Then this is the class for you!
This is a self-paced beginner's course demystifying aromatherapy and showing you many ways to add fragrance to your life. You'll gain enough knowledge to start trying some simple blends and the courage to experiment with creating your own unique blends. You'll learn ways to add fragrance to your life, you'll learn a little about the plants and the history; you'll learn what exactly are these things called essential oils and carrier oils; you'll learn how to dilute and blend; you'll learn where to buy the oils and supplies; and you'll learn the correct way to measure and blend. Plus, we'll go into safety and storage issues and you'll be given many recipes for beginning concoctions.
If you're interested in alternative medicine, cooking (sensory recipes), gardening, cosmetics, your home environment, starting down the road to becoming an aromatherapist, or adding to your salon or spa business, you'll find a treasure load of information in this course.
Introduction to Aromatherapy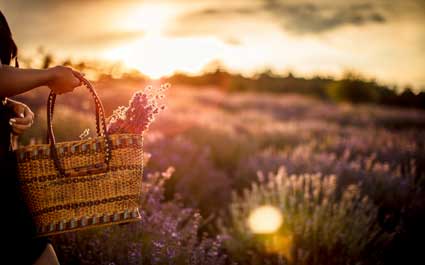 In this course, you will learn about "aromatherapy": what the term means and ways to use it to improve your life.
Sometimes, when an idea has been around for a while, we can be embarrassed to say, "I don't really know the first thing about what people are talking about, and I don't want to let anyone know!" You already have started to educate yourself by taking this course. This class will get you started, but the only way you will truly learn is to read everything you can about the oils and their effects, take classes, read books, and surf the Internet.
Aromatherapy dates back thousands of years, yet its many uses remain remarkably current. Aromas have an incredible power to connect us with memories and calm our spirits. This course will help demystify the term "aromatherapy," which connects the basic and potent sense of smell to the concept of therapy, a means of providing relief and comfort.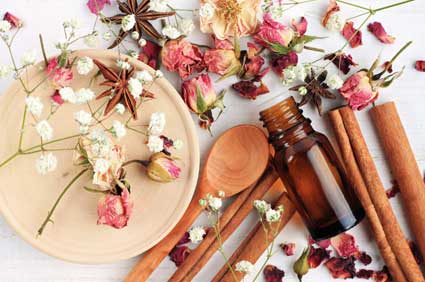 You can taste only five or six things. The sense of smell helps you differentiate among foods and wines and distinguish them from medicines. Smells trigger childhood memories instantly. For me, for example, the smell of watermelon brings back memories of eating in a school cafeteria, violets invoke visions of my great-grandmother's bedroom, crushed pine or fir needles are reminders of growing up in Seattle, and cigarette smoke conjures memories of my parent's house. Thus, certain aromas trigger certain memories and can make a person happier, but what about the "therapy" stuff?
My interests are in gardening and creating a warm, friendly, living environment, with an inviting atmosphere that depends largely on "the smell." I was sure there had to be more to aromatherapy than a vague idea of it as a New Age thing, or something to do with perfumed oils and lavender, or some kind of sensory therapy developed around sampling different scents to relax, or getting in touch with my inner self, or solving medical conditions, or the young girls in the Body Works and soap shops rubbing different oils on my wrist. Does this sound familiar to you?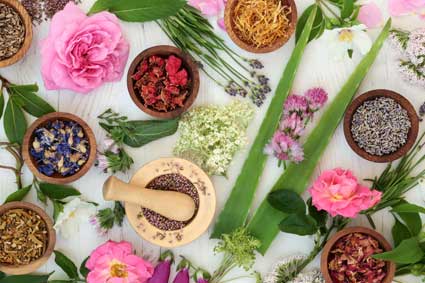 In addition, I was intrigued when the Hollywood stars talked about creating their own scents by mixing different oils and essences. I grew lavender and collected the flowers for little sachets to give as gifts or add fragrance to my linen closets. I thought it would be interesting to maybe make my own lavender oil.
Perhaps you have a similar story. As the subtitle indicates, this course is designed to provide "everything you wanted to know but were afraid to ask." Ask anything during the course, and I will try to help you find the answer.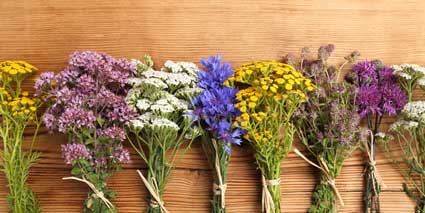 You will learn how to purchase, store, measure, and blend oils. You will learn how to begin blending oils for massage, baths, skin lotions, and potpourri. Also, because you are beginners, we will not get into the oils used in alternative medicine, and we will only lightly touch on oils for babies and children. It is really important to gain an understanding about oils and safety before you start trying to cure illnesses or treat emotional problems. The lessons are divided into eight topics:
1. Background on Aromatherapy: Terminology and Safety
2. What Are Essential Oils?
3. How Essential Oils Work
4. Seven Essential Oils for Beginners
5. Your Carrier Oils
6. Turning Your Kitchen into a Lab
7. Ways to Use Aromatherapy
8. More Recipes
The goal of this class is to demystify aromatherapy and show you how to add it to your life. You should come away with enough knowledge to start trying simple blends and experimenting with your own blends. You will learn ways to add fragrance to your life. You also will learn a little about the plants that lend themselves to aromatherapy and some history of this use of smell. You will learn to identify the essential oils and carrier oils; how to dilute, measure, and blend them; and where to buy the equipment. The course also discusses safety and storage issues and lots of beginning concoctions.
Once you are excited about aromatherapy, it is contagious.
Happy scenting!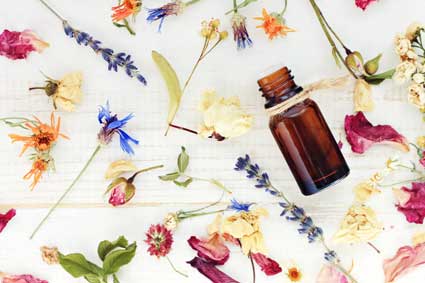 Students of this course will learn all about aromatherapy – from the origins of aromatherapy through the various tools that you'll have at your disposal, as well as learning how to blend and create your own unique recipes – recipes which can actually turn into a home-based business. In addition, students will how they can make their own lives easier and healthier with the unique properties of aromatherapy.
The student will learn how aromatherapy works and will gain an understanding as to the differences between perfume oils and essential oils (which are the oils used in aromatherapy). This course is informative, educational – and best of all, it's also fun.
In addition to interaction with your instructor, you'll be given the opportunity to join online forums with fellow students in order to gain more insight into aromatherapy, as well as share experiences and new blends that are created.
Students of this course are encouraged to ask questions and share their experiences, as well as to go outside the teachings of this course and find information from a variety of sources, including books, articles and even internet material.
This course is ideal for students of various medicinal practices, as well as anyone interested in exploring new areas of relaxation and stress reduction. Even the medical community has come around to seeing the benefits of aromatherapy, and it is actually becoming a multi-million dollar industry.
We are creatures of scent – and various aromas can trigger emotions within us that range from heightened sensitivity all the way through soothing relaxation. Students of this course will understand the importance of scent in our everyday lives and learn about the various techniques that have been used in order to help people through the use of aromatherapy.
Students will gain information in the following areas:
· Introduction to Aromatherapy: The student will learn about the set-up of the course and will also examine his or her reasons for taking the course.
· What is Aromatherapy: A short history and an examination of aromatherapy's development will be addressed.
· How essential oils are produced: The student will learn about the extraction process needed to produce essential oils.
· How essential oils work: The student will learn about the workings of essential oils and will also learn how those oils can be used in their lives.
· Seven essential oils for beginners: This area of the course will focus on seven of the more popular oils for beginners.
· Carrier oils: Students will learn about carrier oils – what they are and how they are used.
· Turning your kitchen into your lab: Students will be given directions and told what equipment is necessary in order for them to start creating their oils.
· Easy ways to use Aromatherapy: In this section, students will be given useful ideas on how best to incorporate fragrances into their lives.
· Making your own scents: In this section of the class, students will be given even more useful aromatherapy ideas and given recipes for creating even more scents.
Whether you're just a beginner or someone who wants to learn more about the history and the benefits of aromatherapy, this course is for you. Throughout history, oils have played an essential role in our world – whether it be from the earliest days when oils were given to the highest nobility of the land or through the current trend of finding the medicinal properties of various scents.
Whether you're looking at this from the point of view of a student who wants to learn more about aromatherapy or someone who might want to start a home-based business selling custom blends for an exclusive clientele, this is definitely a course that you'll want to take – both in terms of enriching your own understanding of aromatherapy, as well as advancing your own general knowledge.
Completely Online
Self-Paced
6 Months to Complete
24/7 Availability
Start Anytime
PC & Mac Compatible
Android & iOS Friendly
Accredited CEUs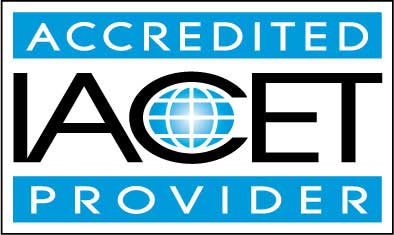 Lesson 1: Introduction to Aromatherapy 101
Information about how the course will work.
1

Total Points
Lesson 1 Video
Review Article: Aromatherapy Uses and Benefits
Take Poll: Reasons for Taking this Class Survey
Take Survey: Reasons for Taking this Course
Complete Assignment: Introduction
Lesson 2: What Is Aromatherapy
A short explanation and history of aromatherapy's development.
70

Total Points
Review Article: How Does The Nose Smell?
Take Poll: Aromatherapy Products Survey
Complete Assignment: Lesson 2: Scent Exploration
Complete: Lesson 2 Quiz
Lesson 3: How Essential Oils Are Produced
Explanations and information about the extraction processes.
55

Total Points
Lesson 3 Video
Review 2 Articles: Young Living Essential Oils; How to Distill Essential Oils
Complete Assignment: Lesson 3: Retail Websites
Complete: Lesson 3 Quiz
Lesson 4: How Essential Oils Work
How essential oils work and can work for you to scent your life.
35

Total Points
Lesson 4 Video
Review Video: How to Blend Essential Oils
Complete: Lesson 4 Assignment
Complete: Lesson 4 Quiz
Lesson 5: Seven Essential Oils for Beginners
Information on seven of the more popular oils for beginners.
70

Total Points
Lesson 5 Video
Complete Assignment: Lesson 5: Research an Essential Oil
Complete: Lesson 5 Quiz
Lesson 6: Carrier Oils
Oils for diluting, carrying, and delivering essential oils.
50

Total Points
Lesson 6 Video
Review Article: Carrier Oils for Essential Oils
Review Video: Essential Oils for Anti-Aging.
Complete: Lesson 6 Assignment: Carrier Oils
Complete: Lesson 6 Quiz
Lesson 7: Turning Your Kitchen Into Your Lab
Equipment and directions you will need to start blending.
60

Total Points
Lesson 7 Video
Review 3 Articles: Essential Oil Chart; How a 'nose workout' can unlock the power of smell; Art of Roller Bottle Blending
Take Poll: Favorite Fragrances Survey
Complete Assignment: Lesson 7: Perfume Elements
Complete: Lesson 7 Quiz
Lesson 8: Easy Ways to Use Aromatherapy
Ideas for incorporating fragrance into your life.
29

Total Points
Lesson 8 Video
Review 2 Articles: Blending 101: The Art of Pairing Essential Oils Drop by Drop; Essential Oil Recipes for a Diffuser
Complete: Lesson 8 Assignment
Complete: Lesson 8 Quiz
Lesson 9: Making Your Own Scents
Aromatherapy ideas and more recipes.
72

Total Points
Lesson 9 Video
Review 2 Articles: Aromatherapy Recipes; Bulk Apothecary
Take Poll: Your Opinion Matters: Course Rating
Take Survey: Program Evaluation Follow-up Survey (End of Course)
Complete Assignment: Lesson 9: Your Ideas
Complete: Final Exam
By successfully completing this course, students will be able to:
Describe what aromatherapy is and how it is useful.

Identify essential oils and describe how they work.

Identify carrier oils and describe how they work.

Be prepared to make your own scents.

Identify ways to add aromatherapy to various parts of your life, and

Demonstrate mastery of lesson content at levels of 70% or higher.
Additional Course Information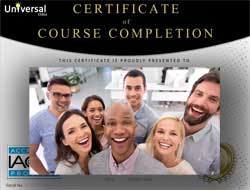 Document Your Lifelong Learning Achievements

Earn an Official Certificate Documenting Course Hours and CEUs
Verify Your Certificate with a Unique Serial Number Online
View and Share Your Certificate Online or Download/Print as PDF
Display Your Certificate on Your Resume and Promote Your Achievements Using Social Media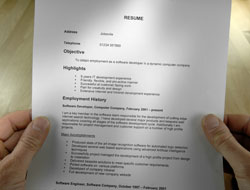 Course Title:
Aromatherapy 101
Lessons Rating:
4.6 / 5 Stars (8,605 votes)
Languages:
English - United States, Canada and other English speaking countries
Category:
Course Type:
How To (Self-Paced, Online Class)
Grading Policy:
Earn a final grade of 70% or higher to receive an online/downloadable CEU Certification documenting CEUs earned.
Assessment Method:
Lesson assignments and review exams
Duration:
Continuous: Enroll anytime!
Choose Your Subscription Plan
"I found all parts of the course helpful as I have never done an online course before." -- Leonie C.
"I enjoyed the experience." -- Alice G.
"The instructor's reply to any questions were prompt and by her answers, I knew she loved teaching this class and it is obvious she is very educated in this field. Very knowledgable." -- Frances H.
"This was a fun and informative introduction to aromatherapy!" -- Alexandra T.
"Over all and charming and fun experience that has refreshed my use of essential oils that I handle eveyday in smell therpay sessions." -- Rebecca E.
"The entire course was very beneficial....What an excellent instructor. She is very knowledgeable in the area of Aromatherapy." -- Cheryl H.
"The entire course was good for me. I have done a lot of reasearch but this presentation put everything in an organized way that made it easier to retain....It was a pleasure." -- Dianne E.