Online Class: Home Inspection 101
This course features helpful checklists, examples, links to sites of interest and videos, and an introduction to everything one needs to know about the home inspection field.
---

$
70.00
no certificate
- OR -
$
95.00
with CEU Certificate*
Start Right Now!
$95.00
(with CEU Certificate)
---
Taking multiple courses? Save with our
platinum program
.
The home inspection field is one that has been rapidly growing since its inception in the mid-1970s. Not only are they an important part of every home buying purchase, but the industry also relies upon people that are knowledgeable in the field. This course covers all aspects of home inspections and is a great educational tool for anyone considering hiring a home inspector, and more importantly, someone looking to become one. Lessons in this course cover everything from the basics of what is included in an inspection, and in-depth information as to what inspectors look for when it to comes to plumbing, electrical, and all other areas of the home, both inside and out. Students taking this course can expect to learn home inspection 101, the basic tools of the trade, the role ethics play in home inspections, and how to conduct an inspection.
Students will also learn about red flag issues such as mold, radon, and carbon monoxide, as well as how routine maintenance can extend the life of a home. The course rounds out with everything one needs to know in order to start their home inspection business and keep it successfully running.
This course features helpful checklists, examples, links to sites of interest and videos, and an introduction to everything one needs to know about the home inspection field. Whether you are someone interested in knowing more about what it takes to be a home inspector, how it can help you in the home purchasing process, or are ready to start your own home inspection business, this course has you covered!
Course Motivation
Taking a course on home inspection means that you have an interest in how they are performed, what to look for, and why they are necessary. There are a variety of reasons why someone would be interested in learning about home inspection. There is no right or wrong reason and yours may differ from others taking the course. No matter what your mission is with taking the course, whether for personal knowledge, because you are buying or selling a home, or you are a real estate agent, you have made a wise decision. Home inspections are a popular procedure for most home purchases and sales. Knowing more about it, whether you are in need of one or wanting to go into the career field to do them, puts you in a better position to get the most out of the home inspection process.
Home Inspection History
Did you know that prior to the mid-1970s home inspections were not a popular procedure? After becoming popular during that time they have now become a must-have for most home buyers and according to the American Society of Home Inspectors, today around 77 percent of all the homes sold in the United States have a home inspection prior to the sale. When you consider the vast number of homes sold each year it's easy to see how home inspection has become big business.
Home Inspection Defined
A home inspection is literally a thorough examination of a home prior to a purchase. A home purchase is one of the largest investments that someone will ever make in their lifetime. It only makes sense that before someone makes such a large and lasting purchase they know the ins and outs of the home they are looking to buy. Think of it this way, if you go to the store to purchase a new outfit you can try it on before you buy it. In addition to that, you can return to the clothing to the store if you get it home and decide you don't like something about it. Many stores will even give you at least 30 days in which you can return products as long as you have a receipt.
However, home purchases aren't like that. When you buy a home you don't get to try it on to see how it "fits." And there are no return policies, or rather there is no way to return the home, even if you end up not liking it, or find that it needs more repair than you had ever thought possible. You can't simply call the prior owner up and say you are returning the home and you would like your deposit and closing costs back. It's because of this, that home buyers need to be completely comfortable making a purchase and they need to go in with their eyes wide open, knowing as many faults as possible that the home may have.
Since there is no return policy on buying a house, a home inspection gives the buyer a detailed view of the condition the home is in. Even though many homes may need a great deal of repair some buyers will still choose to go through with the purchase, but it's only fair that they know what they are getting and what they can expect within a reasonable amount of time after they buy.
Factoid – According to the American Society of Home Inspectors, nearly 100 percent of the people they surveyed believed their home inspection was a good value.
When Inspections are Performed
It is important to note that home inspections are not required by law. Currently there are no states that require home inspections. So many people get them because of the value and peace of mind they can bring to such a large purchase, not because they are required to do so. Home inspections are done prior to the actual purchase of a home. Most people find a home they would like to purchase and then the sale is pending the outcome of the home inspection.
Sellers of a home provide disclosures to purchasers in an effort to tell them certain things they know that are in need of repair. Laws regarding disclosures vary by state. Even those states that have laws requiring that homeowners disclose property conditions to potential buyers should still invest in the time and money it takes for a professional home inspection to be completed. Not everyone is honest about the condition of their property, and if they believe they can get away without disclosing something they may just do it, especially if they sense the buyer would back out of the sale.
Even homes being sold "as is" should have inspections performed. While the "as is" label sends out a message from the seller that they are not interested in making repairs prior to selling, the buyer should know the condition of the property before making a purchase. If there are problems overlooked it can add up to thousands later and no matter what kind of "deal" someone got on the purchase price they may regret that they bought in the first place.
Another option that should not be relied upon when purchasing a home is getting a warranty. While home warranties are great, they do not always cover everything and an inspection prior to purchase may help reveal some concerns with the property that are not covered under a warranty. Most home warranties only cover such things as heating systems and appliances. They don't cover bigger issues, like potential structural problems, such as conditions with the foundation, roof, or walls.
Factoid – The emotional condition of regret or remorse someone feels after making a purchase is called "buyer's remorse." Having a home inspection done before a purchase is one step toward helping to keep this from happening.
What to Expect
A home inspection will usually cost somewhere between $200 and $600 or so, depending upon the state, size of the home, and company conducting it. Factors that can impact the price for the home inspection include the square footage of the house, what the sales price is, how old it is, how many rooms it has, and even the market that it's located in. These costs are sometimes paid directly to the inspection company and other times it's taken directly out of escrow. This is something that will need to be discussed prior to the service being done.
A home inspection is scheduled prior to the purchase of a home. Buyers should start out by contacting several people to get rate quotes and compare qualifications. Many realtors have working relationships with home inspectors that they can refer buyers to. However, the buyers will need to evaluate their options to see who they feel is the most qualified, professional, and whom they can trust the most to do the work. Some realtors may receive a bonus or incentive for referring a particular inspector, and buyers should never feel pushed into using an inspector. It is the buyer's discretion to choose the inspector(s) that will evaluate the condition of the home.
Once an appointment is made for the inspection, the buyer has every right to be present and should be there for it. That doesn't mean they should drag the entire family there, because that could hinder the inspection progress. But it's acceptable for one or two of the buyers to be at the house during the inspection and keep tabs on the progress. While not getting in the way or slowing down the inspector, they can ask questions and bring up concerns. Home buyers and inspectors are also usually free to take a camera and take pictures of potential problems that are discovered.
The inspection process usually lasts a couple of hours, and includes various areas of the home. At the end of the inspection, the buyer will be presented with a report of the findings. They can use that report in their decision making process regarding the purchase (e.g., decide not to buy because repairs are excessive, request that the seller make repairs prior to closing on the house, accept the conditions as is and proceed with the sale, etc.).
Completely Online
Self-Paced
6 Months to Complete
24/7 Availability
Start Anytime
PC & Mac Compatible
Android & iOS Friendly
Accredited CEUs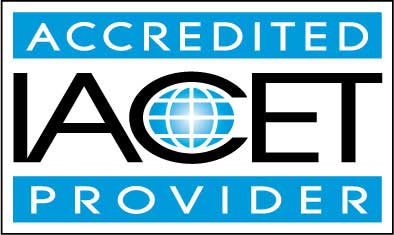 Lesson 1: Home Inspection 101
This lesson defines what a home inspection is, why and when they are done, and who does them. This lesson also explains what to expect and who uses home inspections.
35

Total Points
Lesson discussions: Reasons for Taking this Course
Complete Assignment: Lesson 1: Significance of Home inspection
Assessment: Lesson 1 Exam
Lesson 2: Basic Tools of the Trade
This lesson looks at the basic tools of the trade. It will explain what tools the inspector may need to do the inspection, as well as those tools one may need if they are looking to become an inspector.
34

Total Points
Complete Assignment: Lesson 2: Home Inspection Hardware
Assessment: Lesson 2 Exam
Lesson 3: The Role Ethics Plays in Home Inspection
This lesson explains the role that ethics plays in home inspection. It will give you insight as to possible ethical issues that can arise and what the professional standards are for home inspectors.
35

Total Points
Complete Assignment: Lesson 3: Ethics of Home Inspector
Assessment: Lesson 3 Exam
Lesson 4: What's Included in a Home Inspection
Lesson four explains what is and is not covered in a basic home inspection and the various reasons why it may vary depending upon the structure being inspected.
35

Total Points
Complete Assignment: Lesson 4: Standard Home Inspection
Assessment: Lesson 4 Exam
Lesson 5: Getting Started: Inspecting Outdoors
This lesson explains in more detail some of the things that are included in the outdoor part of a home inspection. You'll learn what the inspector will be looking for and what to expect.
35

Total Points
Complete Assignment: Lesson 5: Outdoor Inspection
Assessment: Lesson 5 Exam
Lesson 6: Inspecting Roofs and Crawl spaces
This lesson explains some of the most important aspects of inspecting the structure, such as the roof and crawl spaces. In this lesson students learn what an inspector will be looking for in each of those areas.
35

Total Points
Complete Assignment: Lesson 6: Identifying Leaks in Roofs
Assessment: Lesson 6 Exam
Lesson 7: Inspecting Kitchens and Bathrooms
This lesson focuses on two of the most important rooms in the house; the kitchen and bathroom. Students learn what the inspector is looking for and why it's so important in the process.
10

Total Points
Assessment: Lesson 7 Exam
Lesson 8: Door and Window Inspections
This lesson explains what inspectors will be evaluating when inspecting doors and windows. Students learn why they are an important part of the inspection and what to look for.
35

Total Points
Complete Assignment: Lesson 8: Inspections in Both Sides
Assessment: Lesson 8 Exam
Lesson 9: Inspecting Ceilings, Floors and More
This lesson explains what an inspector looks at when evaluating walls, floors, ceilings, and stairs. Students learn what inspectors look for in each of the areas.
10

Total Points
Assessment: Lesson 9 Exam
Lesson 10: Garages, Attics and Basements
This lesson looks at areas of the garage, attic, and basement that are evaluated during a home inspection.
10

Total Points
Assessment: Lesson 10 Exam
Lesson 11: Plumbing Inspections
This lesson focuses on plumbing inspections and discusses what will be inspected and possible problems that can arise.
10

Total Points
Assessment: Lesson 11 Exam
Lesson 12: Inspecting the Electrical, Heating and Cooling
This lesson focuses on doing a home inspection on the electrical system, as well as the heating and cooling systems. The focus of each area will be on what the inspector will be looking for.
35

Total Points
Complete Assignment: Lesson 12: Electrical, Heating and Cooling inspections
Assessment: Lesson 12 Exam
Lesson 13: Other Inspection Possibilities
This lesson focuses on other possible areas that may be conducted during a home inspection, such as chimney's, fireplaces, and swimming pools.
9

Total Points
Assessment: Lesson 13 Exam
Lesson 14: Red Flag Issues
This lesson looks at problems that can be red flag issues, such as insects, vermin, decay, chemicals, and mold issues. Each of these areas are discussed regarding their relationship to a home inspection.
35

Total Points
Complete Assignment: Lesson 14: Insects and Vermin
Assessment: Lesson 14 Exam
Lesson 15: Routine Home Maintenance Issues
This lesson looks a routine home maintenance issues and how keep up on repairs can help when it comes to inspections. The lesson also offers a checklist of maintenance areas that should be addressed.
10

Total Points
Assessment: Lesson 15 Exam
Lesson 16: The Inspection Process
This lesson examines the routine of conducting the home inspection, including following a checklist, documenting the findings, and remaining neutral and professional.
35

Total Points
Complete Assignment: Lesson 16: Sample Checklists
Assessment: Lesson 16 Exam
Lesson 17: Becoming a Home Inspector
This lesson looks at the process of becoming a home inspector, including what the career includes, the job outlook, requirements, and starting an inspection business.
9

Total Points
Assessment: Lesson 17 Exam
Lesson 18: Starting and Running a Successful Business
This lesson explains how one can go about starting a home inspection business and what it takes to make it successful. Such things as small businesses, marketing, and legal issues are discussed.
119

Total Points
Lesson discussions: Getting started with home inspection business; Program Evaluation Follow-up Survey (End of Course); Course Comments
Complete Assignment: Lesson 18: Get Started with Home Inspection.
Assessment: Lesson 18 Exam
Assessment: The Final Exam
By successfully completing this course, students will be able to:
Describe basic tools of the trade.
Describe the role ethics plays in home inspection.
Summarize what's included in a home inspection.
Describe how to inspect roofs and crawl spaces.
Describe how to inspect kitchens and bathrooms.
Describe door and window inspections.
Describe how to inspect ceilings, floors, garages, attics, and basements.
Describe plumbing inspections.
Summarize how to inspect the electrical, heating and cooling.
Identify red flag issues.
Summarize routine home maintenance issues.
Describe the inspection process.
Demonstrate mastery of lesson content at levels of 70% or higher.
Additional Course Information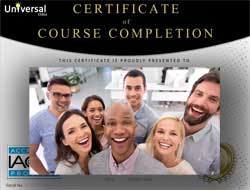 Document Your Lifelong Learning Achievements

Earn an Official Certificate Documenting Course Hours and CEUs
Verify Your Certificate with a Unique Serial Number Online
View and Share Your Certificate Online or Download/Print as PDF
Display Your Certificate on Your Resume and Promote Your Achievements Using Social Media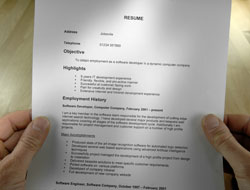 Course Title:
Home Inspection 101
Languages:
English - United States, Canada and other English speaking countries
Availability:
This course is online and available in all 50 states including: California, Florida, Georgia, Illinois, New York, Pennsylvania, Ohio, and Texas.
Course Type:
Self-Paced, Online Class
Grading Policy:
Earn a final grade of 70% or higher to receive an online/downloadable CEU Certification documenting CEUs earned.
Assessment Method:
Lesson assignments and review exams
Course Fee:
$95.00 U.S. dollars
Choose Your Subscription Plan