Online Class: Contract Law 101 - An Introduction
In this course we will begin by examining contract basics by explaining what a contract is and the various contract types.
---

$
70.00
no certificate
- OR -
$
95.00
with CEU Certificate*
Start Right Now!
$95.00
(with CEU Certificate)
---
Taking multiple courses? Save with our
platinum program
.
Every time you trade an item, attend a sporting event or buy a soda, you enter the world of contracting. When an exchange is made willingly a contract exists. But do you know how US law interprets and enforces contracts? We've designed an introductory course to help you understand the components, processes, and legal impacts of contracts.
This 11-lesson course will take a broad, yet detailed view of contract law in the United States.
In this course we will begin by examining contract basics by explaining what a contract is and the various contract types. Key elements to most contracts are covered , along with an explanation of how US law governs contractual activity. We'll discuss enforcement and dispute resolution options, and the three critical requirements of a contract – offer, consideration and acceptance.
We will explain who can enter a contract, how to approach negotiation and designing a written contract. This course will also examine unfair and improper contracts that could be challenged; focus on contract termination, covering breach, voiding and rescission claims; and provide details on special contract situations, including real estate, financing and social contracts. We conclude with an examination of contract law governing Internet use. When completed, each student will gain an edge when buying a car or home, getting a job, and handling everyday agreements.
Course Motivation
What is a Contract?
When two or more individuals or groups agree to have an exchange of promises, a contract has been entered into. Though most people are familiar with a contract agreement between commercial entities, like an employment or a sales contract, you have technically entered into a contract when you agree to help your friend move his personal belongings in exchange for pizza and beer. A contractual agreement can be made between a plumber offering free plumbing services in exchange for free package shipping by a freight company. As long as the parties agree to the exchange being made, a contract exists.
A contract is a legally binding, enforceable agreement between two or more parties through which one party offers a value(either in service or through a good) in exchange for the other party's value (which could be in the form of compensation). These values can include a commitment to perform or to forbear, not perform, an act, or to enter into, or to maintain a relationship. For the contract to be enforceable, there has to be a meeting of the minds between the participants; all parties bound by the contract must fully understand and be competent to enter the agreement.
Contracts may be written, oral, or implied by a person's behavior. A written contract is one in which the parties sign an agreement that specifies the terms, conditions, payment, and other provisions that bind the parties together. This is the most easily enforceable contract situation. An oral contract occurs when both parties can be shown to verbally agree on a few fundamental aspects of an exchange of values. The oral contract is difficult to enforce due to the lack of evidence needed to prove wrongdoing or non-performance. An implied contract is an unwritten agreement based on the behavior of one or both parties relative to an exchange. Again, because of a lack of proof, implied contracts are difficult to enforce; although a history of behavior towards fulfilling a contract can show intent to complete the agreement. Some states require written contracts where completion or conditions extend for longer than one year, such as a real estate transaction or commercial construction projects.

The essence of a contract lies in the reciprocal or mutual obligations that each party agrees to when entering the contract. As the old saying goes, "One hand washes the other." Each participant is required, after accepting the agreement, to fulfill its requirements within the terms of the contract. In the U.S., laws mandate that these obligations fundamentally bind the contractors together. There are mechanisms available which can dissolve the agreement once the contract is accepted; however, the parties must complete their commitments or face a potential lawsuit from the party that suffers due to the unfulfilled contract.
The agreement is comprised of two major concepts: offer and acceptance. The offering entity (offeror) extends a promise, and then when the receiving party (offeree) accepts the terms of the agreement, the parties are said to be under contract. The offer is a consideration by the offeror to perform, or not perform, an activity, while the acceptance by the offeree is made by expressing his assent to the contract (typically through signature for written contracts). Simply discussing the offer does not constitute a contract; there must be firm acceptance in order for the contract to be valid.

What factors make a contract valid? A valid contract is one which can show a meeting of the minds and assent by both parties, and establishes an exchange of value. These standards exist for all contractual relationships. For example, if you are shopping for home furnishings and choose to purchase a piece that is out of stock, if the shopkeeper offers to order the item and you instruct him to do so, you have entered into a valid contract. Even if no documentation exists, you are technically obliged to purchase the item when it is delivered. Terms can be challenged, especially if they are proven to be illegal, unethical, or impossible to perform; however, the validity of the contract still stands if the two conditions (assent and value exchange) can be shown.
Every day we enter into contracts, even when performing the simplest tasks. Though most contracts are enforceable at some level, many times unfulfilled contracts get dismissed. Busy schedules and a lack of significant damages lead many people to simply abandon challenging a party who has not performed.
Completely Online
Self-Paced
Printable Lessons
Full HD Video
6 Months to Complete
24/7 Availability
Start Anytime
PC & Mac Compatible
Android & iOS Friendly
Accredited CEUs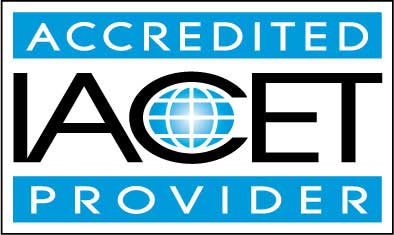 Lesson 1. Contract Basics
Lesson 1 discusses what a contract is and how it works. We'll cover offer, acceptance, consideration, value, and other contractual fundamentals. A review of several contract types concludes this lesson.
37

Total Points
Lesson 1 Video
Lesson discussions: Contract Law; Reasons for Taking this Course
Complete: Lesson 1 Assignment
Assessment: Lesson 1 : Contract Basics
Lesson 2. Contract Elements and U.S. Law
Lesson 2 discusses the key elements that comprise a contract. We cover some common terms, the parties that create a contract, and other factors included in an agreement.
33

Total Points
Lesson 2 Video
Complete: Lesson 2 Assignment
Assessment: Lesson 2 : Contract Elements and US Law
Lesson 3. Contract Enforcement
Lesson 3 discusses the methods of resolving disputes between parties to a contract. We cover court action and alternative dispute resolution options, such as arbitration, mediation, collaborative law, and negotiation.
34

Total Points
Lesson 3 Video
Lesson discussions: Enforcement
Complete: Lesson 3 Assignment
Assessment: Lesson 3 : Contract Enforcement
Lesson 4. Offer and Acceptance
Lesson 4 discusses some key details of the fundamental aspects of a contract: offer, consideration, and acceptance. We will cover valid offers and the timing of acceptance, as well as define appropriate consideration within a contract.
34

Total Points
Lesson 4 Video
Complete: Lesson 4 Assignment
Assessment: Lesson 4: Offer & Acceptance
Lesson 5. Negotiating and Writing a Contract
Lesson 5 addresses a party's ability to contract and covers impairment situations. We then discuss the mindset entering negotiations. Finally the benefits of writing the contract are examined and some specific clauses are mentioned.
35

Total Points
Lesson 5 Video
Complete: Lesson 5 Assignment
Assessment: Lesson 5 : Negotiating and Writing a Contract
Lesson 6. Improper Contract Situations
Lesson 6 looks at improper contracting activities that can be challenged by an injured or offended party.
33

Total Points
Lesson 6 Video
Complete: Lesson 6 Assignment
Assessment: Lesson 6 : Improper Contract Situations
Lesson 7. Unfair Contractual Conditions
Lesson 7 discusses situations where the assent to or construction of a contract can be deemed unfair. We'll cover duress, undue influence, and impairment. Clauses that can be considered unfair are covered as well. Additional lesson topics: Duress
9

Total Points
Lesson 7 Video
Assessment: Lesson 7 : Unfair Contractual Conditions
Lesson 8. Contract Termination and Completion
Lesson 8 describes the methods of canceling or ending a contract. We look at breach, estoppels, void, completion, and rescission. Damages awarded for breach of contract are also covered.
36

Total Points
Lesson 8 Video
Complete: Lesson 8 Assignment
Assessment: Lesson 8 : Contract Termination & Completion
Lesson 9. Special Contract Situations
Lesson 9 discusses unique contracts that have specific requirements. We cover real estate agreements, credit and financing agreements, contracts with government, and labor agreements.
10

Total Points
Lesson 9 Video
Assessment: Lesson 9 : Special Contract Situations
Lesson 10. More Special Contract Situations
Lesson 10 examines two more unique contract situations: Intellectual Property and Social Contracts. We discuss various protections of intellectual property, and cover key terms within an IP contract.
9

Total Points
Lesson 10 Video
Assessment: Lesson 10 : More Special Contract Situations
Lesson 11. Contract Law and The Internet
Lesson 11 discusses contract law that governs the activities conducted through the Internet.
56

Total Points
Lesson 11 Video
Lesson discussions: E-Signing; Program Evaluation Follow-up Survey (End of Course); Course Comments
Assessment: Lesson 11 : Contract Law & The Internet
Assessment: The Final Exam
By successfully completing this course, students will be able to:
Define what a contract is.
Define the contract elements and how it relates to U.S. law.
Summarize contract enforcement.
Define the Offer and Acceptance of contracts.
Describe the processes of negotiating and writing a contract.
Summarize improper contract situations.
Summarize unfair contractual conditions.
Describe contract termination and completion.
Summarize special contract situations.
Demonstrate mastery of lesson content at levels of 70% or higher.
Additional Course Information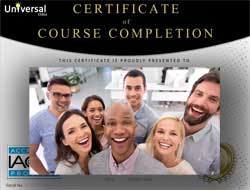 Document Your Lifelong Learning Achievements

Earn an Official Certificate Documenting Course Hours and CEUs
Verify Your Certificate with a Unique Serial Number Online
View and Share Your Certificate Online or Download/Print as PDF
Display Your Certificate on Your Resume and Promote Your Achievements Using Social Media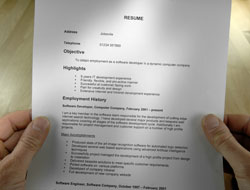 Course Title:
Contract Law 101 - An Introduction
Languages:
English - United States, Canada and other English speaking countries
Availability:
This course is online and available in all 50 states including: California, Florida, Georgia, Illinois, New York, Pennsylvania, Ohio, Texas, and Washington.
Last Updated:
September 2022
Course Type:
Self-Paced, Online Class
Grading Policy:
Earn a final grade of 70% or higher to receive an online/downloadable CEU Certification documenting CEUs earned.
Assessment Method:
Lesson assignments and review exams
Course Fee:
$95.00 U.S. dollars
Choose Your Subscription Plan
"I like the flow and ease of moving throuhg the lessons." -- Sabrina R.
"Instructor was motivational and encouraging." -- Paul N.
"The course was easy to follow and well explained in order for mere mortals like me to understand." -- Monique S.
"Excellent instructor. The very best. Always there for you. Thoughtful feedback. Excellent course." -- Mohammad H.
"Great course for anyone who needs straight to the point insight into Contract Law." -- Gilbert H.