Online Class: Computer Basics 101
This class is designed for the first time computer user, but it's also intended for those whose familiarity with computers is limited and who want a better understanding of the basics.
---

$
70.00
no certificate
- OR -
$
95.00
with CEU Certificate*
Start Right Now!
$95.00
(with CEU Certificate)
---
Taking multiple courses? Save with our
platinum program
.
13

15

8,444

Students

have taken this course

6

0.6
"Computer Basics" is a course that's designed specifically for those who are completely new to computers or who feel they need to have more instruction before they can feel confident buying a new computer for their personal use. Filled with screenshots and real life examples, as well as resources, this source is designed to help anyone feel more comfortable with basic technology.
This course is separated into 12 different lessons, including: Parts of a Computer, What to Look for When Buying, Setting up a Safe Work Area, Virus Protection, Getting Your Computer Up and Running, Surfing the 'Net,' Sending Email, Using Your Media Methods, Advanced Email, Pictures, Word Processing Basics, and Finding Everything.
"Computer Basics" covers both PCs and Macs, helping you to have the right information when you're ready to start exploring the Internet or just creating a word processing document.
With summaries, True/False, and multiple-choice questions at the end of each section, you will be able to review the lessons in detail, while also finding out where you have more work to do.
The screenshots help to give real life examples that can guide you to setting up your first email account or using email in more advanced ways. No matter what your level of comfort with computers, "Computer Basics" is designed to help you get the basic questions answered.
"Computer Basics" is a course that's designed with the basic user in mind, someone who wants to learn more about computers, but may have been afraid to ask until now.
Course Motivation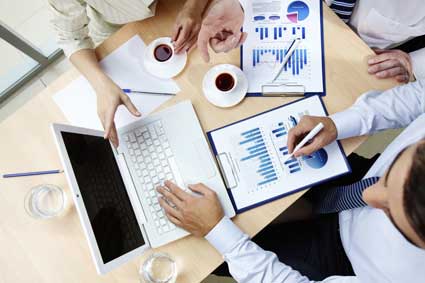 Computers used to be something reserved for those with jobs that required bookkeeping, word processing or other tasks. But today, computers are a part of everyday life, a necessity for school and for keeping up with communications.
By learning how to correctly utilize a computer, you can begin to take care of everyday tasks, keep in touch with others, and maximize your efficiency at work.
When you're someone who hasn't had to work on a computer before, the idea of learning the basics can be overwhelming. The good news is that computers are more user friendly than ever before. Computer manufacturers know that users aren't always skilled in the finer technical details, so they have created programs and processes that will help users get on the computer and instantly make their functions usable.
In this course, you'll learn the basics of how to use a computer properly. Even if you have used computers in the past, you will find out more about how to use computers correctly, how to use them comfortably, and how to make the most of your time on a computer.
By the end of this course, you will not only have learned about computers, but you will also be tested at the end of the lessons so you can be certain that you understand the information correctly.
The best way to learn about computers is to put the things you learn into practice. Get in front of your computer, start using it - and you'll get the hands-on experience to be a part of this modern world of technology.
Parts of a Computer You Should Know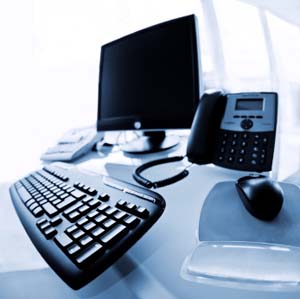 When you're not comfortable with a computer, you need to start with the essentials - the parts of your computer. You don't need to be a computer professional either. You will want to learn a bit about all of the different parts of a computer you might use at home or at work.
Types of Computers
In general, there are two types of computers that you might use: desktops and laptops. While smartphones, tablets, and even calculators are technically computers, for the sake of this course, we are concerned with desktops and laptop computers only.
Desktops are the cheaper systems (most of the time) that you can use as a part of your computer needs. They are set up to be on a desk (hence the name), and they take up more space without being portable.
Laptops are compact versions of desktop computers, allowing you to have a computer that is portable--able to be moved where you need to go.
The pieces of a computer will vary, depending on the model you choose for your needs, but the main parts of a computer will be described in the following sections.
Monitor
A monitor allows you to see what you're doing. This is the screen that is either a separate piece for a desktop, or it's the part of the laptop you see when you open it up.
The monitor can be large or small, depending on your needs, and it can be covered in a coating that diminishes glare. If you're using a computer often, you might want to choose a larger screen, as this will allow you to see more and is easier on the eyes while you're focusing on your tasks.
Keyboard
A keyboard is where the keys are that include letters and numbers, just as you might find on a typewriter. You often find other keys that are specific for computer usage, such as the function keys -- F1, F2, F3, etc.
There also will be a power switch when batteries power the keyboard, or when the keyboard is powered by solar cells.
More often, you might find a keyboard connected to the computer by a USB cable, which will be slid into the USB port.
Keyboards are separate when they are a part of a desktop system, and they can also be connected externally to a laptop when it is more comfortable to use instead of the smaller one built into the laptop.
It can help to try out a few keyboards before you settle on one for your computer, since extensive typing can be cumbersome with a small keyboard. You want to make sure you choose one that is going to fit your hands as much as it fits your needs.
Mouse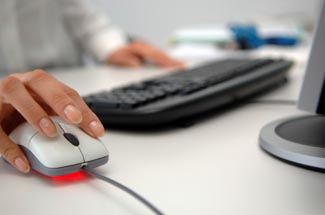 The mouse is the part of a computer system that allows you to move the cursor on the screen around the programs. When you move the mouse, you will notice a small arrow will also move around the screen. With the mouse buttons, you can click on different parts of the screen in order to access functions of a program.
A mouse can have two keys and a roller piece to help you move around, and to access links and icons on the screen.
Newer mice will have just one click function and you can move a finger around the top part of the mouse to move the cursor around the screen.
But, most often, and for beginners, a simple mouse is one that you move with your hand around a mouse pad (a small piece of material that you can purchase at any computer supply store) to access different functions. It's very intuitive and easy to learn with a little practice.
Hard Drive
One of the more difficult pieces of a computer to understand is the hard drive. What you want to know is that this is the main storage area of your computer. This is the piece that stores all of the information that allows you to do your work.
The hard drive is located in the large tower that comes with a traditional desktop computer, or it may be a part of a monitor when the system is newer and doesn't have a separate body. In a laptop, it is usually located in the space underneath the keyboard.
Other than the fan to cool the computer, the hard drive is the only other moving part in the computer. Because of this, the hard drive will get wear and tear and may vary life expectancies (usually 2-5 years).
If you should notice that your computer is not working as quickly as it once was, and you have had your hard drive for a long period of time, it might be a sign that it needs to be defragged or perhaps replaced.
Hardware
The hardware of a computer is the assemblage of systems that are inherent to the computer. These are the physical pieces of the computer that it is constructed of.
The easiest way to think of the hardware is to think about the idea of something being "hard." These are the physical systems of a computer, rather than the software that you might install into the computer to use different programs.
Software
Software is a broad term for programs that you might install on a computer. For example, word processing software is something that you would install on a computer (or it may come as a part of a computer).
If you want to customize your computer experience, you would get software discs, or you might download this information from a website.
The software is something that can be installed and removed, as you like, depending on your computing needs.
When you're first starting out on a computer, you don't need to install a lot of programs, and you shouldn't. Focus instead on using what the computer may already have installed, and then as you become more comfortable, add more programs to enhance your experience.
SUMMARY
While a computer might seem to be a complicated system of several technical pieces, you only need to know what the parts do in relation to the tasks you have to accomplish. Many computers are now set up to be usable from the time you turn them on. By being able to clearly and quickly identify what each piece is, you can easily start using your new computer.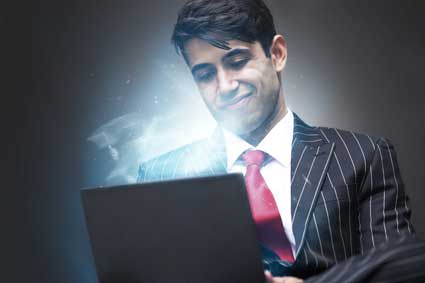 Completely Online
Self-Paced
6 Months to Complete
24/7 Availability
Start Anytime
PC & Mac Compatible
Android & iOS Friendly
Accredited CEUs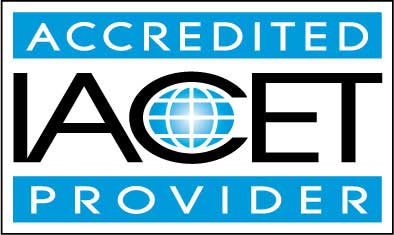 Lesson 1 : Parts of a Computer You Should Know
When you're not comfortable with a computer, you need to start with the essentials - the parts of your computer. You don't need to be a computer professional, either.
10

Total Points
Lesson 1 Video A
Lesson 1 Video B
Lesson 1 Video C
Lesson discussions: Reasons for Taking this Course
Complete Assignment: An Introduction
Assessment: Lesson 1 : Parts of a Computer You Should Know
Lesson 2 : What to Look for When Buying
By thinking about your computer needs, you can choose a computer that not only does the job, but also fits your budget.
11

Total Points
Lesson 2 Video A
Lesson 2 Video B
Complete: Lesson 2 Assignment
Assessment: Lesson 2 : What to Look For When Buying
Lesson 3 : Most Commonly Used Computer Terms
Here is a list of the most commonly used computer terms.
9

Total Points
Lesson 3 Video
Assessment: Quiz for Lesson 3 - Most Commonly Used Computer Terms
Lesson 4 : Setting Up a Comfortable and Safe Work Area
One of the things that's easy to forget when buying and using a computer is your comfort.
7

Total Points
Lesson 4 Video
Assessment: Lesson 4 : Setting Up a Comfortable and Safe Work Area
Lesson 5 : Virus Protection and Other Software That Should Be Set Up
If you don't plan to be on the Internet, then you don't have to worry so much about security and viruses, but since most people are online, it's good to have a discussion about security.
10

Total Points
Lesson 5 Video
Assessment: Lesson 4 : Virus Protection and Other Software That Should Be Set Up
Lesson 6 : Getting Your Computer Up and Running
Many new systems today will be able to be plugged in without any work on your part, but this lesson will cover the basics of setting up a computer that doesn't work in this way.
8

Total Points
Lesson 6 Video
Assessment: Lesson 6 : Getting Your Computer Up and Running
Lesson 7 : Surfing the "Net"
Setting up the Internet has become much easier today than it was in the past, and the company with which you have an Internet service can do most of the work, helping you get to the Internet quickly.
8

Total Points
Lesson 7 Video
Assessment: Lesson 7 : Surfing the "Net"
Lesson 8 : Sending Email
While web searches are a great way to begin using your Internet capabilities with your computer, many people are going online to send and to receive email.
10

Total Points
Lesson 8 Video
Assessment: Lesson 8 : Sending Email
Lesson 9 : Advanced Email
Once you've gotten to know your email program and you've begun to better understand how to send emails, you can utilize advanced tips to be even more effective and interactive.
8

Total Points
Lesson 9 Video
Assessment: Lesson 9 : Advanced Email
Lesson 10 : Use Your Media Methods
There are many more features on your computer that you can use for entertainment, including music, videos, social media, and shopping. Learning how to use these features will take time, but they are very user friendly.
10

Total Points
Lesson 10 Video
Assessment: Lesson 10 : Use Your Media Methods
Lesson 11 : Pictures
Computers are a great place to store your digital photos for safekeeping.
7

Total Points
Lesson 11 Video
Assessment: Lesson 11 : Pictures
Lesson 12: Word Processing Basics
Since the word processor is the most utilized piece of software on a computer, it is a good idea to understand the basics of this program.
10

Total Points
Lesson 12 Video
Assessment: Lesson 12 : Word Processing Basics
Lesson 13 : Finding Everything
One of the most challenging aspects of using a computer is retrieving the documents and photos you create or upload.
9

Total Points
Lesson 13 Video
Lesson discussions: What do you think about this course?; Program Evaluation Follow-up Survey (End of Course); Course Comments
Assessment: Lesson 13 : Finding Everything
By successfully completing this course, students will be able to:
Describe basic computer equipment and basic computer terminology.
Describe the processes involved in managing data.
Demonstrate basic Internet usage.
Demonstrate email skills.
Summarize computer shortcuts and tips.
Perform basic file operations.
Demonstrate how to quickly access frequently used programs.
Summarize steps to take when the computer is not working properly or needs repair.
Demonstrate mastery of lesson content at levels of 70% or higher.
Additional Course Information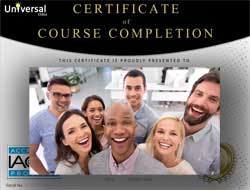 Document Your Lifelong Learning Achievements

Earn an Official Certificate Documenting Course Hours and CEUs
Verify Your Certificate with a Unique Serial Number Online
View and Share Your Certificate Online or Download/Print as PDF
Display Your Certificate on Your Resume and Promote Your Achievements Using Social Media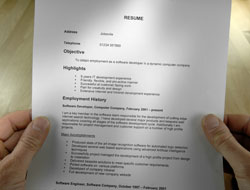 Course Title:
Computer Basics 101
Lessons Rating:
4.3 / 5 Stars (7,743 votes)
Languages:
English - United States, Canada and other English speaking countries
Category:
Availability:
This course is online and available in all 50 states including: California, Florida, Georgia, Illinois, New York, Pennsylvania, Ohio, and Texas.
Course Type:
Self-Paced, Online Class
Grading Policy:
Earn a final grade of 70% or higher to receive an online/downloadable CEU Certification documenting CEUs earned.
Assessment Method:
Lesson assignments and review exams
Instructor:
UniversalClass Instructional Team
Course Fee:
$95.00 U.S. dollars
Choose Your Subscription Plan
"Thank you for letting me join your class and teaching me so much about computer technology. I found this all to be very helpful and I will use it moving forward and have fun using computers." -- Oksana B.
"I enjoyed this class and I learned a lot. I plan on taking another computer class with the same instructor." -- Chantel T.
"The instructor was very complimentary, when I did well and also gave excellent feedback on the questions I missed." -- Alvin O.
"I have liked the courses offered for basic computer learning because they have taught me things I had not known before. I also acknowledge and appreciate the Instructor for a work well done." -- Collins W.
"Although I already knew most of the material covered in this course, I will highly recommend this course to my family, friends, and co-workers who are 'computer illiterate'. This is the perfect course for a beginner or an older adult who simply has trouble learning new things." -- Catherine A.
"It was really fun to take this course, I learned a lot." -- Darian B.
"I appreciated the instructor's comments and promptness in grading the tests." -- Dorothy G.
"Thanks for the experience, it was very informative." -- Gary D.
"The instructor was very precise and helpful in explaining the issues that I did not understand." -- Janet A.
"Instructor gets an A++, always encouraging, always an answer!" -- Wendy N.
View More Testimonials...