LinkedIn has established itself in the social media space as the professional networking platform of choice. While the site certainly offers more than just professional networking, it is a must-have for anyone within the professional or business sectors looking to stay connected.
Established in May, 2003, LinkedIn has been rapidly establishing itself in the online community. Today, more than 2 new members join per second. With nearly 120 million members worldwide, spread across 200 countries and territories, the platform has certainly made its splash online. As a result of this success, the platform has gained the attention of both individual and business users.
In 2010, over 2 billion searches occurred on the LinkedIn site directly. Included in these searches are individuals looking to connect with lost contacts, people who share common interests in an effort to make new connections as well as job seekers. In the business community, LinkedIn serves as an alternative platform to Twitter and Facebook, and in many cases an additional platform, to connect with current customers as well as possible leads.
As of June, 2011, at least one member from each executive team in the Fortune 500 company network was a member of LinkedIn. And to date, over 2 million businesses have established LinkedIn corporate pages. In the recruiting space, 75 of the Fortune 100 companies utilize LinkedIn in some capacity for seeking qualified job candidates.
These statistics speak volumes about the importance of LinkedIn, and while any individual, business or non-profit organization should not only establish a profile, but learn how to leverage the functionalities offered to expand their current networking base.
The following sectionss will offer guidance not only in regard to how to establish a LinkedIn profile, but how to maximize its effectiveness; how to build a successful network on the site, and how to leverage and start LinkedIn groups.
How to Establish a LinkedIn Profile
Establishing a LinkedIn profile is not only simple and easy, it's FREE! To begin, visit www.LinkedIn.com. From the home page, click the "Sign Up" link, where you will be directed to the following information box.
Fill in your first name, last name, email address to receive notifications and a password of your choice.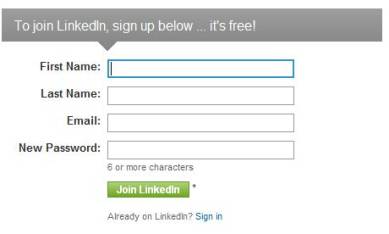 Once you fill out this information and click "Join LinkedIn", you will receive a confirmation in your chosen email account requesting that you confirm your email address.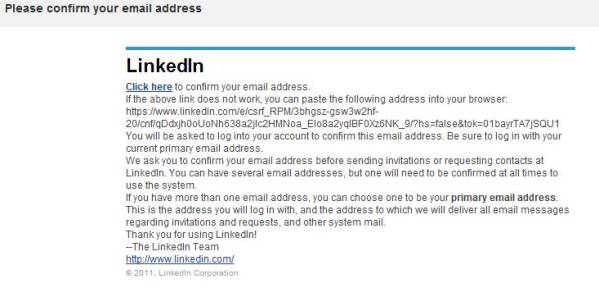 Once you confirm your email address, your LinkedIn profile will be activated.
Upon confirmation, you will be directed to the following screen which is your initial opportunity to invite and connect with people you know. You will have ample opportunities to complete this step once you get into your account, but if you have email accounts handy, simply enter each address into the box provided, separated by commas and invitations will be sent. Alternatively, you can select "Skip this Step" to move forward.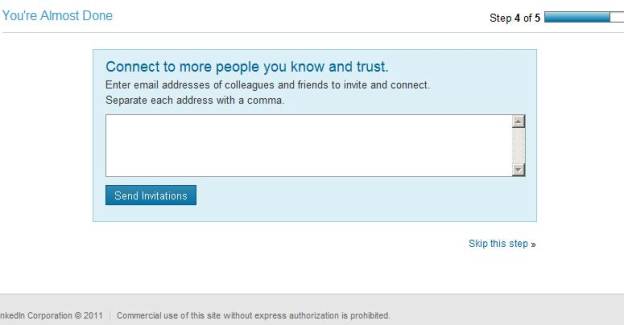 The next step is to determine which type of LinkedIn account you would prefer. You will be provided with the following 2 options; Basic and Premium.
The Basic option is what most users begin with, as it offers the ability to create and build a professional LinkedIn network, join groups, search for and apply for jobs and have interactions with the current online network. For users looking to access additional functionalities, such as interact without limits with the extended LinkedIn network, send messages to contacts in which you aren't directly connected, and save information about profiles in customized folders, the Premium option may be the better choice. It is important to note the Premium option is associated with a monthly fee, whereas the Basic option is available at no cost.
Once you have selected the account type option, you are ready to begin building your LinkedIn Profile.
Creating an Effective LinkedIn Profile

To set up your profile, choose "Profile" from your dashboard, where you will be presented with the following options: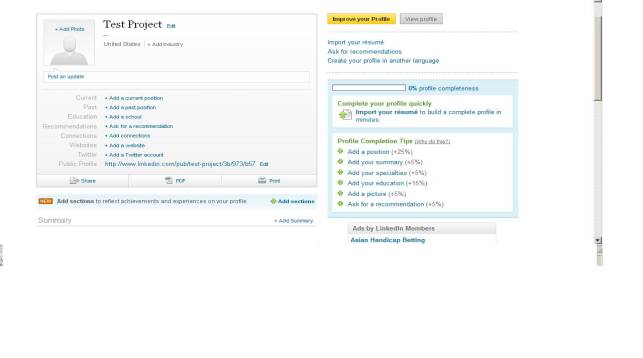 The site will guide you through the initial profile building stages, beginning with the import of you current resume. This, in addition to uploading a current, professional photograph of yourself, will begin to build the foundation of a successful LinkedIn profile.
Once you have completed these initial 2 profile completion steps, follow the guide provided by LinkedIn to fill out the remainder of your profile.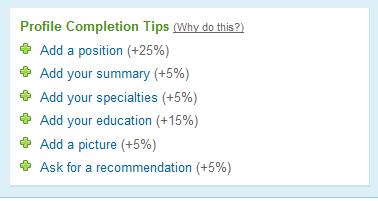 Be sure to include the following information:
o Your current employment
o A summary of your work history and experience
o Note any specialties, licenses or areas of expertise
o Your education, including degrees and year obtained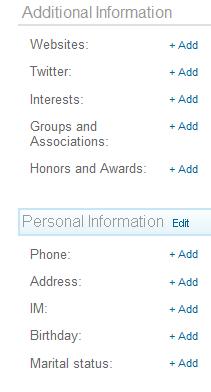 You may also choose to include the following optional information:
If you currently operate blogs, or if your business has a functional website, consider adding this information. If you have an active Twitter account, adding your contact information is a great way to expand your network on both platforms.
As LinkedIn is used in other ways other than professional employment search, including information about your interests and/or groups and associations that you are currently involved in will help others with similar interests find you on the site.
If you would like to offer methods to contact you, consider adding your cell phone, physical address, instant messaging and user ID's.
And finally, if you would like to offer more personal information about yourself, such as your birthday and/or marital status, you can do so using these (+Add) functions.
How to Improve your LinkedIn Profile
Beyond including the basics about yourself and your background when initially establishing your LinkedIn profile, there are a number of steps, tips and tricks that should be used to not only ensure that you are seen more often in searches, but that your profile attracts the attention from onlookers.
Organize Profile Sections
The first step to take is to organize your profile in the most relevant manner for your target audience. Many LinkedIn users are unaware that they can customize their profile's appearance by rearranging boxes.
For example, recent college graduates may not yet have extensive work history. So, leading with this information may not be the most effective strategy. In this instance, the graduate's recent college education, grade point averages and other relevant experiences should take the center stage.
Customization of your profile sections should highlight your strengths, while minimizing your areas of opportunity. Rearrange your profile sections to reflect your specific style.
Optimize with Keywords
If you are not familiar with the term search engine optimization (SEO), there is no time better than the present to get up to speed. All searches online involve a user entering a specific keyword, or keyword phrases in anticipation that relevant information will be provided for review. For example, if you were looking for Houston restaurants, you would type that phrase ("Houston Restaurants") into your search engine of choice for a list to review. The same concept applies to your LinkedIn page.
Incorporating targeted keywords into your LinkedIn profile will improve your profile's visibility in searches. In other words, if your LinkedIn goal is to find employment, keyword optimization will ensure that you appear in employer searches more frequently. With this in mind, how can you optimize your profile using keywords?
Inclusion of targeted keywords within the content portions of your LinkedIn profile is the best option for search visibility. It is important that the inclusion of keywords doesn't hinder the readability of your profile; rather, keywords should be naturally incorporated where possible for enhanced search visibility. Enter keywords into your "Skills" and "Summary" sections along with your "Headline" for maximum effectiveness.
Choose an Effective Headline
Your headline is a quick summary providing context for people reviewing your LinkedIn profile. Think of your headline as a mini-branding message. For relevant headline ideas, search professionals within your current as well as targeted profession for ideas. Don`t copy someone else's headline word for word, but rather use it as inspiration when creating your own.
Claim a Unique LinkedIn URL
To increase your search results, be sure to set your profile to `public` status, in addition to claiming your personal URL to share with others. For example, you should be able to get an address resembling the followingwww.LinkedIn.com/in/yourname. Once you have this URL, you can include it within your personal email footers, as well as on your resume, enabling more people to locate your LinkedIn profile.
To change your generic LinkedIn profile URL, click the "Edit" hyperlink button at the bottom of your profile box, located next to "Public Profile" and your current URL. On the next page, select "Customize" your public profile URL and type in your first preference. If your initial choice isn't available, try adding your middle initial (FirstMLast) or reversing your last name and first name (LastName), until you find something more customized than what LinkedIn provides.
Tips for Requesting and Writing Recommendations
Recommendations on LinkedIn can be compared to traditional written references, often requested or expected by future employers in a job interview process. As many employers look to LinkedIn when searching for job candidates, posting quality recommendations on your profile can serve this same purpose.
Most people aren't comfortable asking for recommendations, yet when others are asked if they would provide recommendations, they respond saying, "Yes, if I was asked." It is a known fact that people by nature like to help others. So, while you may initially have hesitations about asking others for their endorsement, or recommendation, it is beneficial in the realm of networking to have them to share.
Here are some tips to help you get strong recommendations posted on your profile:
1. Use the LinkedIn Recommendations Tool- From your profile page, you will see a link saying "Request Recommendations." Upon clicking this link, you will be directed to a page where you can select the position in which you are requesting a recommendation for, as well as the individuals you would like to directly invite to provide them. You can choose to send the standard LinkedIn message, or you can customize your own message prior to sending the request. Once you hit "Send", the list of contacts you selected will be notified of your request, allowing them to decide if they would like to respond.
2. Personally Email Contacts- A more direct approach is to send a chosen list of contacts a direct email requesting their recommendation. For some, this approach feels more personal in nature, while resulting in the same outcome.
3. Give to Get- In many cases, offering a referral to another LinkedIn member results in their reciprocation. If you are hesitant to directly contact people for recommendations, this more subtle approach may be successful for you.
4. Be Selective- Don't blast everyone in your LinkedIn network asking for recommendations. Not only does this feel very impersonal in nature, you may inadvertently request recommendations from people that don't have relevant experiences working with you in the positions selected, or worse, from people that won't provide a strong recommendation for you. Think about people whom you have worked with very closely, and that are most likely to give you the type of response you are seeking. Keep in mind that just because you have the ability to send out numerous requests with the touch of the button, doesn't mean you should.
5. Choose Words Wisely- When crafting your recommendation request, if you have selected the custom approach over the template offered, take the time to consider what you are saying. Don't assert that the email recipient must respond, or that they are under any obligation or expectation to provide a recommendation. Be respectful of the person's time and in your request.
6. Be Specific- If you are requesting a recommendation for a specific position held, versus a general recommendation; be sure to state this in your request. Both types of recommendations provide value for your profile, but it helps the person creating the recommendation to understand what you are looking for.
7. Be Suggestive- If there is something specific that you would like the person referring to mention, such as an experience or a project you worked on together, be sure to mention that, particularly if your interaction wasn't recent. Don't provide a word by word summary of the recommendation you expect, but rather some memory joggers for the person to write around.
8. Be Gracious- Once you receive a recommendation from a LinkedIn contact, be sure to thank them via email, as well as by leaving a return recommendation on their profile.
In addition to requesting LinkedIn recommendations, it is likely that you will receive similar requests from individuals in your contact list. To provide the best possible recommendations for others, consider the following suggestions:
o Spellcheck and Grammar Check Prior to Submission- While this seems obvious, the step is often overlooked.
o Vary your Opening Phrases- Many LinkedIn recommendations begin to sound the same, primarily as responders use the same opening lines again and again. To make your recommendation stand out, vary your opening remarks. Don't always begin your post with, "It was a pleasure to work with.....".
o Include Specific Examples- Rather than leaving a generic "thumbs up" type recommendation, offer specific examples that can help paint a picture of the type of individual you are referring, and their work experience.
o Choose Verbs over Adjectives- Verbs are action words. Therefore, including verbs in your recommendation posts effectively describes actions the person has previously taken, or is able to take on the job. Adjectives such as 'likable', 'hardworking', or 'dependable', while they seem complimentary, aren't very helpful when attempting to describe to a potential employer or customer the merits the individual brings to the table.
Using these tips for requesting and writing recommendations will improve your networking effectiveness on the LinkedIn platform.