A Brief History of EBay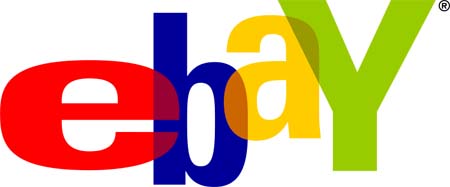 EBay is one of the most well-known and used online auction sites in the world. Today, the existence of eBay seems perpetual because it has always been there for many computer users. However, eBay was not always around. In fact, eBay created one of the most unique business models of the burgeoning Internet community in the 1990s. It is accurate to say that eBay connected millions of people wanting to sell, buy, or trade around the world and enjoyed raving success at doing so.
We want to welcome you to this article, "EBay: How to Buy and How to Sell on eBay." Whether you are interested in joining the Internet online auction community or not, the article will help you understand how it works. Take the opportunity to purchase new or used items from around the world that you cannot find in your local department or retail stores. Learn how to make a few extra bucks or even a living off of one of the most popular buying and selling Web sites in the world. This article will get you started.
EBay: How It All Began
Believe it or not, eBay was the brainchild of one man from San Jose, California. From his living room, he got the idea of creating an international marketplace to serve the needs of both buyers and sellers from around the world. In September 1995, eBay was just an idea, but soon it blossomed, grew, and, with the help of several friends, became an international sensation.
The man who created eBay, Pierre Omidyar, and his friend, Jeff Skoll, encouraged another acquaintance named Meg Whitman, a Harvard business school graduate and an expert in branding, to join forces to develop a business model in the late 1980s. Whitman eventually became eBay's president and chief executive officer (CEO). In little more than three years, eBay had nearly 30 employees, had generated early revenues of nearly $5 million, and enjoyed half a million visitors and users. Within seven months after eBay went public, Pierre and Jeff were billionaires.
Together, the three founders began to develop partnerships with leading merchandising brands, including Disney and General Motors. In the beginning, eBay was designed to connect people in business with products, merchandising, and supplying opportunities. Little did its founders know that eBay would soon change the attitudes and approach to purchasing and selling for everyone from corporation CEOs to the neighbor next door.
The basic design and business model of eBay was to promote and provide a location where people interested in selling something could list their items for sale. Then, individuals interested in buying such items could browse items listed on eBay in an independent and fully automated manner. Listed items were arranged by categories or topics, and the seller could list a starting price for his or her item or product, generate an online auction environment, and sell the product to the highest bidder at the end of a specified period of time.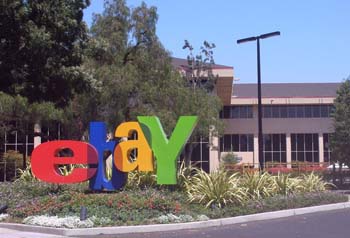 It can probably be assumed that Pierre, Jeff, and Meg had no idea that their unique business model would soon become one of the world's most profitable and well-known marketplaces.
It can definitely be said that eBay has literally changed the face of domestic and international marketing. Today, eBay is a multibillion-dollar endeavor that has operations in more than 40 countries around the world. As of 2010, eBay in the United States alone has accumulated over $9 billion and is worth more than $22 billion. While eBay and its functions have continually improved and developed over the years, it still offers one of its original functions: connecting people with other people.
Dozens of other companies around the world have attempted to mimic or duplicate the success of eBay, and its creation has given birth to a multitude of other online purchasing, auction sites, and selling opportunities for "the common man."
EBay's slogan, "Connecting Buyers and Sellers Globally," is as true today in the 21st century as it was at its origins in 1995. Additional slogans have been developed over the intervening years to express and personify the success of this business model. From "Whatever it is, you can get it on eBay," to "Buy it, sell it, love it," eBay continues to provide easy access and opportunities to buyers and sellers around the world.
By 2008, eBay enjoyed several hundred million registered sellers and buyers and had employed more than 15,000 people. The company has branched off to create other specialty sites, purchased other major Internet companies, and has spawned additional user-friendly opportunities for international trade and commerce. One of those is the financially based PayPal, which enables users from around the world to receive and send instant payments without requiring them to deal with traditional bank obstacles, fees, or international wire transfers. It speeds up the ease and frequency of international transactions. .

Setting Up an Account on eBay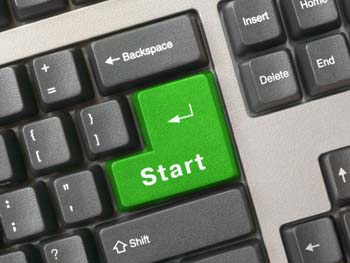 Introduction
Setting up an account on eBay is not complicated, but there is information that you will be asked for. Before you get started selling on eBay, you will have to register. In this article, we will give you tips on registering for eBay, the type of information that may be required, and setting up an effective and memorable user identification and a secure password that will protect your account, help you engage in safe and legitimate transactions, and get the most from your eBay account.
Registration
First things first. Keep this information handy if you have never visited the eBay Web site before. You can access eBay by simply typing "eBay" in your search bar or by typing in www.ebay.com. The home page may change frequently to keep the site looking fresh, as well as catering to holiday seasons, events, and seasonal opportunities.
At the top of the eBay home page, you will see several options listed, including:
My eBay

Sell

Community

Customer Support

On the left-hand side, just to the right of the eBay logo, you will find a welcome note, as well as instructions to "Sign in" or "Register." Clicking the registration button will take you to a registration page. It is quick and simple. Some of the information you will be asked for includes your first and last name, street address, and city. You will be asked to select your state or province, your ZIP code if you have one, and your country. You also will be asked for your telephone number and a valid e-mail address.

Please enter your first name.
Please enter your last name.
Please enter your email address.
Please enter your password.
Use a mix of at least 6 letters (A-Z, a-z), numbers or special characters.
Avoid using passwords you use for other sites.
Please enter your password again.
By clicking "Submit" I agree that:
EBay is not a spamming Web site. While some people are hesitant to provide an e-mail address, it is essential in buying or selling on eBay, as it offers easy communication, billing invoices, and updates for the eBay community.
Tip: Create a unique e-mail address specifically for your buying and selling endeavors on eBay. This way, you will keep your eBay account transaction e-mails, and correspondence separate from your regular correspondence.
In addition to providing basic contact and demographic information, the registration page also requires users to create a unique user identification and password. Below the "Create your eBay User ID" box, click on a link to help you pick an excellent, safe, and unique user ID.
You also will be asked to create a password. Again, there is additional information about creating a secure password provided by the Web site just beneath the box. Follow instructions regarding the creation of a unique password that is easy for you to remember but difficult for others to determine.
This advice goes for any online business, financial, or contact endeavors you make. It will help protect your personal and private information, contact information, and financial information.
You will be asked to pick a specific question as a hint to help you remember your password or one that lets eBay administration know that you are indeed you for the purpose of transactions and re-setting your user name or password. You may one day have trouble remembering your username or password, but by providing an answer to your secret question, you will hasten the password re-set process along.
Last but not least, you will need to provide a birth date. EBay does not allow account creation by individuals younger than 18.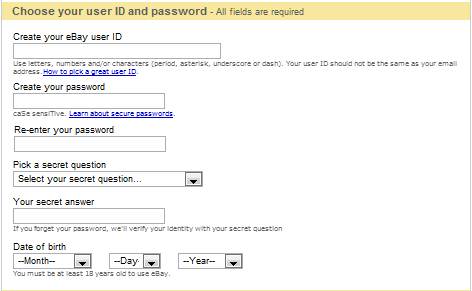 Following that, it is suggested that you read eBay's "User Agreement and Privacy Policy" before you complete your registration. By agreeing to the conditions there, you are agreeing that you understand that you may receive occasional communication from the eBay administration team. Keep in mind that you can change your preferences about how often, in what format, and in what instances you prefer to be contacted by eBay.
Registering on eBay is free and does not require any further obligation from you. In order to access the buying and selling options on eBay, you need to sign in. In order to sign in, you need to be registered. It is as simple as that.
Legalities
We are not going to get into a paragraph-by-paragraph discussion of the user agreement on eBay. In a nutshell, by signing the agreement, you are agreeing and acknowledging that every transaction you initiate through selling or buying is a legally binding contract.
By signing this agreement, you agree to pay for products in a timely manner. If you are selling, you are agreeing to pay a certain percentage of your sale in fees to eBay. We will discuss more about this in a laterarticle.
As you read through the agreement, you will find a list of items that are illegal or prohibited for sale on eBay. Lately, the news has exposed several people attempting to sell human organs, people, or illegal items on eBay. The administration team at eBay keeps track of items listed for sale on the site. While the task is challenging and enormous, contact by users often identifies such illegal products or services, in addition to the screening options put in place by eBay administration.
Setting Up an Account
Once you have registered with eBay, you are ready to purchase items or products from a seller. On the left-hand side of the eBay home page, you will find a section that lists categories of products. These categories include:
electronics;

movies, music, and games;

motors;

fashion;

home, outdoors, and decor;

collectibles and art.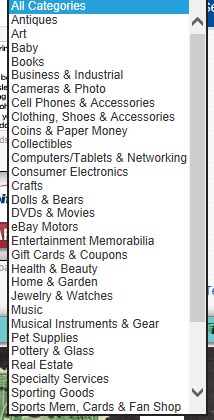 You can click one of those, depending on your interest, or the "All Categories" tab at the top of the list. You also can type in what you are looking for in the blank search bar at the top of the page and then click one of the category sections in the drop-down box immediately to the right. Using the "Advanced Search" button, you can further customize what you are looking for.
Once you log in, you will be taken to your "My eBay" page. This page offers a summary of your recent activities, bids, or offers you have made, and items that you have placed on a "watch list." In addition, your "My eBay" page also will list your purchase history, items you have sold, and saved searches for specific items. It also will contain messages to or from sellers or buyers.


Making the most out of your eBay experience requires you to spend a little time getting familiar with the site, understanding how it works, and taking advantage of the multitude of tools available to buyers and sellers on eBay. This also includes creating a PayPal account if you do not have one already.
Your "My eBay" page allows you to keep track of your eBay activity, all your messages into and out of eBay, and your account. If you click your account button, you will see a page with the drop-down menu. For example, under your activity drop-down box, you can see a summary of all your addresses and personal information for eBay. Here you can update contact information, change your settings or preferences, and change your address or phone number in the event you move.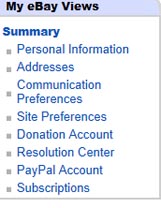 In the account section, you also can change your user ID if you wish. In addition, your account information also allows you to insert your Instant Messenger (IM) name so that you are able to receive instant messaging alerts and contact through MSN messenger, Yahoo, and other Web browsers. You also can add contact information or requests to alert your cell phone or other wireless number to notify you about certain offers, bids, or sales in which you are interested.
You do not have to worry about losing your accumulated feedback if or when you change your user name. Your user name is updated and feedback accumulated under one user name under the same account. Any changes you make in your user name will automatically migrate to the new one you create.
Notifications
You also will find that the "My eBay" page allows you to designate preference settings for a number of eBay notification procedures. For example, you can let eBay know if you want to receive messages as text-based e-mail, or in HTML (hypertext markup language).
You also can select whether you want to be notified regarding the status of a watched item, your bid confirmations, e-mails to notify you that you have been outbid for a specific auction, and notification of whether you have won or lost a bidding process.
It may be easier just to view your "My eBay" page than agree to be notified of all actions on your auctions in order to avoid your inbox from being inundated with messages and notifications on a daily basis. Depending on how many items you are bidding on or selling, e-mails can amount to a few or dozens, if not more, a day.
You also will find that your "My Account" link offers you a variety of opportunities and eBay tools, including access to your eBay seller account, or to your PayPal account.
Under the "My Account" tab, you can access the following:
your account status, which lists your account details, including credits, charges, or fees due, and your current balance;

invoices, by clicking the drop-down menu to view recent invoices and other details regarding such transactions;

payment terms. In order to sell on eBay, you need to create a credit card account, but you can also pay eBay charges or take care of billing by using a credit card number that you place on your file when you create your eBay account. You can also use PayPal for all your eBay needs and transactions. You will have the freedom to change your payment terms and preferences any time you want.
The eBay site is set up so that individuals can take the time to explore the variety of tools available in depth. In this article, we have discussed registration and setting up an account to purchase items on eBay. Selling on eBay requires additional steps, including listing items, accepting payments, and shipping items.
Conclusion
After you have decided that you want to make money by selling items on eBay, it is important to decide what you want to sell on eBay. To do so, you might need to research popular items and find out what is popular and what is not. In addition, it is a good idea to know which types of items are legal to sell on eBay.