Online Class: How to Start and Run an Online Business
This online course will show you how to start and run and a successful online business, even if you don't have any online business experience.  From the basics of learning how to choose your market to designing a website and building an online marketing strategy, you will learn what you need to do in order to create an online business that's built to succeed.
---

$
70.00
no certificate
- OR -
$
95.00
with CEU Certificate*
Start Right Now!
$95.00
(with CEU Certificate)
---
Taking multiple courses? Save with our
platinum program
.
16

19

3,251

Students

have taken this course

6

0.6
"How to Start and Run an Online Business" is an online course that is organized into 16 different sections to help you understand how to create an online business, even if you don't have any online business experience. From the basics of learning how to choose your market to designing a website and building an online marketing strategy, you will learn what you need to do in order to create an online business that's built to succeed.
You will begin with equipping your office for online success, and then move on to website building, payment processing, online marketing, writing great copy, spreading the word, utilizing online marketing tools, understanding search engine optimization, promoting an online brand, employing affiliates, planning beyond your website, and even handling legal issues before they become issues.
This an essential course for those who have a business idea, but want to move it online instead of into a traditional store. Billions of people around the world now have access to the Internet, making online businesses primed for success.
Each section also includes review assignments and exams to ensure you have learned and mastered the most important concepts. This approach allows you to instantly have the information you need at your fingertips, while also helping you learn learn what you need to understand as your online business grows.
Using the high quality information and resources provided in this course, at class completion you will know how to start a business online, how to grow your online business, and how to secure the future of your online business.
Course Motivation
Benefits of Online Work
Online work is not just a way to connect with more customers. By creating an online presence for your business, you create a storefront that is accessible at all times. You are no longer hindered by inventory space or location.
You can be where customers now EXPECT you to be, on the Internet. With an online business, people are able to do a variety of things, such as:
Shop from a larger inventory. Since customers are no longer hindered by what is in stock in a physical store, they are more likely to buy from online stores. They can always find the item they need, without having to necessarily wait until a new shipment comes in. The shipments are coming from larger warehouses and wholesalers.
Compare prices from multiple companies. When you go online, you can also look at the different prices that different companies offer, allowing you the chance to find the best possible price for your budget.
Look at reviews of products. Many online stores are now adding places for customers to review items, allowing customers the chance to see what others think of items before making their final decision.
Buy items easily. Instead of spending time and gas money driving from store to store for the best price or the right item, online businesses provide customers with the chance to purchase items from home, even having the items delivered without any need to leave home.
Make purchases in a secure environment. Online stores are now equipped with the best security features to ensure credit card orders are safe and secure.
Order items from anywhere and receive orders anywhere. No matter where a person might be in the world, they will be able to place an order and have it delivered to their current location, even when that is not necessarily their home.
What Online Work is and is not
While the benefits of having an online store are clear, many people are not quite sure what it takes to run a business online. With all of the advantages of shopping online come a lot of responsibilities for the business owner. It takes a special sort of person to create a store that is accessible, effective, and popular.
You need to be self-disciplined. Working for yourself, if you are not doing so already, takes a lot of self-motivation. Since you are the one that is calling the shots, you need to be ready and willing to make decisions that are best for your company, without any input. You also need to be ready to put in more hours than you might be putting in at a normal job, at first, anyway. This requires you be energetic and someone who can be their own boss.
You need to have the right equipment. When you are setting up and running a store online, you need to have access to the best equipment possible. This will allow you to access your customers, as well as provide for their needs, even when you are not around. You will need a functioning website, a good web host, proper website design, and a strong shipping system.
You need to understand your market. Of course, when you are starting any store, you need to know who your market is, what they want, and how you will be able to provide for them. When you do not do your initial research into your market, you may find that you spend a lot of energy without seeing the results you expected.
You need to be ready for growth. Since online businesses are primed for growth right now, you need to be ready for this growth to occur. Whether this means you setup your business for a large burst of business at the beginning, or you simply plan ahead for more capacity, you need to always be ready to provide for a larger stream of customers.
An online business is hard work. Though once you have a system in place, it will be easier to run than a traditional store in some ways; how you begin your efforts will determine your long term success.
Skills You Need
Running an online business requires a number of valuable skills. Even though you might not possess all of these skills at the moment, you will want to cultivate these skills or hire others to help you along the way. Many of these skills can be self=taught, as well.
Organization. Since you will be the one who will be running your business, it is essential that you become an organized person, if you are not one already. The more you can stay organized, the easier it will be to keep up with the needs of your customers.
Basic Internet knowledge. Having a basic understanding of search engines and what works well on the Internet will allow you to be as effective as possible, as quickly as possible.
Clear business plan. Just like any other business, it is a good idea to have a business plan that outlines what you want to do, how you plan to do it, and what you need in order to do it. Creating clear goals for your company will also keep you on track and form your business decisions.
Communication skills. As you will be communicating not only with vendors, but also with customers, you need to be able to communicate clearly and effectively. You also need to be able to listen and turn what you are hearing into action.
Ability to engage. One of the things that online businesses also need to keep in mind is that engagement is essential in the virtual world. Since you might not get the chance to meet your customers face-to-face, you need to be able to engage them in a variety of ways, helping them see you as a person who wants to help them, not just sell to them.
Expertise in your field. When your customers see you as an authority in your market,they are far more likely to buy from you. It is when you fail to show that you actually know what you are talking about that you might begin to lose customers as they cannot be confident in what you are saying.
Passion and energy. While it might not seem important, the more passion and energy you have for your business, the more likely you will become a success. You need to show others that you are a person who truly believes in what they are doing and that you are someone who wants to inspire action.
You will find that the most important skills to have are passion and expertise. When you love what you do, you are excited to do it, even when things get tough. In addition, taking the time to learn all that you can about your market will allow your customers to see that you believe in what you do and that your recommendations are to be trusted.
Take time to read up on business topics and on your market to ensure that you are the authority and that you can confidently recommend your products to others.

Starting an Online Business from Scratch
If you do not already have a business, starting an online business from scratch can seem daunting, but there are four steps that you can take which will make things easier.
Find your niche. The first thing you need to do is find the market that is interested in buying something from you. You can do this by looking at popular websites to see what is selling more than anything else. Also, look to see what items customers desire, but that are not yet available to the market.
Build a site. Create a website that allows customers to learn about your products and to buy what you have to sell.
Spread the word. Tell people what your business offers, and how it can help fulfill their needs.
Deliver on your promises. With each transaction, make sure that you are delivering exactly what you promised, or that you deliver more than what you promised.
Starting an online business (or any business) from scratch is challenging. However, this guide will help you see what steps that you need to take, when you need to take them, and how to be as effective as possible right from the start.
When You are Still Working a Full Time Job
Of course, you might not necessarily want to start a business from scratch or quit your job to do so. Instead, you can still continue to work a full time job until you begin to see profits that could replace your other work.
What you will want to do in this case is to realize that you still need to follow the same steps you would for building an offline business, but you will have less time to devote to the work. This might cause your online business to grow more slowly.
In addition, you could look into seeking resources that can help you speed up your online business' success. By looking for freelancers to help with web copy writing, website design, and online store management, you can still work at your job and see your online business succeed.
Completely Online
Self-Paced
Printable Lessons
Full HD Video
6 Months to Complete
24/7 Availability
Start Anytime
PC & Mac Compatible
Android & iOS Friendly
Accredited CEUs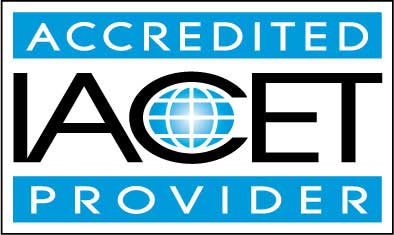 Lesson 1. Benefits of Online Work
By creating an online presence for your business, you create a storefront that is accessible at all times.
20

Total Points
Lesson 1 Video
Lesson discussions: Online Business Course; Reasons for Taking this Course
Complete: Lesson 1 Assignment
Complete Assignment: An Introduction
Assessment: Lesson 1 Exam
Lesson 2. Find Your Market
When you are able to find the ideal niche, you will notice that finding customers is much easier and the customers you find are already interested in buying from you.
10

Total Points
Lesson 2 Video
Assessment: Lesson 2 Exam
Lesson 3. Equipping your Business
With an online business, your computer is your the access point to your customers.
10

Total Points
Lesson 3 Video
Assessment: Lesson 3 Exam
Lesson 4. Modern Website Building
Building a website is a necessity for your online business.
20

Total Points
Lesson 4 Video
Lesson discussions: Website
Complete: Lesson 4 Assignment
Assessment: Lesson 4 Exam
Lesson 5. Payment Processing, Security, And Shipping
Once you have a website up and running, you need to have a clear, effective, and SAFE way of handing money online. Additional lesson topics: Tips for Accepting Credit Cards
10

Total Points
Lesson 5 Video
Assessment: Lesson 5 Exam
Lesson 6. Bring Customers to You
Online marketing is as essential as any marketing you might do for a business, but when it is done online, the results can be far more impressive.
9

Total Points
Lesson 6 Video
Assessment: Lesson 6 Exam
Lesson 7. The Write Stuff
Your words matter on your website and in your marketing strategies, but there are simple ways to be as effective as possible without having to have a degree in writing.
8

Total Points
Lesson 7 Video
Assessment: Lesson 7 Exam
Lesson 8. More Ways to Spread the Word
It is a good idea to spread the word as much as possible at the beginning of your marketing campaign. Additional lesson topics: The Importance of a Mailing List
10

Total Points
Lesson 8 Video
Assessment: Lesson 8 Exam
Lesson 9. Marketing Tools for Online Companies
You need to start looking for ways that you can publicize your online business locally and through simpler methods.
9

Total Points
Lesson 9 Video
Lesson discussions: Marketing Tools
Assessment: Lesson 9 Exam
Lesson 10. Search Engine Optimization
If you are not thinking about SEO, your business is missing out on more traffic, more visibility, and more profits.
10

Total Points
Lesson 10 Video
Assessment: Lesson 10 Exam
Lesson 11. Building Your Online Brand
If you can create a brand for your online business, you will allow others online to instantly think of this message whenever they think of you.
10

Total Points
Lesson 11 Video
Assessment: Lesson 11 Exam
Lesson 12. Affiliate Programs to Spread Your Name
Affiliate programs are programs that help you create a team of people who are boosting the reputation of your company and of your site.
9

Total Points
Lesson 12 Video
Assessment: Lesson 12 Exam
Lesson 13. Beyond Your Own Website
The more that you are in multiple spots online, the more likely it is that a person is going to find you and that they are going to take advantage of the deals that you are offering.
9

Total Points
Lesson 13 Video
Assessment: Lesson 13 Exam
Lesson 14. Legal Issues
One of the most frequently skipped steps in developing an online business is legal preparation.
7

Total Points
Lesson 14 Video
Assessment: Lesson 14 Exam
Lesson 15. The Future of Your Business
To prepare for the success of your business, you need to think of three things as you continue to grow and to build your company.
9

Total Points
Lesson 15 Video
Assessment: Lesson 15 Exam
Lesson 16: Conclusion
Today, you can become an online entrepreneur - and you will begin your story of success.
70

Total Points
Lesson discussions: Course Completion Poll: Your Thoughts; Program Evaluation Follow-up Survey (End of Course); Course Comments
Assessment: The Final Exam
By successfully completing this course, students will be able to:
Describe benefits of online work.
Identify how to find find your market.
Describe equipping your business.
Describe modern website building.
Summarize payment processing, security, and shipping.
Identify how to bring customers to you.
Recognize more ways to spread the word in marketing.
Summarize marketing tools for online companies.
Define Search Engine Optimization and using SEO techniques.
Describe building your online brand.
Describe affiliate programs to spread your name.
Identify ways to look beyond your own website for generating a successful business.
Identify legal issues.
Determine the future prospects and vision of your business.
Demonstrate mastery of lesson content at levels of 70% or higher.
Additional Course Information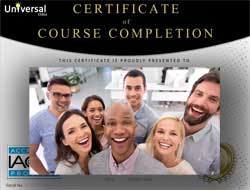 Document Your Lifelong Learning Achievements

Earn an Official Certificate Documenting Course Hours and CEUs
Verify Your Certificate with a Unique Serial Number Online
View and Share Your Certificate Online or Download/Print as PDF
Display Your Certificate on Your Resume and Promote Your Achievements Using Social Media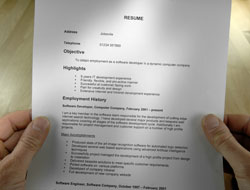 Course Title:
How to Start and Run an Online Business
Lessons Rating:
4.4 / 5 Stars (2,208 votes)
Languages:
English - United States, Canada and other English speaking countries
Category:
Availability:
This course is online and available in all 50 states including: California, Florida, Georgia, Illinois, New York, Pennsylvania, Ohio, and Texas.
Course Type:
Self-Paced, Online Class
Grading Policy:
Earn a final grade of 70% or higher to receive an online/downloadable CEU Certification documenting CEUs earned.
Assessment Method:
Lesson assignments and review exams
Instructor:
UniversalClass Instructional Team
Course Fee:
$95.00 U.S. dollars
Choose Your Subscription Plan
"Instructor was very helpful and very timely with returning grades. She was also very knowledgeable and informative. I recommend anyone who wants to start their own online business to take this course. It is extremely detailed and helpful." -- Karisma E.
"I really liked this entire course - nothing bad to say. It had so much great information. I really learned alot. THANK YOU!" -- Deborah C.
"All of it was helpful. The course is a great resouce and seemed to cover everything." -- Catharine A.
"I did not need the instructor, but it was nice to know she was available to me." -- Bonnie M.