Online Class: Meteorology Fundamentals
The study of land, atmospheric pressure, cloud formation and storms offers students of meteorology a never-ending and fascinating look into the forces of nature and our surrounding environment.
---

$
70.00
no certificate
- OR -
$
95.00
with CEU Certificate*
Start Right Now!
$95.00
(with CEU Certificate)
---
Taking multiple courses? Save with our
platinum program
.
12

19

2,141

Students

have taken this course

9

0.9
Meteorology is a fascinating subject. Because of its very nature, it is never constant or boring. Studies and observations of weather and climate and its impact on humans and the environment offer everything from gorgeous sunsets to terrifying hurricanes and tornadoes.
The study of land, atmospheric pressure, cloud formation and storms offers students of meteorology a never-ending and fascinating look into the forces of nature and our surrounding environment. From how rainbows form to the impact of pollution on the environment, this basic meteorology course explores such topics as: how geography affects weather, cloud formation, wind forces, weather forecasting methods, and global weather patterns (such as El Niño).
From weather forecasting to water conservation, we'll introduce you to the vagaries of weather watching and prediction. We'll study the effects of pressure fronts that create hurricanes, tornadoes, and cyclones. We'll offer students clues on how to watch the sky for signs of change, as well as provide a greater understanding of the development and formation of some of the most awesome powers on earth.
While many of us watch the local television station for news, our decisions of what to wear, when to plant seeds, or when to travel is often affected by unexpected changes in weather. From ancient times to the present, mankind's efforts to predict and forecast weather patterns have displayed mixed results. This course offers students a look at the history of meteorology as well as the impact humanity has on our own local climate and weather.
Course Motivation
Why is Meteorology Important?
The study of weather and weather patterns and climate is important not only for agricultural reasons, but also for the potential safety of inhabitants around the world. Understanding forces that shape weather and climate can help save lives and protect the environment. Knowing what to look for in the atmosphere may serve to warn of approaching danger and damage which could be caused by hurricanes and tornadoes.
The impact of pollution and deforestation are studied by meteorologists who attempt to understand the impact that such situations have on the natural cycle of animals, plant life, mountains, and deserts.
Weather affects farmers, the environment, and mankind. Weather forecasting is a skill that has always been of interest to mankind and the ability to predict weather is an admired ability that has been honored from ancient times to the present. Over the years, accuracy and weather forecasting has improved drastically. Weather forecasting and determinations regarding rainfall and temperature are reasonably accurate, and the ability to spot severe and dangerous weather storm patterns such as hurricanes and tornadoes have saved countless lives.
Meteorologists must understand various aspects of the Earth's environment, including the ocean, mountains, deserts, and other environmental factors that affect weather patterns. Meteorologists and oceanographers often work together to study the impact of the atmosphere with the oceans. Many other meteorologists are also biologists who study plants and animals and how they interact with the atmosphere and the environment around them.
These days, meteorologists make use of high tech aircraft, satellites, radar, and computers to help forecast weather, but many individuals still rely on tried and true methods of weather prediction, including cloud watching, to help in forecasting weather on their own.
This course on meteorology will provide the basics in the study of the atmosphere and various weather patterns, including climate, clouds, and air masses, as well as weather forecasting. Determining high and low pressure and the formation of tornadoes and hurricanes will also be explained. Weather patterns such as El Niño as well as the impact of ocean currents and evaporation over large bodies of water will be introduced.
No study of meteorology would be complete without an understanding of the basics of water conservation or the various opportunities and careers to be found within the field of meteorology. This course will also provide basic tips on water conservation, protecting the environment, and how we humans can impact our immediate environment.
Conclusion
The study of meteorology is a fascinating subject. It goes much beyond weather watching. It also utilizes knowledge of geography and science. Whether you want to learn the difference between various clouds and cloud patterns or you are interested in storm watching, the study of meteorology will help provide the basics to identify clouds, rainfall, and various types of air of masses and fronts that affect our climate and our weather. Learn more by joining this course today!
Completely Online
Self-Paced
6 Months to Complete
24/7 Availability
Start Anytime
PC & Mac Compatible
Android & iOS Friendly
Accredited CEUs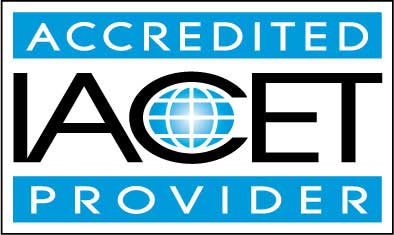 Lesson 1. Introduction to Meteorology
What is meteorology? Weather Watching Basics
105

Total Points
Lesson 1 Video
Lesson discussions: Reasons for Taking this Course
Complete: Lesson 1 Assignment
Assessment: Lesson 1 Exam: Introduction to Meteorology
Lesson 2. Climate
Climate and Seasons. How Geography affects weather (coastline, mountain, desert, and others). Additional lesson topics: The World's Climates; Climate Map
100

Total Points
Lesson 2 Video
Assessment: Lesson 2 Exam: Climate
Lesson 3. All About Clouds
All About Clouds, Precipitation, and Wind Forces.
100

Total Points
Lesson 3 Video
Lesson discussions: Cloud Watchers
Assessment: Lesson 3 Exam: All About Clouds
Lesson 4. Blowing in the Wind
Fronts and Air Masses. Common types of each. Air Pressure and Humidity.
100

Total Points
Lesson 4 Video
Assessment: Lesson 4 Exam: Blowing in the Wind
Lesson 5. Under Pressure
Under Pressure, High Pressure, Low Pressure. Additional lesson topics: Ambient Pressure VS Barometric Pressure
120

Total Points
Lesson 5 Video
Complete: Lesson 5 Assignment
Assessment: Lesson 5 Exam: Under Pressure
Lesson 6. Weather Forecasting
Weather Forecasting Additional lesson topics: Forecasting Basics
70

Total Points
Lesson 6 Video
Complete: Lesson 6 Assignment
Assessment: Lesson 6 Exam: Weather Forecasting
Lesson 7. Stormy Weather
Stormy Weather, Tornadoes, and Hurricanes. Additional lesson topics: When Thunder Roars, Go Indoors!; Tornadoes
90

Total Points
Lesson 7 Video
Lesson discussions: Intimidation Factor
Assessment: Lesson 7 Exam: Stormy Weather
Lesson 8. Global Weather Patterns
Global Weather Patterns and El Nino.
130

Total Points
Lesson 8 Video
Complete: Lesson 8 Assignment
Assessment: Lesson 8 Exam: Global Weather Patterns
Lesson 9. Water and Weather
Bodies of Water and impact of circulation and evaporation.
100

Total Points
Lesson 9 Video
Assessment: Lesson 9 Exam: Water and Weather
Lesson 10. Conservation and Weather Issues
Weather Conservation, Saving Water, Changing weather patterns
110

Total Points
Lesson 10 Video
Lesson discussions: Impacts
Complete: Lesson 10 Assignment
Assessment: Lesson 10 Exam: Conservation and Weather Issues
Lesson 11. Weather Effects
Weather Effects, Rainbows, Aurora Borealis.
120

Total Points
Lesson 11 Video
Complete: Lesson 11 Assignment
Assessment: Lesson 11 Exam: Weather Effects
Lesson 12. Careers in Meteorology
Careers in Meteorology Additional lesson topics: Career in Meteorology
690

Total Points
Lesson 12 Video
Lesson discussions: How would you rate this course?; Program Evaluation Follow-up Survey (End of Course); Course Comments
Assessment: Lesson 12 Exam: Careers in Meteorology
Assessment: The Final Exam
By successfully completing this course, students will be able to:
Define climate.
Summarize cloud types and cloud formations.
Describe and identify the different wind types.
Describe pressure.
Summarize how weather forecasting works.
Describe various storm weather patterns.
Summarize global weather patterns.
Summarize conservation and weather issues.
Demonstrate mastery of lesson content at levels of 70% or higher.
Additional Course Information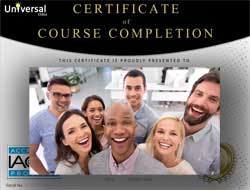 Document Your Lifelong Learning Achievements

Earn an Official Certificate Documenting Course Hours and CEUs
Verify Your Certificate with a Unique Serial Number Online
View and Share Your Certificate Online or Download/Print as PDF
Display Your Certificate on Your Resume and Promote Your Achievements Using Social Media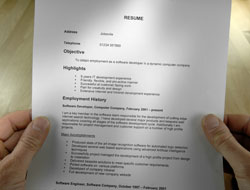 Course Title:
Meteorology Fundamentals
Lessons Rating:
4.4 / 5 Stars (2,422 votes)
Languages:
English - United States, Canada and other English speaking countries
Category:
Availability:
This course is online and available in all 50 states including: California, Florida, Georgia, Illinois, New York, Pennsylvania, Ohio, Texas, and Washington.
Last Updated:
January 2023
Course Type:
Self-Paced, Online Class
Grading Policy:
Earn a final grade of 70% or higher to receive an online/downloadable CEU Certification documenting CEUs earned.
Assessment Method:
Lesson assignments and review exams
Instructor:
UniversalClass Instructional Team
Course Fee:
$95.00 U.S. dollars
Choose Your Subscription Plan
"This instructor is an expert, and also she is very encouraging and provides excellent feedback. I have taken Chemistry, Geology, Ecology, as well as this Meteorology course with her. I will take any intro-ductory courses she teaches in the future." -- Judith J.
"I appreciated the picture of my instructor in the corner. Nice touch! Even though I did not have any questions to ask my instructor, I did appreciate the short positive comments that were sent after each assignment and test. (I'm a retired teacher myself)." -- Lanny B.
"Course was excellent also the instructor." -- Guillermo C.
"The course as a whole was helpful as all material fitted together nicely. The layout and presentation of the material was excellent. What was most helpful was the fact that it promted you to do your own research to look at each subject in greater depth. " -- Paul W.
"I ENJOYED THE COURSE AND HOPE THAT THERE COULD BE A CONTINUING COURSE WITH EVEN MORE STUDY ON THE SUBJECT OF EXTREME WEATHER. THE INSTUCTOR WAS GREAT AND QUICK TO ANSWER ON ALL QUIZES AND TESTS I HOPE TO JOINING ANOTHER CLASS SOMETIME WITH THIS INSTRUCTOR. THANKS!" -- Demetra G.
"Study of clouds was the most helpful because they are so easily observable. It was fascinating learning that different types of clouds can portend future weather patterns." -- Catherine R.
"I FOUND THE VIDEO PART OF EACH LESSON MOST HELPFUL IT HELPED ME TO REVIEW WHAT I HAD READ AND MOST HELPFUL TO REVIEW BEFORE EACH EXAM I TOOK FOR EACH LESSON. VERY WELL LAID OUT COURSE AND EASY TO USE. I REALLY ENJOYED LEARNING BY THIS METHOD OF ONLINE CLASS." -- Edward E.
"I appreciated the instructor's encouraging comments :)" -- Bonnie L.
"All of it. Really enjoyed the content" -- Bonnie L.
"Course was a great learning experience, really enjoyed it, and the instructor was excellent and was available like all the time! Everything in this Course was really helpful!" -- Marcus M.
View More Testimonials...