Online Class: Chemistry 101
An online course with a student goal of basic understanding of chemistry to develop a solid foundation for comprehending the inner workings of biology (how cells function and the behavior of organisms), as well as, the ecological relationships that exist between organisms and their environment.
---

$
70.00
no certificate
- OR -
$
95.00
with CEU Certificate*
Start Right Now!
$95.00
(with CEU Certificate)
---
Taking multiple courses? Save with our
platinum program
.
16

20

4,464

Students

have taken this course

20

2.0
At a minimum, a basic understanding of chemistry is needed for it offers a foundation for comprehending the inner workings of biology (how cells function and the behavior of organisms), as well as, the ecological relationships that exist between organisms and their environment.
In short, chemistry offers us a way of understanding the world in which we live.

Chemistry provides us with insights into how our bodies function; the ingredients that are contained within the foods we eat; the reason cars, planes and trains are able to run as efficiently as they do; the manner in which computers are built and operate; and the materials used to construct our homes and buildings within our communities.

Basically, chemistry is a part of almost everything we do for everything is comprised of chemical compounds. The claim that chemistry is everywhere is, thus, entirely accurate.

Chemistry encompasses a multitude of specialized sub-disciplines which have proven highly useful to chemistry as they have provided for the following: the production and testing of stronger materials, creation of pharmaceuticals to treat disease, and the study of life processes.
Course Motivation
Believe me when I say - There's nothing nerdy about chemistry!
Despite the stereotyping of chemistry as a dry, boring area of scientific study, more and more people (both young and old) are striking out in this active and exciting field in an effort to make their own marks.
In fact, today the science of chemistry has grown to encompass a wide spectrum of divisions and sub-divisions. However, despite the diversity of specializations (physical chemistry, organic chemistry, etc.) there is a core foundation of ideas, principles and techniques that apply across the board.
In this course, you'll gain a comfortable familiarity with these basics. Beginning with atoms and molecules (the building blocks of EVERYTHING in existence) and progressing on to the laws of conservation of matter and energy (which basically states that nothing truly disappears, it's either transferred to another object or absorbed), you'll gain a comprehensive knowledge of what chemistry is and how it can be put to work for you.
In the end, you'll have gained new mastery that will prepare you to take in new ideas, theories and principles without risking loosing sight of chemistry's basic tenets.
Forget about the intimidation factor of universities, professors or tying to juggle your schedule around set times and mandatory participation dates. Self-paced and self-contained, the only thing you need to bring with you to the table is an open mind (and at least a 10th grade reading level.) Fourteen lessons later, you'll have the foundation you need to build a solid interest (perhaps even solid career potential) in the field of chemistry.
You'd be amazed at the number of things that the science of chemistry encompasses:
Atoms and molecules

Matter and energy

Chemical bonding

Acids and bases

Equilibrium

Electrochemistry and

Thermodynamics
We'll cover a total of fourteen lessons aimed at providing you with a thorough, working knowledge of the theories and principles of modern chemistry and the historical changes that the science has gone through over the centuries.

The class is designed to be completed at your own pace, and because it's self-contained, there are no books or software programs you have to run out and invest in. By the time you've finished, you'll have covered fourteen essential objectives:
What chemistry is, why it's important, the different branches and how chemistry is both similar to and different from biology

An understanding of the origins of chemistry from the 18th century on

The components, properties and changes of matter and energy

Atomic scale structure and interactions

The added stability inherent in chemical bonding

Descriptions and properties of the three states of matter

The three characteristics of gasses

Solutions: Different Solvents and Concentrations

Acids vs. bases and the chemists who defined them

The properties, composition and reactions of carbon and hydrogen

Oxidation and the balance between lost and gained electrons

Electricity and the chemical changes that can result

Chemical reactions and reactionary conditions

Plus an understanding of the movement of energy AND how energy results in movement.
By covering each of these objectives, you'll have gained the knowledge and understanding you need to take chemistry to the next level – whether academically, intellectually or professionally. Just remember – class lessons must be completed in order. If you want to make it on to Lessons 2 or 3, you've first got to stick it out and complete each of the components of Lesson 1.
If you've been dreaming of an opportunity to gain new ground in the field of Chemistry, but you've been too intimidated to get signed up for a class (for whatever reasons), this is the day that all of that can change.
Completely Online
Self-Paced
6 Months to Complete
24/7 Availability
Start Anytime
PC & Mac Compatible
Android & iOS Friendly
Accredited CEUs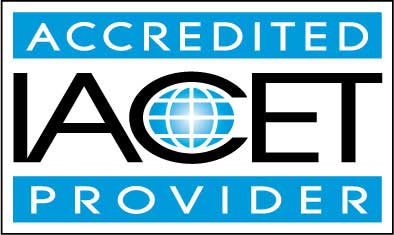 Lesson 1. Atoms, Molecules, and Ions
The ordination of who was the true "father" of modern chemistry is a disputed point.
35

Total Points
Lesson 1 Video
Lesson discussions: Reasons for Taking this Course
Complete: Lesson 1 Assignment
Assessment: Lesson 1 Exam
Lesson 2. Chemical Foundations
In chemistry the accepted measurement system for mass (m) or volume (v) is the metric system, also known as the System International (SI) system.
10

Total Points
Lesson 2 Video
Assessment: Lesson 2 Exam
Lesson 3. Stoichiometry
Stoichiometry is the field of chemistry used to determine the quantities both for the required reactants of a chemical reaction and the predicted product of said reactions.
35

Total Points
Lesson 3 Video
Complete: Lesson 3 Assignment
Assessment: Lesson 3 Exam
Lesson 4. Types of Chemical Reactions and Solution Stoichiometry
Most chemical reactions require a catalyst, a certain condition external to the reactants themselves that facilitates or causes the molecules to react with one another. Additional lesson topics: Chemical Reactions
10

Total Points
Lesson 4 Video
Assessment: Lesson 4 Exam
Lesson 5. Gases
Matter in gaseous form does not have an absolute density. In order to determine the density of any volume of gas, we must first determine the pressure under which the gas is being held. Additional lesson topics: Real Gases
10

Total Points
Lesson 5 Video
Assessment: Lesson 5 Exam
Lesson 6. Thermochemistry
There are two types of energy, potential (the amount of energy possible given a certain circumstance) and kinetic (the amount of energy being expended).
10

Total Points
Lesson 6 Video
Assessment: Lesson 6 Exam
Lesson 7. Atomic Structure and Periodicity
Electromagnetic radiation refers to the wavelengths on which energy travels through the Universe.
35

Total Points
Lesson 7 Video
Complete: Lesson 7 Assignment
Assessment: Lesson 7 Exam
Lesson 8. Bonding. General Concepts
Hydrogen bonds are the bonds established between hydrogen and elements with a high level of electronegativity.
9

Total Points
Lesson 8 Video
Assessment: Lesson 8 Exam
Lesson 9. Valence Bond Theory
Atoms form a bond when both of these two conditions occur 1) There is an "orbital overlap" between two atoms and 2) only two electrons, both of opposite spin, are present in the overlap.
10

Total Points
Lesson 9 Video
Assessment: Lesson 9 Exam
Lesson 10. Properties and Solutions
Solutions are a combination of solutes and solvents, which are not necessarily composed of the same forms of matter.
10

Total Points
Lesson 10 Video
Assessment: Lesson 10 Exam
Lesson 11. Chemical Kinetics
Chemical kinetics is concerned with the rates of chemical reactions.
10

Total Points
Lesson 11 Video
Assessment: Lesson 11 Exam
Lesson 12. Chemical Equilibrium
The first thing to understand about equilibrium in chemistry is that it is a dynamic state.
10

Total Points
Lesson 12 Video
Assessment: Lesson 12 Exam
Lesson 13. Spontaneity, Entropy, and Free Energy
Spontaneous processes occur without outside intervention. Some of these occur very quickly, such as combustion, whereas others like the formation of diamonds occur very slowly over millions if not billions of years. Additional lesson topics: Corrosion
10

Total Points
Lesson 13 Video
Assessment: Lesson 13 Exam
Lesson 14. The Nucleus, A Chemist's View
The nucleus of an atom is not always stable.
10

Total Points
Lesson 14 Video
Assessment: Lesson 14 Exam
Lesson 15. Transition Metals and Coordination Chemistry
Many transition metals commonly form more than one form of oxidized compound depending on the conditions of formation.
10

Total Points
Lesson 15 Video
Assessment: Lesson 15 Exam
Lesson 16. Organic Chemistry
Organic chemistry is the study of carbon based chemistry in the realm of living things.
56

Total Points
Lesson 16 Video
Lesson discussions: End of Course Poll; Program Evaluation Follow-up Survey (End of Course); Course Comments
Assessment: Lesson 16 Exam
Assessment: The Final Exam
By successfully completing this course, students will be able to:
Define atoms, molecules, and ions.
Describe chemical foundations and stoichiometry.
Identify gases and thermochemistry.
Describe atomic structure and periodicity.
Describe bonding and the Valence Bond Theory.
Summarize properties and solutions.
Describe chemical equilibrium.
Summarize spontaneity, entropy, and free energy.
Summarize the nucleus, a chemist's view.
Summarize transition metals and coordination chemistry.
Summarize organic chemistry.
Demonstrate mastery of lesson content at levels of 70% or higher.
Additional Course Information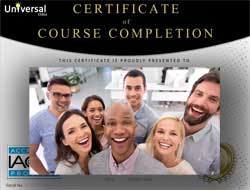 Document Your Lifelong Learning Achievements

Earn an Official Certificate Documenting Course Hours and CEUs
Verify Your Certificate with a Unique Serial Number Online
View and Share Your Certificate Online or Download/Print as PDF
Display Your Certificate on Your Resume and Promote Your Achievements Using Social Media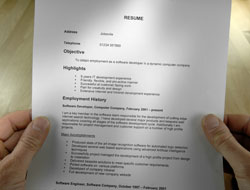 Course Title:
Chemistry 101
Lessons Rating:
4.3 / 5 Stars (2,408 votes)
Languages:
English - United States, Canada and other English speaking countries
Category:
Availability:
This course is online and available in all 50 states including: California, Florida, Georgia, Illinois, New York, Pennsylvania, Ohio, Texas, and Washington.
Last Updated:
December 2022
Course Type:
Self-Paced, Online Class
Grading Policy:
Earn a final grade of 70% or higher to receive an online/downloadable CEU Certification documenting CEUs earned.
Assessment Method:
Lesson assignments and review exams
Instructor:
UniversalClass Instructional Team
Course Fee:
$95.00 U.S. dollars
Choose Your Subscription Plan
"The instructor was good. She graded assignments and exams in a timely manner. She also gave feedback on things that I missed and explained what I did wrong." -- Olivia S.
"This instructor is wonderful. I appreciated her feedback and interest in me as a student. I have studied Ecology and Geology with her in the past, and now I am studying Marine Biology." -- Judith J.
"She is very knowledgeable, and good on what she teach." -- Jhornalize M.
"Thanks, I enjoyed learning from you." -- Ken P.
"I am satisfied with the course I want to continue on." -- Viera V.
"She was prompt with all grading and any questions I had. It was a 101 course and offered a well rounded experience. It gave me more background on how I was using chem. in my wastewater, water operations." -- Tim M.
"The instructor was very helpful and available. She is very knowledgeable. This was an EXCELLENT course." -- Donna N.