Project Details: Advaned Excel 2013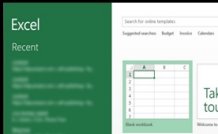 Teaching Project Description:
HD instructional video tutorials/lectures for Excel 2013 done by an Excel expert.
** Software tutorials are created with desktop screen casting software and a microphone.
*** We will provide you an exact list of topics to cover if your proposal is accepted.
This project is under contract and closed.
No new proposals are being accepted.
Other Related Projects Open for Bidding