Mastering the Art of Written Expression: A Comprehensive Guide to Grammar, Spelling, and Effective Writing
It's often said that effective communication is the key to success, yet many of us find ourselves stumbling over the very basics we once mastered in our early educational years. Think back to elementary and middle school when the foundations of grammar and spelling were etched into our minds. But as the years went on, especially during high school and beyond, the emphasis on these foundations began to wane. It became an assumption that we retained all those rules. Unfortunately, life's rapid pace and technological advancements, with auto-corrections and abbreviations, have blurred the lines of proper writing for many.
Introducing our meticulously designed course: a deep dive into the nuances of the English language tailored for both beginners and those seeking a refresher. Whether you're an aspiring novelist, a business professional aiming to enhance your email correspondence, or simply an individual looking to express thoughts more articulately, our program caters to your needs.
What Makes Our Course Unique?
Holistic Approach: Beyond just imparting the basic rules of grammar and spelling, we venture into style, structure, and common pitfalls in writing. You'll not only revisit those "minor details" but also learn the mechanics of assembling them into coherent, persuasive, and engaging pieces of writing.

Self-Paced and Interactive: Understandably, everyone learns at their own speed. Our course's online structure ensures flexibility. Engage with interactive assignments, participate in polls, and deep-dive into documents and resources to enrich your learning.

Hands-On Guidance: While the course might be online, you are never alone in your journey. Our dedicated instructor will be actively involved in grading assignments, clarifying doubts, and offering personalized guidance through email.

Real-World Application: Each lesson is designed with applicability in mind. For instance, in Lesson 5, not only will you understand the age-old confusion between "ie" and "ei", but you'll also discern when to use which, through practical examples. Or, delve deep into the world of punctuation in Lesson 18, and understand how colons and semicolons can transform the clarity and rhythm of a sentence.

Comprehensive Curriculum: From the basics like common misspellings and plural forms to more advanced topics such as refining sentences, constructing compelling paragraphs, and mastering dialogue, our 26-lesson curriculum ensures a 360-degree understanding of written English.
Course Highlights:
Lesson 3: Unravel a list of commonly misspelled words, complete with tricks to remember them.

Lesson 8: Homonyms can be tricky. Dive into understanding the difference between words like 'principal' and 'principle'.

Lesson 13 & 14: Discover the power of phrases and clauses to add depth and complexity to your sentences.

Lesson 20: Quotation marks can be deceptive. Learn their correct usage, especially in intricate situations like quotations within quotations.

Lesson 25: Proofreading isn't just about catching errors; it's an art. Develop a keen eye for inconsistencies and learn techniques to perfect your drafts.
The world of written communication is vast, intricate, and beautiful. Every word, when used accurately, has the power to evoke emotions, persuade minds, or simply convey information clearly. With our course, embrace the opportunity to hone this skill and navigate the landscape of language with confidence and finesse. Come, join us on this enlightening journey, and see the transformation in your writing unfold.
Completely Online
Self-Paced
6 Months to Complete
24/7 Availability
Start Anytime
PC & Mac Compatible
Android & iOS Friendly
Accredited CEUs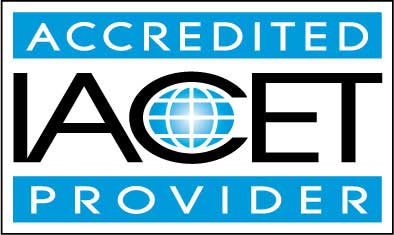 By successfully completing this course, students will be able to:
Define the basic rules of spelling.
Recognize commonly misspelled words.
Demonstrate proper use of plural forms for names, compound words and numbers.
Recognize "ie" versus "ei" and other spelling dilemmas.
Define prefix and suffix rules.
Identify common prefixes and suffixes.
Define homonyms.
Identify subject and predicate and demonstrate using them properly.
Identify verb tenses and demonstrate using them properly.
Identify nouns and pronouns and demonstrate using them properly.
Identify adjectives and adverbs and demonstrate using them properly.
Identify the phrase and clause and use them correctly.
Identify and properly use periods, commas, apostrophes, colons, semicolons, hyphens, and quotation marks.
Refine your sentence writing, identify types of paragraphs and form paragraphs correctly.
Demonstrate correct writing of dialogue.
Proofread and revise your writing.
Demonstrate mastery of lesson content at levels of 70% or higher.
Assessment Guide
| Assessment | Points |
| --- | --- |
| Introduction Assignment | 1 points |
| Lesson 2 Exam | 10 points |
| Spelling 3-1 Exercise | 20 points |
| Spelling 3-2 Exercise | 15 points |
| Lesson 4 Spelling Exercise A | 20 points |
| Lesson 4 Spelling Exercise B | 15 points |
| Lesson 4 Spelling Exercise C | 20 points |
| Lesson 4 Spelling Exercise D | 15 points |
| Lesson 4 Spelling Exercise E | 10 points |
| Lesson 4 Spelling Exercise F | 20 points |
| Lesson 4 Spelling Exercise G | 20 points |
| Lesson 4 Spelling Exercise H | 7 points |
| Lesson 5 Spelling Exercise A | 20 points |
| Lesson 5 Spelling Exercise B | 9 points |
| Lesson 5 Spelling Exercise C | 20 points |
| Lesson 5 Spelling Exercise D | 15 points |
| Lesson 5 Spelling Exercise E | 10 points |
| Lesson 5 Spelling Exercise F | 15 points |
| Lesson 5 Spelling Exercise G | 20 points |
| Lesson 5 Spelling Exercise H | 19 points |
| Lesson 5 Spelling Exercise I | 9 points |
| Lesson 5 Spelling Exercise J | 8 points |
| Lesson 6 Spelling Exercise A | 10 points |
| Lesson 6 Spelling Exercise B | 20 points |
| Lesson 6 Spelling Exercise C | 20 points |
| Lesson 6 Spelling Exercise D | 20 points |
| Lesson 6 Spelling Exercise E | 12 points |
| Lesson 7 Spelling Exercise A | 20 points |
| Lesson 7 Spelling Exercise B | 20 points |
| Lesson 8 Spelling Exercise A | 20 points |
| Lesson 8 Spelling Exercise B | 10 points |
| Lesson 8 Spelling Exercise C | 16 points |
| Lesson 8 Spelling Exercise D | 10 points |
| Spelling Test 9 - Subject-Verb Agreement | 10 points |
| Lesson 9 Exam | 10 points |
| Lesson 10 Exercise: Find the Verb | 15 points |
| Lesson 10 Exercise: Simple Present Verb Tenses | 10 points |
| Lesson 10 Exercise: Irregular Verbs | 10 points |
| Lesson 10 Exam | 6 points |
| Lesson 11 Exercise: Find the Subject Noun | 10 points |
| Lesson 11 Exercise: Using the Correct Pronoun | 10 points |
| Lesson 11 Exercise: Pronoun Substitution | 10 points |
| Lesson 11 Exercise: Correct Pronoun Use | 8 points |
| Lesson 11 Exam | 11 points |
| Lesson 12 Exercise: Identifying Adjectives and Adverbs | 20 points |
| Lesson 12 Exercise: Comparative and Superlative Adjectives | 10 points |
| Lesson 12 Exam | 12 points |
| Lesson 13 Exercise: Identify the Preposition | 20 points |
| Lesson 13 Exam | 14 points |
| Lesson 14 Exam | 11 points |
| Lesson 15 Exercise: Sentence Punctuation | 10 points |
| Lesson 15 Exam | 10 points |
| Lesson 16 Exam | 19 points |
| Lesson 17 Exercise: Using Apostrophes | 10 points |
| Lesson 17 Exam | 12 points |
| Lesson 18 Exam | 8 points |
| Lesson 19 Exercise: Hyphen Usage | 10 points |
| Lesson 19 Exam | 9 points |
| Lesson 20 Exam | 8 points |
| Lesson 21 Assignment | 10 points |
| Lesson 21.2 Assignment | 20 points |
| Lesson 22.1 Assignment - Paragraph Writing | 20 points |
| Lesson 22.2 Assignment - Paragraph Writing | 20 points |
| Lesson 23 Assignment - Narrative Paragraph | 20 points |
| Lesson 23.2 Assignment - Descriptive Paragraph | 20 points |
| Lesson 23.3 Assignment | 5 points |
| Lesson 24 Assignment - Dialogue Writing | 20 points |
| Lesson 25 Assignment | 10 points |
| Final Assignment - Three Paragraph Essay | 25 points |
| The Final Exam | 74 points |