Once you have finished editing, tweaking, and transforming your video, it is time to take the most important step. Up until this point, your video is just a project. Only you and the people who have worked on it with you have seen your creation. However, once you are finished, it is time to share it with the world.
You are going to learn how to:
Export frames to still images
Export media, such as audio and video clips and sequences
Recognize available format options
Work with Adobe Media Encoder
Exporting using Premiere Pro
Once you are finished creating and editing your video, you have several choices as to how you will export it from Premiere Pro. You can export editable video or audio files from Premiere Pro, then continue to edit them in another program. In addition to exporting the video and/or audio files, you can also export a sequence of a single clip or frame. You can also export your video to share with audiences.
Exporting Images
You can export a single frame of your video if you want. This can be helpful if you want to create a DVD cover or share a frame you are especially proud of with family and friends.
To export a frame:
Go to the Source Monitor or Program panel.
Move the playhead to the frame that you want to export.
Click Export Frame, as circled below.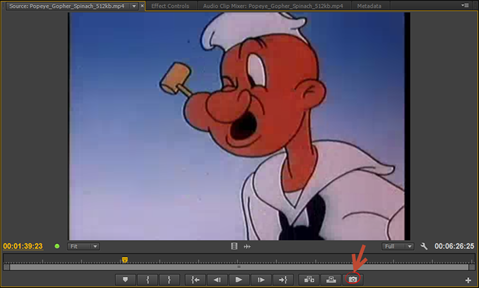 You will then see the Export Frame dialogue box: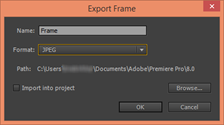 Choose a name for the frame, then select an image format. In addition, click the Browse button to choose the location where you will save the frame.
Check the Import Into Project box if you want the frame imported into the project as an image.
Click OK when you are finished.
We exported our frame as a JPEG. Once we exported it, we located the file and opened it with Windows Photo Viewer. As you can see from the title bar (at the top) the frame is now a JPEG.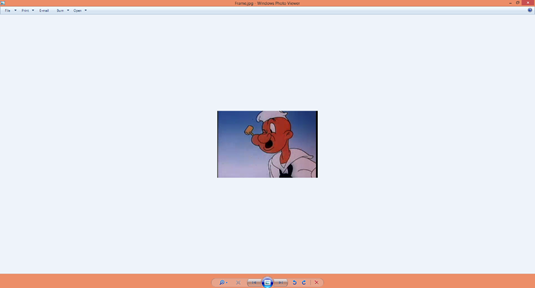 Exporting Media
You can also export audio and video from Premiere Pro. This includes clips and sequences that you can export from either the Project panel or the Timeline.
To export media in Premiere Pro, click the video you want to export in the Project panel or click the sequence in the Project panel or Timeline.
Next, go to File>Export>Media.
You will then see the Export Settings dialogue box, as pictured below.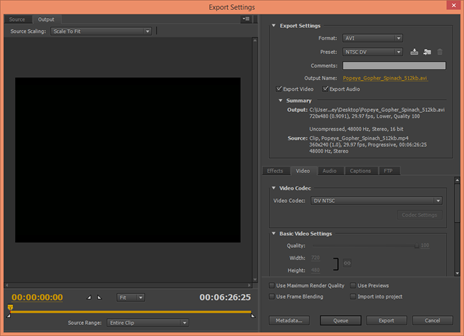 The Export Settings dialogue box is where you will choose a format for your video, as well as the preset.
The first thing you will need to determine is the format of your video once it is exported, then a preset. Always choose a format before you chose a preset.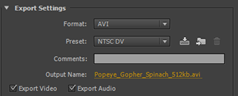 Check the appropriate box if you want to export video and/or audio.
Below Export Video and Export Audio, you will see tabs.
Let's review a few of these.
The Audio tab contains audio encoding options.
Captions provide export options for captions. This will be greyed out if you do not have closed captions in your video.
The FTP tab lets you upload your encoded files to an FTP site. You will need your FTP credentials in order to do this.
At the bottom of the Export Settings dialogue box are four checkboxes:
Use Maximum Render Quality will enable a higher level of rendering that will improve quality.
Use Frame Blending should be checked if you are going to change the frame rate from the source file to the output.
Use Previews allows you to use previews that were produced during editing as the output file.
Import into Project will enable Premiere Pro to import the encoded video back into the project.
When you are finished, click Export or Queue.
If you choose Queue, Adobe Media Encoder opens. Your project is added to its queue.
If you choose Export, Adobe Media Encoder renders and exports your project right away.
Export Formats
Let's talk a little more about formats before we move forward.
Take a look at the Export Settings dialogue box again.
Click the dropdown arrow beside AVI to see the formats available. If you are producing a video for a website or for a certain purpose, you may already know what format is required. Otherwise, you will have to select a format on your own. We will give you a brief rundown of the formats available.
AAC Audio is audio that is compressed using Advanced Audio Coding technology. This is the audio component of most H.264 files.
AIFF stands for Audio Interchange File Format. It is an audio only format that is used by OS-X.
DNxHD MXF OP1a . This is generally used to export for import into an Avid project or to create an extremely high quality archival file.
DPX, or Digital Picture Exchange , is for digital intermediate and special effects.
F4V and FLV is flash video using the codes H.264(F4V) and VP6 (FLV) codecs.
H.264 is the most used distribution codec. Presets for this include mobile, Apple TV, Roku, and other box platforms and will encode for YouTube and Vimeo.
H.264 Blu-ray for Blu-ray disc.
JPEG exports a series of JPEG-compressed frames.
MP3 creates an .mp3 audio file.
MPEG2 is an older format that can still be used for output for some broadcasters.
MPEG2 Blu-ray/DVD should be used for inclusion on Blu-ray or DVD discs.
MPEG4 is for old mobile devices.
MXF OP1a is for Sony's IMC and some XDCAM cameras.
P2 Movie is compatible with P2 cards.
PNG creates a series of PNG-compressed frames. (Images)
QuickTime is good for accessing QuickTime-based codecs, including ProRes.
Targa and TIFF will create Targa or TIFF frames.
Waveform Audio is uncompressed audio.
Windows Media creates a .wmv file.
Exporting a Master Copy
A master copy is a copy of your project that you can archive for future use. It is fully editable and contains the highest resolution, as well as quality. In addition, it can be used to produce other output formats at a later date.
A master copy is a digital copy of your project that you can archive for the future. It contains all of your content at its highest resolution and quality. You can use a master copy to produce other output formats as well.
To create a master copy, go back to the Export Settings dialogue box.
Put a checkmark beside Match Sequence Settings, as circled below.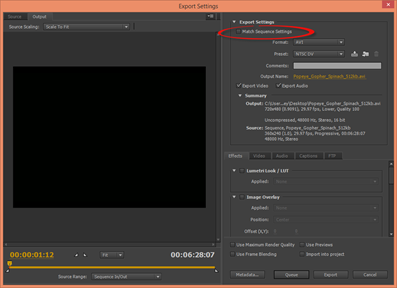 Next, click the yellow hypertext to select a location where the master copy will be stored.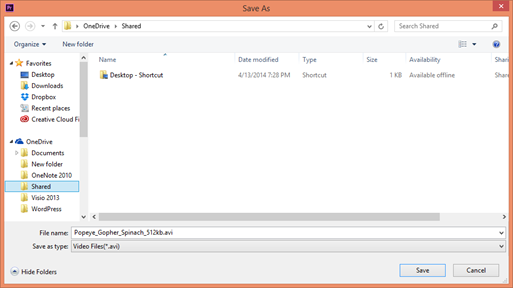 Click the Save button.
Now, look at the Summary area to make sure that the output format matches the settings for the sequence.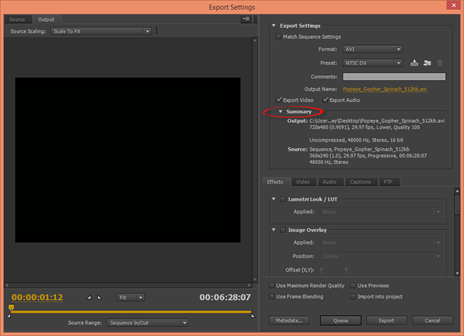 When you are finished, click the Queue button.
Working with Adobe Media Encoder
When you click the Queue button in Premiere Pro, Adobe Media Encoder will open up.
Adobe Media Encoder to create your video for whatever screen size and resolution you need and offers tools to allow you to publish your video across different browsers and devices. In addition, when you export a file from Premiere Pro, Adobe Media Encoder can encode that single file to multiple outputs – all at the same time. It can also set up watch folders, which we will learn about later.
For now, let's take a look at Adobe Media Encoder: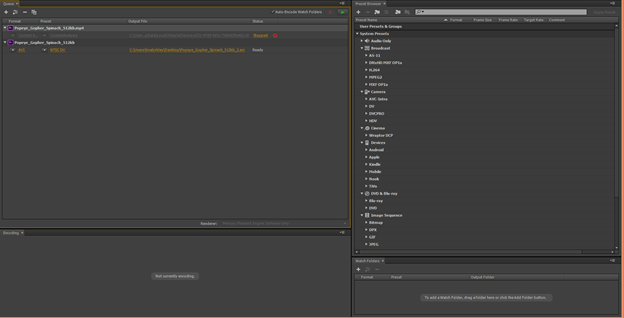 Adobe Media Encoder has four windows:
1. Queue is in the upper left corner. It lists the files that are in queue for coding.
2. The Preset Browser is in the upper right hand corner. It contains the same presets as the Export Settings dialogue box in Premiere Pro. However, they are in different folders.
3. The Encoding Window is on the bottom left. It will tell you if there are problems with the encoding.
4. Watch Folders is located on the bottom right. This contains watch folders that you have created.
Setting Your Preferences
To set preferences, go to Edit>Preferences.
Go to the General tab.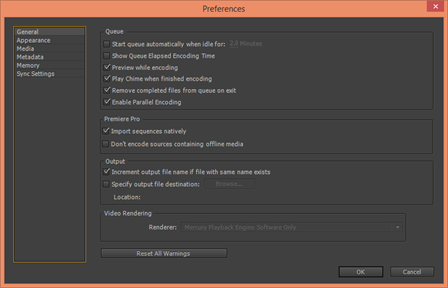 If you do not want to have to manually start each queue, make sure "Start queue automatically when idle for" is checked.
You can also disable parallel encoding, which is encoding to multiple outputs. If you have a slower machine, you may want to disable this.
In addition, you can select a file location for all encoded files. If you do not, they will be stored with the source video clip.
Starting an Encoded Queue
To start an encoded queue, click the Start Queue button in the Queue window, as circled below.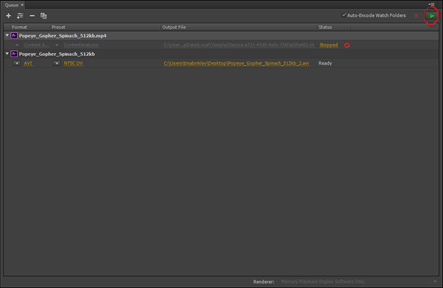 Adding Presets to Queued Files
To add a preset to a queued file, go to the Preset Browser. Find the preset that you want, then drag the preset onto the queued file.
You can add as many as you want. The queued files will be encoded to the selected outputs.
After you do that, start encoding.
About Watch Folders
Watch folders are folders on your hard disk that are tied to presets. You can encode a file to all the presets contained in the folder.
To create a watch folder, go to the Watch Folders window, then click the Add Folder icon.

You will then see the Chose a Folder to Watch dialogue box.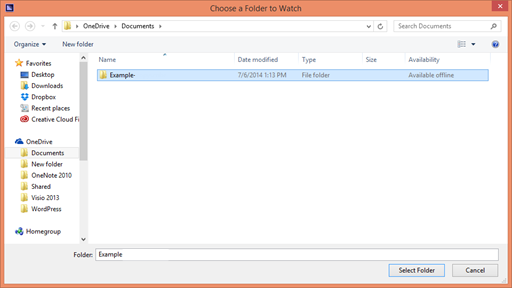 Choose a folder, then press the Select Folder button.
You can then see the folder in the Watch Folders window.

Now you can drag presets from the Preset Browser and drop them onto the folder.
Exporting to Tape
You can also export your project to DV videotape. However, before you do this, you must connect the device to your computer with a FireWire connection.
Once it is connected, you are ready to begin.
Turn your device on. Set it to VTR, VCR, or Play.
Go to File>Export>Tape (DV/HDV).
Set your options.
Click Record for DV devices or Render and Record for HDV devices.