Project Details: Yoga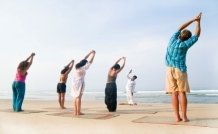 Teaching Project Description:
HD instructional video tutorials/lectures for Yoga from an experienced Yoga instructor.
** Software tutorials are created with desktop screen casting software and a microphone.
*** We will provide you an exact list of topics to cover if your proposal is accepted.
Interested in doing this project? If so, then place a bid for this project.
Specifications: We're looking for HD video lectures/tutorials/screen casting for the topic Yoga 101. Are you an expert on Yoga 101? If so, please put in a bid for this project.
Other Related Projects Open for Bidding