Online Class: Understanding and Managing Your Personal Credit
Credit governs our lives. It is what allows people to buy a house, get a car, have a credit card and generally live a life they cannot really afford. Sadly, many people get into a debt spiral that soon goes out of control.
---

Credit governs everyone's lives. It is what allows people to buy a house, get a car, have a credit card and generally live a life they cannot really afford. Sadly, many people get into a debt spiral that soon goes out of control. They have trouble keeping their head above water, and soon they fall under as the weight of debt drags them down.
Thankfully, credit can be managed and all it takes is having the ability to change how one lives their life. By implementing the lessons explained in this course, an individual will be able to take their credit and repair it.
This is not to say that it will be easy. If anything, it will be very difficult to do. They will be struggling to keep their head above water, but as they persevere, they will be able to slowly fix their credit and get credit relief.
---
The statistics are staggering with how many people suffer from credit problems. Millions, with that number growing because of the economy, are actually using credit to keep their heads above water. This is a losing strategy that only results in them losing nearly everything they have as the water quickly pulls them under and the debt rock shows no signs of letting go.
There are many ways that a person can get rid of debt, and they are covered in this course. These include:
Understanding Credit
Understanding a credit score
Understanding how credit is affected
Understanding Credit Cards
Understanding Foreclosure
Understanding Bankruptcy
Understanding the Debt to Income Ratio
Understanding the Debt Spiral
Finding Debt Counseling
Finding Debt Consolidation
Learning to live within one's means
Learning how to budget
Knowing how to stay on track
Understanding Credit Reports
Fixing Credit Errors
These must be done right, and cannot be rushed. To get out of debt and realize credit relief, one has to work hard to do so. This course will explain how to repair credit using the tips that have helped millions of other people raise their credit score hundreds of points through know-how and determination.
Course Motivation
What Is Credit?
More now than at any other time in our history, we use credit. Credit has become a huge part of our lives, and it governs nearly everything that we do. If you want to own a house, you need to have credit to get a mortgage so you can owe the bank for your purchase. Want a new car? You need credit to lease the car from the dealership, paying them monthly payments for the right. Want things you cannot afford usually, then you need a credit card or two so you can purchase things and pay later.

So, what exactly is credit and how did it become something that we all use and need throughout our day-to-day lives?

Essentially, credit is the granting of a loan from one party to another, where the second party is not required to reimburse the first party in full immediately, but can repay over a certain set period of time. This is debt, and it affects nearly everyone in the Western world. The first party is always referred to as the creditor or lender, while the second party is the debtor or borrower. Like a relationship between certain fish and sharks, or birds and crocodiles, these two need each other. The lender needs to have someone to lend to, or they cease to exist, so the debtor is their other half, their Yang to the Yin. You probably get the idea.
Typically, any large movement of financial capital is dependent on credit, and this becomes dependent on the reputation of the individual for how much credit they are allowed to borrow, often called creditworthiness.
Credit has become a huge part of our lives and it is actually very hard to get away from it. Many companies these days will offer credit to their customers as part of a purchase agreement. It is rare these days, when you make a payment at the till, that you are not asked if you want to get the company's credit card for cheaper purchases. Many choose to go with these store credit cards on impulse alone, which can have problems for many in the future.
It should be noted that credit cannot act as a unit of account, like money. It is merely denominated by a unit of account. That being said, it is not unusual to find many forms of credit acting as a medium of exchange, and therefore is often incorrectly referred to as money.
Forms of Credit
There are several forms of credit that a person or company can have, with the most common being:
Credit Cards

Mortgages

Car Loans

Lines of Credit

Leases

Loans
These are just a few of the types of credit a company or person can have, but they are by far the most common of all the types.
Typically, the three most common forms of credit that a company or person will have is credit cards, mortgage and car loans. This is because these forms of credit are used by nearly every person at some point in their lives.
Credit Stats
In the United States, credit is a way of life, but what are the stats that relate to it? How do you compare as a consumer to other consumers with your credit situation? Are you above, or below the average, and do you have something to worry about?
In terms of total consumer credit on credit cards, it equals an astonishing $1.7 trillion. Each American has an average of about $8,562 credit card debt at this very moment, and the total finance charges that are paid by Americans each year is about $50 billion.
Most households -- 78 percent -- are deemed credit worthy by the lending industry, but that being said, about 1.3 million people declare bankruptcy each year.
On top of this, about 37 percent of all consumer debt is in revolving credit, which is most commonly seen as credit card debt -- 63 percent in total -- and includes car loans, student loans, loans on other items like boats, trailers, and even vacations. In terms of car loans, the average loan is about $29,000, with the loan to value ratio being 94 percent, which means that down payments are about 6 percent.
One very good indication of how much people are in debt is their debt-to-income ratio. This ratio, which will be addressed later in more detail, determines just how much someone pays from their net income toward debt payments. Right now, the average ratio is about 14 percent. That means that the average consumer uses 14 percent of their yearly income to pay their mortgage, as well as auto and personal loans, and credit cards. That means that if you make $33,000 per year, net-income, then you pay $4,620 each year in debt payments.
Bankruptcy is one of the worst things someone can go through, and currently the amount of people going through bankruptcy each year is at record levels of about two million filings.
Conclusion
Credit is a unique beast. It is something that everyone uses, and everyone needs, but it can be a double-edged sword for many. While it can give you a house, car, and items you really cannot afford, it can also spiral out of control and begin to hold you down as you attempt to rise above the debt water before you are swept away.
Credit is something that you have to deal with, and sometimes you deal with it the wrong way and you lose your credit. What do you do in this situation? Well, thankfully credit is something that can be repaired. You can fix your credit; it just takes time. That is the one good thing about credit, it is not set in stone and it can be repaired. In this course, you will find out how.
Lesson 1: What Is Credit?

What Is Credit?
Forms of Credit
Credit Stats

Lesson 2: What Is A Credit Score?

What Is A Credit Score? FICO Score How Is The Score Calculated? Range of Scores

Lesson 3: How Is Your Credit Affected?

How Is Your Credit Affected? Paying Bills Applying For Credit Credit Cards Foreclosure Bankruptcy

Lesson 4: Credit Cards

Credit Cards How Many Cards? Minimum Payments Cash Advances

Lesson 5: Foreclosure

Lesson 5: Foreclosure

Lesson 6: Bankruptcy

Lesson 6:Bankruptcy
Bankruptcy and Credit Score
Bankruptcy Statistics

Lesson 7: Debt-to-Income Ratio

Lesson 7: Debt-to-Income Ratio
Why Does It Matter?
How Do You Lower It?
What Is The Best Ratio?
What Is The Worst Ratio?

Lesson 8: The Debt Spiral

Lesson 8: The Debt Spiral
Getting Out of the Spiral

Lesson 9: Debt Counseling

Lesson 9:Debt Counseling
A Brief History of Credit Counseling
A Good Choice?
Be Careful

Lesson 10: Debt Consolidation

Lesson 10: Debt Consolidation
When To Get It
Predatory Lending
Loans Versus Debt Consolidation

Lesson 11: Living Within Your Means

Living Within Your Means
Credit Is Not Cash
Limiting Purchases
Planning Ahead
Sell What Is Not Needed
Think About Purchases
Go for Lower Interest Rates

Lesson 12: Budgeting

Budgeting
Making a Budget
Things That Can Ruin a Good Budget
What About Slip-Ups?

Lesson 13: Tips for Staying on Track

Tips for Staying on Track
Can it Be Done?

Lesson 14 : Credit Reports

Credit Reports
How Often to Check?
Who Provides Them?
How Many Use Credit Reports?
Advantages of Credit Reports

Lesson 15: Credit Errors

Credit Errors
How to Prevent Them
Fix the Errors
Keeping Detailed Records
How Much Can It Damage?
By successfully completing this course, students will be able to:
Define what credit is.
Describe what a credit score is.
Describe what affects your credit score.
Define what a credit card is how that affects your credit score.
Describe the foreclosure process and what it does to your credit report.
Describe the bankruptcy process and how that affects your credit report.
Define the Debt to Income Ratio.
Summarize how people end up in a 'debt spiral'.
Summarize the pros and cons of debt counseling.
Summarize the pros and cons of debt consolidation.
Summarize methods to live within your means.
Create a budget.
Request your credit reports.
Summarize methods to correct errors on your credit reports.
Demonstrate mastery of lesson content at levels of 70% or higher.
Additional Course Information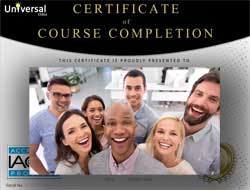 Document Your Lifelong Learning Achievements

Earn an Official Certificate Documenting Course Hours and CEUs
Verify Your Certificate with a Unique Serial Number Online
View and Share Your Certificate Online or Download/Print as PDF
Display Your Certificate on Your Resume and Promote Your Achievements Using Social Media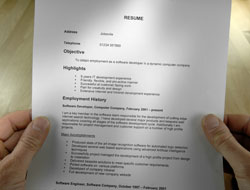 Course Title:
Understanding and Managing Your Personal Credit
Languages:
English - United States, Canada and other English speaking countries
Availability:
This course is online and available in all 50 states including: California, Florida, Georgia, Illinois, New York, Pennsylvania, Ohio, and Texas.
Course Type:
Self-Paced, Online Class
Grading Policy:
Earn a final grade of 70% or higher to receive an online/downloadable CEU Certification documenting CEUs earned.
Assessment Method:
Lesson assignments and review exams
"Very available and provided feedback on all my lessons." -- David N.
"Great subject! Great instructor! I love Universal Class!" -- Carmen R.
"Every part of the course was helpful to me. I used to deal with credit repair years ago so this was like a refresher course.It was a very helpful experience." -- Hector R.
"The court was perfect. HE'S a Great instructor." -- Janet D.
"Very helpful information about repairing credit. I enjoyed taking this course." -- Marie C.
"My instructor was the greatest. He always got back with me in a timely matter and gave me excellent answers. I hope I get his for all my others classes that I will be taking with Universal Class." -- Glenda W.
"This class teaches more than Managing Credit. It deals with debt, debt to equity, debt to income ratios, budgeting, and more. I would recommend it to a lot of young people who are starting out before they become innudated with debt." -- DrEarl W.
"the instructor is very diligent. Always communicated the results in a timely fashion." -- Nestor M.