You won't find a more comprehensive of a wedding course online that isn't offered by a bridal association! This eleven-lesson course teaches you all that you need to know to become a well paid, successful wedding planner--starting the day after you finish this course.
It doesn't matter if you don't know anything about weddings right now. This detailed course gives you all the information and knowledge you need.
You'll learn:
How to put together your portfolio even if you don't have any experience. What's more, we'll help you put one together during the course.
Your responsibilities and duties as a wedding planner.
The wedding industry including all you need to know about vendors.
How to plan a wedding no matter what the budget. This easy formula will have you planning everything from small, intimate weddings to elaborate ceremonies and receptions.
What you need to do and when you need to do it. Don't know when to order invitations? We'll tell you.
Everything about planning and coordinating the wedding ceremony
About the rehearsal dinner
How to plan and coordinate a reception
All about destination weddings
How to plan honeymoons
Wedding etiquette and protocol
About weddings of different faiths
And everything you need to know to start your business right away!
Did you know that the average wedding planner is paid a minimum of 10% of the total cost of the wedding? With today's average wedding costing $19,000, that means you'll make at least $1,900 dollars for each wedding you plan! Just working part time would equal an excellent new source of income.
Sign up now. You're just an online course away from becoming the fairy godmother that has the power to convert the simplest weddings into the most beautiful affairs. And that is what you want, isn't it? You want to make wedding dreams come true for all your clients.
Completely Online
Self-Paced
6 Months to Complete
24/7 Availability
Start Anytime
PC & Mac Compatible
Android & iOS Friendly
Accredited CEUs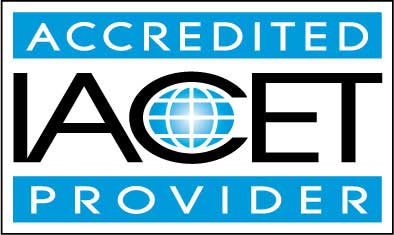 By successfully completing this course, students will be able to:
Describe the business of planning weddings.
Become familiar with the wedding industry.
Define and create a wedding budget.
Describe procedures of the wedding consultation.
Summarize and create the wedding planner timeline.
Plan the ceremony.
Plan the reception.
Describe etiquette and protocol.
Summarize methods for resolving disputes.
Use forms, contracts and references tools.
Describe how to start your wedding planning business right now.
Demonstrate mastery of lesson content at levels of 70% or higher.
Assessment Guide
| Assessment | Points |
| --- | --- |
| Lesson 1, Assignment One | 30 points |
| Lesson 1, Assignment Two | 10 points |
| An Introduction | 5 points |
| Lesson 1 Exam | 40 points |
| Lesson 2, Assignment One | 20 points |
| Lesson 2, Assignment Two | 25 points |
| Lesson 2 Exam | 40 points |
| Lesson 3, Assignment One | 25 points |
| Lesson 3, Assignment Two | 25 points |
| Lesson 4, Assignment One | 25 points |
| Lesson 5, Assignment One | 30 points |
| Lesson 5, Assignment Two | 15 points |
| Lesson 5 Exam:The Wedding Planner Timeline | 90 points |
| Lesson 6, Assignment One | 15 points |
| Lesson 6, Assignment Two | 25 points |
| Lesson 6 Exam: Planning the Ceremony | 100 points |
| Lesson 7, Assignment | 25 points |
| Lesson 7 Exam: Planning the Reception | 100 points |
| Lesson 8, Assignment | 15 points |
| Lesson 8 Exam: Etiquette and Protocol | 100 points |
| Lesson 9, Assignment One | 25 points |
| Lesson 9, Assignment Two | 25 points |
| Lesson 9 Exam: Resolving Disputes | 70 points |
| Lesson 11, Assignment One | 25 points |
| Lesson 11, Assignment Two | 15 points |
| Final Assignment | 10 points |
| Lesson 11 Exam: How to Start Your Wedding Planning Business Right Now | 90 points |
| Final Exam | 525 points |