QuickBooks Online Essentials: Paying Bills
You saw how simple it is with QuickBooks Online Essentials. But now it's time to explore some finer details and talk about paying bills. It's something none of us like doing; however, it's necessary for being in business - and living.
When to Pay Bills
The big decision with paying bills is if you should pay them right away or wait. If there's a proper answer to this, then it lies within the accounting system that you use. The first method is the easiest-- paying them right away. The second method, which is called an accounts payable method, gives you accurate records, but lets you pay your bills later. It's called accrual-basis accounting. We'll talk more about this a little later during this section. For now, let's talk about paying bills by writing checks.
Pay by Writing Checks
Whenever you write checks to pay bills, you are doing cash-basis accounting. What this means is that you count your bills as expenses when you write the checks and pay the bills. The only drawback to using this method is that you lose the ability to heavily track your expenses and keep track of your bills. Your bills will pile up, likely on a stack on your desk.
To pay by writing checks, click the

tab, then click the

sub tab. You will now be presented with this screen:

Click the

dropdown option and select

, as shown below: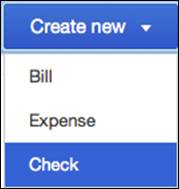 You will now be on the Check page: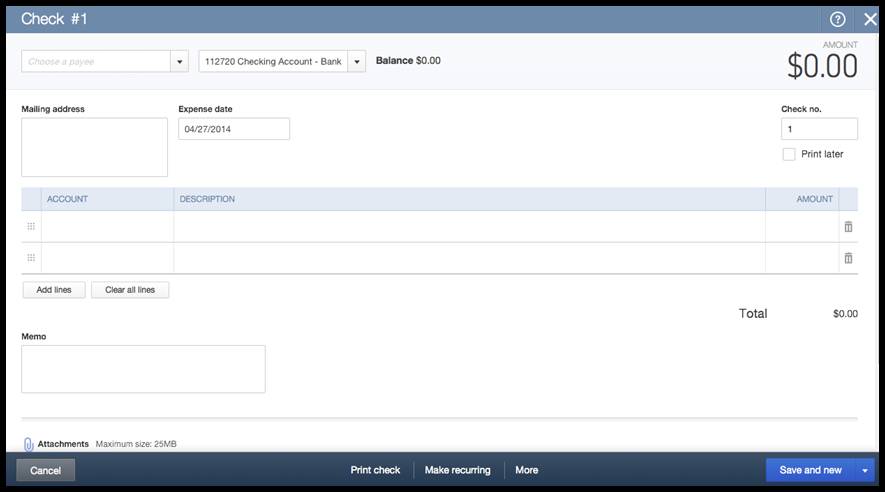 Enter the payee in the "Choose a payee" field. If you choose a vendor as the payee and the vendor has an outstanding balance, you'll see this dialogue box: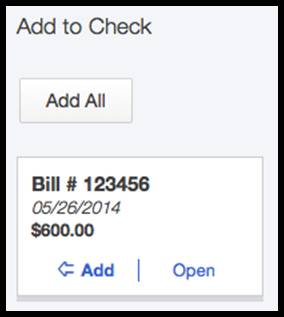 Select the